Kelly Pavlik vs. Scott Sigmon: Fight Time, Date, Live Stream, Preview and More
June 5, 2012

If Kelly Pavlik loses to Scott Sigmon Friday night, he may as well hang his gloves up for good. This fight isn't designed to give Pavlik a major challenge. Sigmon is an unknown with a gaudy but deceptive record.
He is 22-3, and he's won his last six fights, but the caveat to that win streak is that the fighters he's defeated have a combined record of 119-80. 
That isn't Hall of Fame-caliber competition, and the man they call "Cujo" is likely in for a cinematic beating. He'll need the ferocity of a rabid Saint Bernard to have a shot, but like the movie, things aren't likely to end well for this underdog.
Here are the specifics for those who want to catch the massacre:
Fight Time: 10 PM ET, Live from Hard Rock Casino in Las Vegas 
TV Coverage: ESPN 2 
Live Stream: ESPN 3
Preview
The Book on Pavlik
At 6'1", Pavlik comes into the ring holding an advantage over most opponents.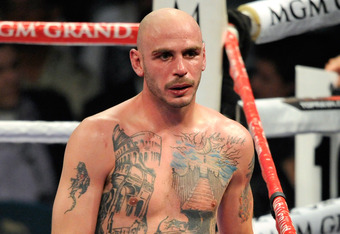 Ethan Miller/Getty Images
The Ghost is one of the most powerful punchers in the super middleweight division, but his career has stumbled into hard times. After being severely outclassed by Bernard Hopkins in 2008, Pavlik strung consecutive wins together against two relative unknowns (Marco Antonio Rubio and Miguel Angel Espino). He was subsequently outclassed again, this time by Sergio Martinez in 2010.
The ghost has battled alcoholism, and according to Chris Mannix of Sports Illustrated, his own delusional and inflated self-perception. He apparently believes he's the biggest name in the division, and as Mannix writes, he is way off base with that:
Part of Pavlik's problem is that he refuses to accept his decline in popularity. In interviews, Pavlik frequently calls himself the moneyman in the division, saying that the top 168-pounders will have to come to him for a big payday. That is simply not true.
Pavlik had an opportunity to fight Lucian Bute for $1.3 million, but he turned it down. As Mannix quotes Pavlik at Youngstown television station WFMJ: "the fight is off and the Bute fight is not going to happen. I'm not going to fight a southpaw for peanuts."
While that may sound like a guy that is overvaluing himself, to me it sounds like a guy that lacks confidence and doesn't want to take on a challenge. Bute has since been annihilated by Carl Froch, so maybe Pavlik shouldn't have been so afraid.
Be that as it may, it still speaks to his current mental state. In my opinion, this sheds more light on why Pavlik is fighting a man named Cujo on Friday night.
Here is a look at Pavlik at his best against Jermain Taylor:
The Book on Sigmon
At 5'9" Sigmon is a squat super middleweight, and this likely explains his nickname. He is powerfully built, and in the one fight I've seen of his, I can tell he is a brawler.
I've watched Sigmon's videos on Youtube as well, and it's good to see a fighter like him get a shot at a big name. He's only 25 years old, but if he doesn't give a good account of himself, this will likely represent the biggest payday of his career.
He throws shots with good power and bad intentions, but he isn't quick. His punches are far too wide, and he doesn't have much of a plan beyond going straight ahead.
Sigmon really doesn't look ready for this step-up in competition. Here is Cujo's highlight reel:
Prediction
I was going to write up a really technical explanation as to why Pavlik would destroy Sigmon, but I decided to let the Ghost tell you himself:
(disclaimer: Pavlik uses some profane language)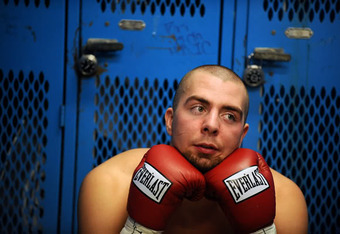 Well that says it all—in more ways than one. As he said, he is going to destroy Sigmon, but this clip also reveals his unprofessional approach. This is why Pavlik's career is stuck in neutral, and why wins over the likes of Sigmon is all he's capable of at this point. 
He will KO Sigmon within three rounds, but things aren't exactly looking promising for the Ghost after that.
Follow Brian Mazique and Franchiseplay.net for reactions, analysis and news from the world of sports and sports Video Games