Orlando Magic: Why Jerry Sloan Is Perfect Fit for Coaching Gig
June 5, 2012

Justin Sullivan/Getty Images
Jerry Sloan is no stranger to wrangling up superstars and maxing out their abilities. After coaching Karl Malone and John Stockton for nearly two decades his next task could be leading Dwight Howard and the Orlando Magic.
The Magic's season ended last month yet the team is still making headlines.
The Hall of Fame coach has been rumored to be a potential candidate for the vacant coaching job. Sadly that's where the rumor ends. Since the Magic are also looking for a new GM after Otis Smith parted ways with the organization, little progress towards hiring a new coach has been made. 
Chris Tomasson of  FOX Sports Florida reported 
"You don't know what direction that they're going to go,'' said Sloan, who coached Malone and star point guard John Stockton with Utah from 1988-2003, leading the Jazz to the NBA Finals in 1997 and 1998. "You have to see what happens with their staff. I'd have to weigh the pluses and minuses. But I'd be interested in listening."
He has a right to be cautions entering this situation. If Howard stays this decision becomes pretty clear cut, but with so much uncertainty in the air Sloan is smart to take a step back and survey the possibilities. The lure of Orlando might not be what he expects given the possibility that Howard could be gone next season.
Sloan's record of 1221-803 is third best in league history, and he is the only player to have reached over 1,000 wins with the same franchise. His numbers speak for themselves, the man knows how to lead a team. One of the only smudges on his legendary career is the fallout with star point guard Deron Williams which lead to his abrupt retirement after 26 years of coaching in the NBA.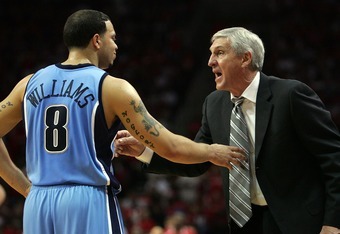 Ronald Martinez/Getty Images
His last season with the Jazz in 2011 proved to be troublesome thanks in part to his All-Star point guard.
Even after all this time away from the game, the itch still burns for a comeback. It is well known that Sloan would be stepping foot into a franchise with quite a few question marks and concerns, but if anyone can get this team back on track, it is Sloan.
According to ESPN.com Magic CEO Alex Martins said. 
"It's time for a new leadership and a new approach," Martins said at a news conference to discuss the moves. "We simply came to the decision that we were not on the right track."
Firing Stan Van Gundy after five seasons with the Magic was the first step of many that the Magic took  in order to build a championship caliber team. And the possible hiring of Sloan could be a big step in the right direction.
There's no question that Van Gundy was a lively character that could always be counted on for a few entertaining sound bites, but that doesn't necessarily lead to victories. Sloan is not that type of coach. He's serious, straight to the point and above all else focused. These are three key traits that this team needs to find success deeper than just making it to the first round of the playoffs.
Obviously this isn't a one man race, Sloan isn't the only coach in the Magic's site.
Evan Dunlap from orlandopinstripedpost.com claimed that Mike Malone, Brian Shaw, and Chuck Person have also been associated with the Magic coaching search. Even rumors have emerged about Scott Skiles possibly being in the running to be the next head coach of the Magic. 
However, Sloan is the only coach among them with many years of valuable experience in both the regular season and the playoffs. He knows firsthand how tough it is to not only lose in the Finals, but to also come back and make another run. This is something that the Magic have lost sight of in recent years after falling to the Lakers in the 2009 NBA Finals.
The Magic are battle tested after going to the post season in six straight years, with one Finals appearance and two back-to-back Eastern Conference Finals appearances. After taking his teams to 15 straight postseason appearances Sloan would be stepping onto familiar ground if he were to join the Magic. 
His veteran leadership and calm demeanor would jell in nicely with a team that appears to be in the danger zone. A young coach that is able to relate to the players may seem like the right choice , but Sloan shouldn't be overlooked just for that notion. Having played 11 seasons in the league with a strong defensive mindset, he is exactly the type of coach that the Magic are looking for.