LeBron James and Miami Heat Face Pressure in Game 5 Tonight
June 5, 2012

Jim Rogash/Getty Images
Game 5. It's a critical game in a seven-game series that's tied at two. According to ESPN, 83.5 percent of Game 5 winners in a series tied at two go on to win the series. Is tonight's Game 5 the most important in the short history of LeBron James' tenure in Miami? Without a doubt.
You noticed I only mentioned LeBron and not Dwyane Wade. I love how sharp my readers are. Yes, this is year two of the glitzy Big Three in Miami, but Bosh has been out, and let's face it, all of the pressure is on James. Should they fall short of the NBA championship again this year, no one will blame Wade.
I'm admittedly a LeBron fan and while I have questioned some of his fourth quarter performances, for the most part I believe he gets far too much criticism. "The Decision" didn't bother me that much, but I absolutely hated the preening celebration that James, Wade and Bosh put on before practice number one.  Not one, not two not...
I'm from the generation that prefers action to words. Some friends and I are starting  a foundation in honor of a friend who recently passed away and our saying has been "No more talking, just doing."
The measurement of the "doing" for the Miami Heat is in championships. Yes, multiple championships. One isn't going to do it. This is a team put together by master architect Pat Riley to win now, more than once.
South Beach has become a place for veteran players to "take their talents." Last year—year one of the Big Three—saw ringless players Carlos Arroyo, Zydrunas Ilgauskas, Jamaal Magloire, Juwan Howard, Mike Miller, Mike Bibby and Jerry Stackhouse chasing the dream. This year Howard and Miller are joined on the bench by Shane Battier, Eddy Curry and Ronny Turiaf.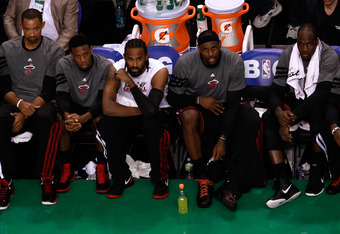 Jared Wickerham/Getty Images
So what happens if the Heat fall short again? Minor tweaks? Major changes?
Let's not minimize the impact of the loss of Bosh. The Heat have no inside scoring without him. Does that take LeBron off the hook?
There are two answers to that question. I'll give you my opinion first and then what I think the majority will say.
I wouldn't break up the Heat. I wouldn't trade any of the Big Three. They need a big, physical presence inside. There is no better match than the Heat and Syracuse's Fab Melo. He would give them the rebounding and defense inside sorely missing right now.
The majority will blame LeBron and point out that a superstar would have lifted the team on his shoulders and gotten it done.
Ridiculous.
Bracing for the barrage of LeBron haters. This should be fun.
Follow me on Twitter@sprtsramblngman