Small Changes on Raw Means That the WWE Are Learning from Their Mistakes
June 5, 2012

Tonight's WWE Raw SuperShow was a fairly average show that delivered enough face victories to please younger fans and had just enough wrestling to appease an older audience.
A critical eye could point out that there were too many flashback sequences, especially as The Big Show failed to make an appearance. The opening sequence went on for too long, but this did not spoil the overall experience.
However, the most exciting developments on Raw were the small changes to presentation and dialogue which indicated that the writers were using more precision when delivering the script.
This renewed accuracy from WWE's creative department could be seen from the show's very beginning when Michael Cole entered the ring. Cole has more heat from younger fans than anyone else in the WWE, so that character delivering the "we're bored of you John Cena" line of criticism evoked the correct negative reaction from the audience.
A respected veteran or less-established heel may have gained a negative reaction from the crowd. However, there is an equally likely chance that the speech would have been hijacked by older, anti-Cena fans, so the speech could have received a positive reaction as well. That was never going to happen with Michael Cole, who is disliked by older fans as much as he is disliked by younger viewers.
The script's precision could be seen in the very small details such as John Laurinaitis' retirement announcement in reply to Cena's request for a match. "Big Johnny" was very careful to note that he had retired from "one-on-one competition," which stopped Cena from picking him as an opponent, but keeps the door open for potential tag team and handicap matches in the future.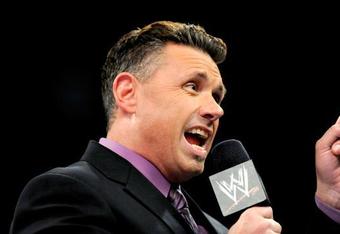 Perhaps the most obvious improvement to scripted details happened in the two rematches from SmackDown.
Sheamus may have beaten Dolph Ziggler for a second time in four days, but the matchup on Raw was really well executed. Sheamus' power came across as an overwhelming force, but Ziggler's speed and greater mat skills also came through, which made Ziggler look far stronger than he had on SmackDown.
Similar improvements were made in the CM Punk vs. Kane match, where Kane's size and power advantage was better emphasised. Adding Kane to the Punk versus Daniel Bryan feud has added an unknown entity to the mix, but his presence has felt like a sideshow until this match. The final chokeslam showed the WWE Universe that Kane is an actual contender to win at No Way Out.  
This is not to say that the WWE have cracked every accuracy issue.
Naming Sheamus' Brogue Kick to David Otunga on SmackDown as the "Slam of the Week" was a silly mistake when the move is clearly not a slam. This is a petty detail that is insignificant to most fans but it will still annoy a small proportion of the audience.  
Bigger issues came in the Cena versus Tensai matchup where spots needed to be more organised as both men missed their marks on several occasions. This clearly impacted the match's rhythm and highlighted the lack of chemistry between the two men in the ring.
The WWE has received a great deal of criticism in recent months for inaccuracy, and much of the derision was justified, however, the WWE should be equally praised when they show signs of turning issues around.
Tonight was the first indication that improved precision might happen, so there is some hope and a little trepidation that a bright future may be In the cards.