College Basketball: 10 Schools That Are Still 'One Year Away'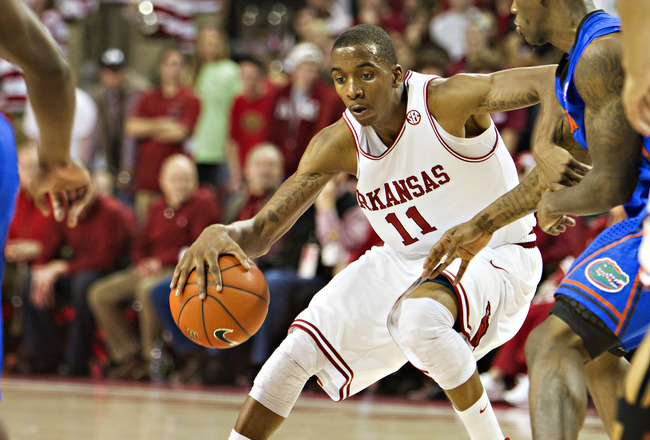 Wesley Hitt/Getty Images
College basketball programs are perennially fighting to improve, but for some teams, getting better just isn't enough. Whether they have too far to go or face too tough a challenge from their own conference, these teams are moving in the right direction but still don't look like Big Dance material for 2012-13.
Arkansas, in the second year of Mike Anderson's reclamation project, serves as a prime example. The Razorbacks have talent returning and solid recruits on the way, but after finishing 6-10 in SEC play a year ago, they're not quite ready to climb into contention just yet.
Read on for a closer look at the Hogs and nine more promising programs whose fans are going to have to be patient for another season of NIT-caliber basketball.
10. Tulsa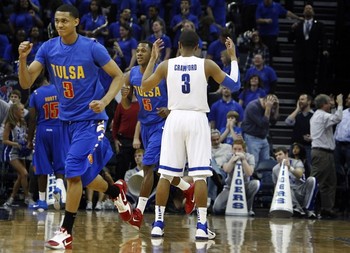 In the final season before realignment ships a large fraction of its teams to the Big East, Conference USA looks once again like the title race will come down to Memphis vs. the field.
If recent history is any indication, that means that even second place is no guarantee of an NCAA Tournament bid, making life tough for runners-up such as the Tulsa Golden Hurricane.
Tulsa finished 10-6 in conference a year ago—though just 17-14 overall—behind a high-scoring backcourt led by 6'4" sophomore Jordan Clarkson (16.5 points per game, .374 three-point shooting).
Still, with a first-time head coach in Danny Manning and no genuine point guard, Tulsa will be hard-pressed to make more of an improvement than landing the NIT bid that eluded them last season.
9. Loyola Marymount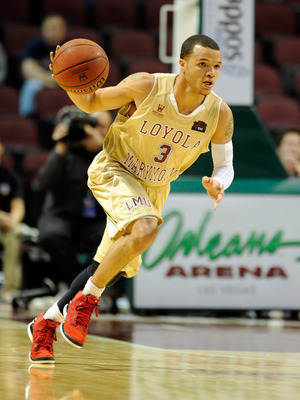 Ethan Miller/Getty Images
2011-12 was a season of surprises for Loyola Marymount, which was coming off a dismal 11-21 record.
The Lions opened with a win at UCLA as a prelude to an 11-5 conference record, thanks largely to a core of underclassmen led by sophomore PG Anthony Ireland (16.1 points and 4.9 assists a night).
Even with loads of talent returning, though, LMU will need big-time luck to top last year's fourth-place finish in the stacked West Coast Conference.
St. Mary's and Gonzaga return stars Matthew Dellavedova and Elias Harris (respectively), and even BYU—which barely made it to March Madness last year—will pose a serious threat with Matt Carlino and Brandon Davies back.
8. Miami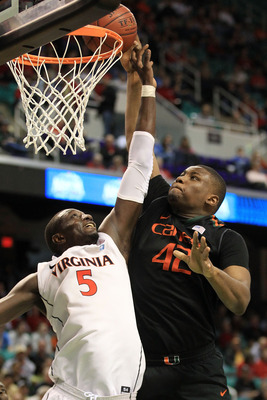 Streeter Lecka/Getty Images
Despite an impressive array of talent, Miami has been treading water over the last couple of seasons, thanks in part to the knee injury that cost center Reggie Johnson a large chunk of his junior year.
Even with Malcolm Grant lost to graduation, the return of Johnson and Kenny Kadji on a mammoth front line (plus scoring star Durand Scott in the backcourt) provides reason for optimism at the U.
Unfortunately for Hurricanes fans, their ACC competition is also in good shape.
NC State is in the rare position of being a conference favorite (with Duke and UNC close behind), but even Maryland, with stud freshman Shaquille Cleare arriving to join Alex Len in the frontcourt, will help leave Miami in NIT territory yet again.
7. Wyoming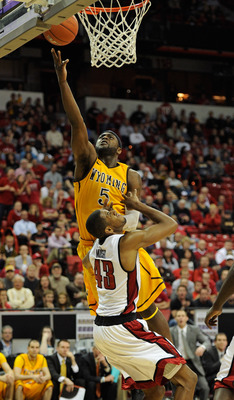 Ethan Miller/Getty Images
Coming off one of the best seasons in its history, the Mountain West Conference isn't going to get any easier in 2012-13. UNLV, San Diego State, New Mexico and Colorado State return most or all of the key personnel from NCAA Tournament teams.
That's bad news for up-and-coming Wyoming, even though the Cowboys have plenty of potential to build on.
Star PF Leonard Washington is back for his senior year, but the biggest attraction might be rising sophomore Larry Nance Jr., who has already shown flashes of his father's renowned dunking ability.
6. Pitt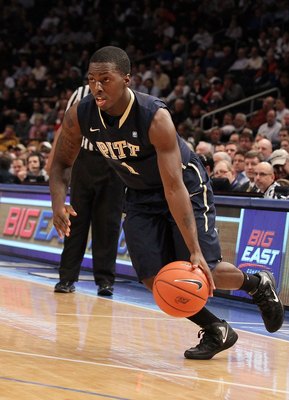 Jim McIsaac/Getty Images
2011-12 turned out to be a deflating season for Pitt, which fell from a preseason No. 10 ranking to a 5-13 conference record and a postseason in the slums of the CBI.
The return of star PG Tray Woodall (injured for a long stretch last year) along with a high-powered recruiting class should combine to make Pitt a much better team next season.
Unfortunately for Jamie Dixon's squad, "much better" won't be good enough in the Big East. With Louisville, Syracuse, Notre Dame and Cincinnati looking like the class of the league, Pitt will be far from a contender even with significant improvement.
5. Oklahoma State
Patrick McDermott/Getty Images
Marcus Smart headlines a solid crop of freshmen, but the biggest story in Stillwater is the potential of last year's star recruit.
In his first collegiate season, Le'Bryan Nash averaged 13.3 points and five rebounds per game, but he still has a ways to develop before he lives up to his No. 10 ranking in his recruiting class.
As much promise as the Cowboys have, the loss of senior leader Keiton Page and the absence of a legitimate point guard are going to be serious concerns.
In a Big 12 featuring other dangerous recruiting classes joining far better teams at Baylor and Kansas—not to mention potent lineups at Kansas State and Iowa State—Oklahoma State still has too many holes to challenge the big boys in 2012-13.
4. Arkansas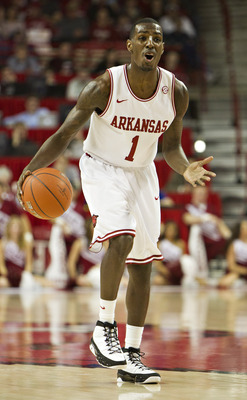 Wesley Hitt/Getty Images
For all that, not every Razorback appreciated new coach Mike Anderson's system—starting PG Julysses Nobles is transferring—Arkansas found plenty to build on in Anderson's first year.
Freshman B.J. Young and sophomore Mardracus Wade lit up scoreboards for 120 combined three-pointers, and even PF Marshawn Powell looked impressive in a brief stint before being lost for the year with a knee injury.
Anderson is also bringing in a couple of promising freshmen, notably JaCorey Williams and Anthlon Bell, but it's still not going to be enough to turn an 18-14 (6-10 SEC) team into a factor in a tough conference.
Even with Vanderbilt and Mississippi State on the decline, Kentucky, Florida and rising Tennessee will be too much for the Razorbacks in 2012-13.
3. Stanford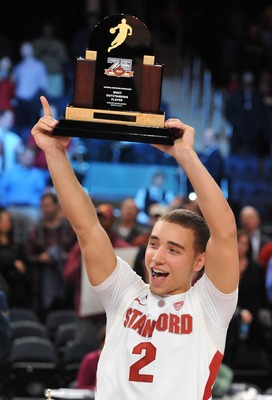 Jason Szenes/Getty Images
An NIT championship can often be a prelude to bigger things, especially for a young team like Stanford.
The Cardinal backcourt—freshman Chasson Randle and sophomore Aaron Bright—got invaluable postseason experience that will more than offset the departure of senior Josh Owens up front.
After finishing just 10-8 in a strikingly weak Pac-12, though, the Cardinals have too far to go in what will be a much-improved conference next season.
The monster recruiting classes at Arizona and UCLA, plus returning standouts such as Andre Roberson (Colorado) and Justin Cobbs (Cal), will be too much for coach Johnny Dawkins' still-developing squad.
2. Dayton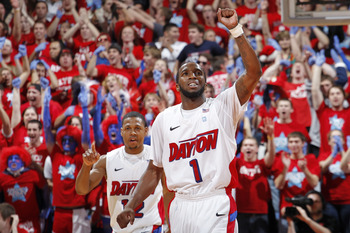 Joe Robbins/Getty Images
Before Josh Benson's injury derailed them, the Flyers were off to an impressive start last season that featured wins over Minnesota (with Trevor Mbakwe) and Alabama.
Next year, with a healthy Benson and the return of terrific point guard Kevin Dillard, Dayton should be even more dangerous.
The bad news for coach Archie Miller's team is that the Atlantic 10 has improved even more than the Flyers have.
The arrival of Butler and Virginia Commonwealth (added to dangerous St. Louis and Xavier squads) will make sure that Dayton's best postseason accomplishment for next year will be improving on its first-round NIT exit from 2012.
1. Minnesota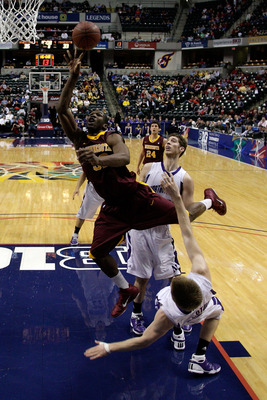 Andy Lyons/Getty Images
Ralph Sampson III is the only player departing from Minnesota's NIT runners-up, and the Golden Gophers are also getting one heck of an addition.
Power forward Trevor Mbakwe, the Big Ten's 2010-11 rebounding champ, is back for his senior season after missing most of last year with a knee injury.
In almost any other season, the combination of Mbakwe and Rodney Williams would make Minnesota a serious Big Ten contender, but the conference will be absurdly strong next year.
Any of Ohio State, Michigan, Michigan State or national title favorite Indiana could make the Final Four, and with that level of competition, even Mbakwe and company will settle for also-ran status once again.
Keep Reading