Stanley Cup Finals 2012: What the Kings Need to Do to Complete Sweep of Devils
June 5, 2012

Christian Petersen/Getty Images
One more win.
That is all that remains for the Los Angeles Kings to complete an astonishing playoff run and claim the Kings' first-ever Stanley Cup.
Is there anything the New Jersey Devils can really do to prevent the inevitable and deny the Kings something they have sought since they were created in 1967?
Probably not.
The Kings now hold a 3-0 series lead for the fourth consecutive series—a mind-boggling achievement for any playoff team, let alone a No. 8 seed.
On two prior occasions, the Kings could not close the deal and instead had to wait until Game 5—which suits them just fine as the Kings are undefeated on the road in the playoffs.
But this is different.
This is a chance for the Kings to hoist the Cup on their home ice, and anyone who knows anything about hockey knows what a huge deal that would be for this franchise and for a city that has really only had the Lakers to root for in a very long time.
Also, consider the fact that the Stanley Cup champion has not skated the Cup on home ice since the Ducks beat the Senators back in 2007 and skated the Cup just down the road from Los Angeles.
If you think that the Kings would not like to be the first team to do that since their Orange County rivals, think again.
For the Kings to complete the sweep, the main thing they need to do is maintain focus. They cannot allow themselves to get caught up in the moment, be satisfied with a 3-0 series lead and not play their best game of the season.
If you listen to the Kings comments after Game 3, as reported by ESPN, it is clear that they already understand this and are keeping things in perspective.
"We're almost where we're trying to go, but we haven't won anything yet," captain Dustin Brown told ESPN. "We know what we have a chance to do, though. Having an opportunity to win a championship here could get rid of a lot of frustration for a lot of people."
When the team captain has that kind of focus and insight, it has to bode well for the team's chances Wednesday night.
Another factor that will go a long way towards the Kings finishing the job would be to score the first goal. The Kings did score first in Game 4 against Vancouver, but the Canucks came back to win.
Against the Coyotes in Game 4, the Kings never really got going.
But the Devils' collective confidence has got to be all but gone at this time. They did not play poorly in Games 1 or 2 and they very easily could have been up 2-0 in the series.
But two overtime losses, on home ice, did significant damage to the Devils' psyche.
Coming up empty on a 5-on-3 power play that lasted for about a minute in Game 3 all but destroyed the frayed fortitude of New Jersey. You could literally see momentum for both teams go in completely opposite directions.
Roughly a period later, the Kings scored two goals and it was all over but the shouting.
For the Devils then, they have to be asking themselves what more can they do to win a game? And even if the Devils somehow found it within themselves to play better, would it matter?
Because as well as the Kings played in Game 3, if the Kings up their game in Game 4, it really won't matter what the Devils do.
Therefore, if the Kings can score first, whatever little remains of the Devils' confidence may wash away like sand into the California surf. The Devils know all too well that the way Jonathan Quick is playing, getting two goals might be asking for too much.
As Martin Brodeur said to ESPN:
"We know we can't spot any goals to these guys. They're not allowing anything...We're going to work really, really hard and we're going to see where that's going to bring us. We're just facing a team that's doing everything right right now."
That about sums it up for New Jersey. They will leave it all on the ice in Game 4. But they know it might not be enough.
In reality, if the Kings play their game Wednesday night, the rest should take care of itself.
This is a team on a roll unlike any that we have seen in a very long time, perhaps even ever.
Quick may have sewn up the Conn Smythe with his shutout tonight.
Beyond him, the Kings continue to get scoring whenever they really need it.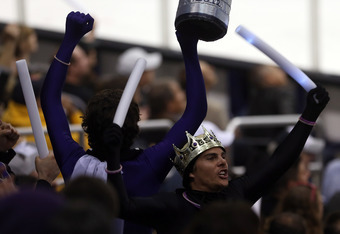 Bruce Bennett/Getty Images
Anze Kopitar has continued to emerge as a superstar and, perhaps, the most clutch payer on a team that quite honestly has been loaded with clutch players throughout this playoff run.
And the Kings' power play that had been dormant so far in this series came to life with two goals in Game 3.
No matter how you look at it, or from whatever angle you want to look at it, the signs are all pointing to a big celebration in the City of Angels on Wednesday night.
And if Dustin Brown gets to lift the Stanley Cup high and skate it around Staples Center on Wednesday night, what will that be like?
"I don't know what 45 years of pent-up energy sounds like," Brown said to ESPN. "But if we play our game [Wednesday], maybe we'll find out."