NFL Free Agency 2012: 5 Signings Teams Wish They Could Redo
June 5, 2012

Ezra Shaw/Getty Images
There are certain signings from this free-agency period that NFL teams probably wish they could redo.
Did the San Francisco 49ers really need Mario Manningham if there intention was to draft a wideout with their first-round draft choice?
Can the Tampa Bay Buccaneers really justify having paid so much to cornerback Eric Wright?
Here are the five 2012 free-agency signings NFL teams would probably like to redo:
Martellus Bennett, TE, New York Giants
The New York Giants had to be delighted to land Martellus Bennett from the divisional rival Dallas Cowboys. Given the injury problems hindering Jake Ballard and Travis Beckum, the 25-year-old Bennett seemed like a smart pickup.
However, the temperamental and often inconsistent fourth-year pro has not begun life with Big Blue in the most encouraging manner. According to NFL.com, Bennett turned up for OTAs weighing an astonishing 291 pounds.
There is no question that Bennett has the talent. Yet he failed to make it in Dallas and the start to his career in the Big Apple indicates more disappointment on the horizon.
Jarret Johnson, OLB, San Diego Chargers
It's not so much an admonishment of the Baltimore Ravens that they decided to let Jarret Johnson pursue free-agency offers and ultimately find a new home with the San Diego Chargers. However, since the injury to Terrell Suggs, it's easy to imagine the Ravens wishing they still had Johnson around.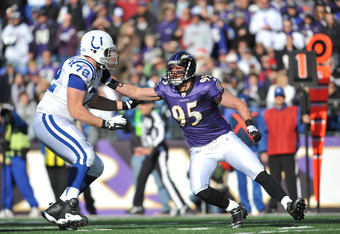 Larry French/Getty Images
The defending AFC North champions may have young duo Courtney Upshaw and Sergio Kindle eager to fill Suggs' shoes. Yet in the wake of an injury at such a critical position, it would certainly be useful to have a veteran as skilled and reliable as Johnson to assume a vital leadership role.
Mario Manningham, WR, San Francisco 49ers
Mario Manningham finds himself in an interesting position with the San Francisco 49ers. After being largely a bit-part player with the New York Giants, Manningham wisely cashed in his Super Bowl heroics for the chance to take on a bigger role elsewhere.
However, the 49ers were a strange suitor given their move for veteran Randy Moss and the presence of promising youngster Michael Crabtree. The decision to sign Manningham looks all the more baffling since the 49ers used their first-round draft pick to select Illinois flanker A.J. Jenkins.
The 49ers have moved for Manningham and given him arguably more competition to overcome than he faced in New York.
Eric Wright, CB, Tampa Bay Buccaneers
The Tampa Bay Buccaneers certainly took a chance when they handed a five-year, $38 million contract to Eric Wright. It was surprising considering there were more accomplished corners on the market.
The Buccaneers may regret passing on the likes of Brandon Carr, Cortland Finnegan and Brent Grimes. Wright was routinely beaten deep as a member of the Cleveland Browns and failed to make an impact as the main cover man for the Detroit Lions' inept secondary in 2011.
Kamerion Wimbley, DE, Tennessee Titans
Kamerion Wimbley received over $13 million in guaranteed money from the Tennessee Titans. That's a strange move even though the Titans need to boost their pass rush.
Wimbley has exceeded 10 sacks in a season only once in a six-year career. Tennessee could have landed a veteran like Andre Carter for far cheaper and banked on greater production.