Mike Trout: Angels Phenom Is Legitimate MVP Candidate
June 5, 2012

The Los Angeles Angels of Anaheim were hesitant to bring up stud prospect Mike Trout, but his torrid start in the minors coinciding with an abysmal beginning to 2012 gave them no choice.
Since they made the move, the team has taken off. The Angels are now performing as they were expected to all season long. 
Trout has been producing ever since he was called up but has been particularly hot in the team's last nine games. On Monday, he picked up four hits, and from his last nine games, he has 17 hits including three doubles, two triples, a home run and 10 RBI.
The question used to be whether or not Trout was ready to start in the big leagues. But now, with the kind of numbers he is putting up, the question has become: Is the 20-year-old a legitimate candidate to win the American League MVP award?
Absolutely.
His bat speaks for itself. From 34 games this year, Trout has nine doubles, three triples, five home runs, 22 RBI and nine stolen bases. His batting average has steadily climbed up to .338, and his slugging percentage sits at an impressive .559. 
Trout has tremendous pop and speed that makes any ball put on the ground or into the gap an adventure. By the end of the season, we might be looking at a kid who has some of the best all-around numbers in the game.
Trout's speed also helps him to track down balls hit his way in the outfield, and he will only continue to improve on his defense with more experience under his belt. The only area of criticism in the field is his arm strength, but he certainly makes up for it with his instincts and agility.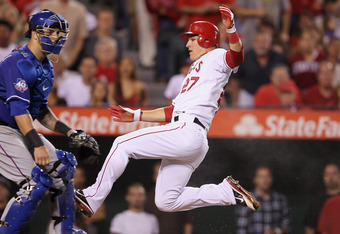 Jeff Gross/Getty Images
If voters take into account the impact of a player on his team, it will be very hard for them to ignore the impact that Trout has had on the Angels. Since his call-up on April 28, the Angels are 22-14 after starting the season 6-14, and have gained lots of ground the on the AL West-leading Texas Rangers. 
There are many players worthy of winning the MVP award, and Trout might be one of them by the end of the season. He might not win it in his rookie year, but he will have plenty of opportunities in years to come.