French Open 2012: Highlighting This Week's Top Matches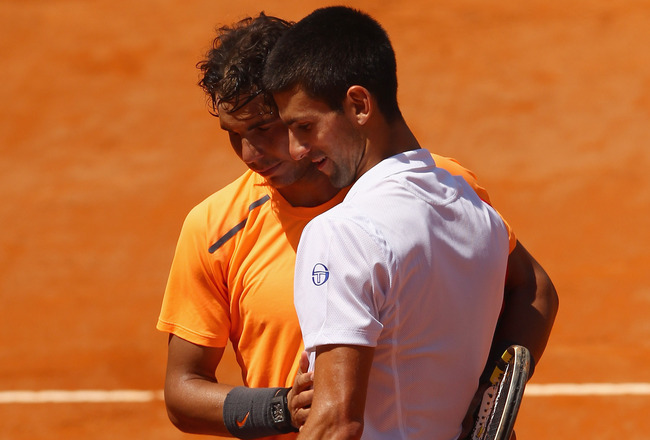 Clive Brunskill/Getty Images
With all the upsets on the women's side of the 2012 French Open, most of the compelling quarterfinals and semifinal and final matchups later this week belong to the men. Samantha Stosur, Petra Kvitova and Maria Sharapova are the only former Grand Slam champions remaining in the women's quarterfinals.
Roger Federer, Novak Djokovic and Rafael Nadal are the only remaining major champions on the men's side.
Andy Murray and Jo-Wilfried Tsonga are familiar names that have advanced this late in a major tournament, as both have finals appearances in a Grand Slam. Murray was a seeking spot in his sixth straight Grand Slam semifinal and 10th overall. This Tsonga's seventh appearance in a Grand Slam quarter, but his first in France.
Three times previously he advanced to the semifinals. Tsonga stunned Federer last year at Wimbledon, handing him his first loss ever, after winning the first two sets. He then lost to Djokovic in the semifinals, pushing the Djoker to No. 1.
The bottom half of the women's draw features two matches with the players meeting for the first time. Yaroslava Shvedova and Kaia Kanepi were huge underdogs against Petra Kvitova and Maria Sharapova.
Kvitova vs. Sharapova Women's Semifinal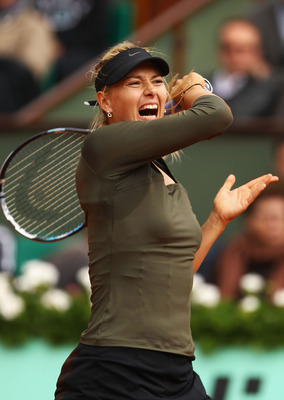 Clive Brunskill/Getty Images
Kvitova and Sharapova advancing made for a very highly anticipated semifinal. Sharapova held a 3-2 edge over Kvitova entering their semifinal matchup. Two of those meetings occurred in Grand Slams.
Kvitova defeated Sharapova 6-3, 6-4 in the final at Wimbledon last year to claim her only Grand Slam title. Sharapova defeated Kvitova in three sets in the Australian Open semifinals earlier this year.
Sharapova won their only meeting on clay in straight sets in Stuttgart earlier this year.
The matchup between the second and fourth seeds was the highest we will see on the women's side in this year's Paris fortnight. Sharapova enacted revenge for her Wimbledon loss last year with a 6-3, 6-3 straight set win.
Sharapova advanced to the Final on Saturday against Sara Errani with a chance to become just the fourth woman in the Open Era to capture the career grand slam. The other three are Martina Navratilova, Steffi Graf and Serena Williams.
Stosur vs. Kerber Women's Semifinal Was Expected
Clive Brunskill/Getty Images
The other half of the women's draw had Samantha Stosur and Angelique Kerber as the favorites. Stosur defeated Kerber in the US Open semifinals last fall on the way to her first Grand Slam title.
Sara Errani crashed the party. Errani was ranked just 24th entering the French Open. She stunned both Kerber and Stosur to reach her Grand Slam Final. Her previous best at a Slam was a quarterfinal appearance in Australian Open this year. She is the lone person standing between Sharapova and the career slam.
Tsonga vs. Djokovic Men's Quarterfinal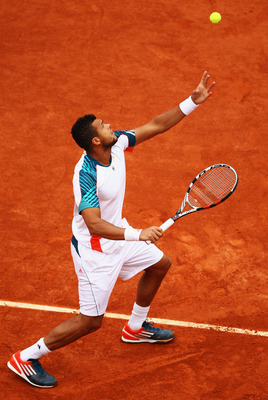 Clive Brunskill/Getty Images
The top half of the men's draw provided two memorable men's quarterfinals.
Although Novak Djokovic entered his quarterfinal against Jo-WIlfried Tsonga as the obivous favorite a closer look at their history and the intangibles might suggest otherwise.
Each player had won five matches head-to-head. It took a Djokovic win at the Masters event in Rome to pull even. After winning the first set 6-1, it appeared that Nole was well on his way.
Spurred by the home crowd, the Tsonga kid came back to win the next two sets 7-5. Tsonga had a chance to close out the match in the fourth set. The world's number one player saved four match points. He closed out the match 6-1 to survive and advance.
Next up for the Djoker would be the winner of the Federer-Del Potro match in the semifinals...
Federer vs. Del Potro Quarterfinal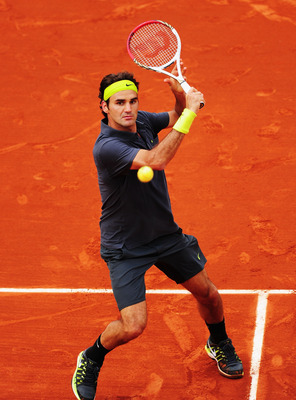 Mike Hewitt/Getty Images
Roger Federer and Juan Martin del Potro have also had some interesting matches in the past. Although Fedex owns an 11-2 edge in the series, it's the timing of Delpo's wins that give him a chance.
He won the US Open final in 2009 coming from two sets to one down to defeat Federer. He also won later that year at the year-end championships. Federer has won their last five meetings since then.
This was Federer's time to turn the tables on the Argentinean. After dropping the first two sets against Delpo, Federer dominated the last three to setup the highly anticipated semifinal against Djokovic.
Fedex won 3-6, 6-7 (4), 6-2, 6-0, 6-3.
Potential Federer vs. Djokovic Semifinal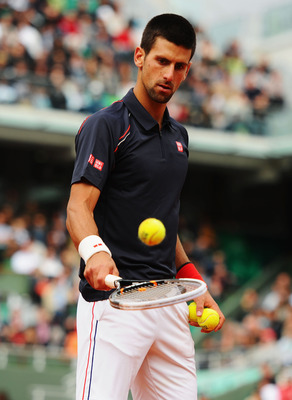 Mike Hewitt/Getty Images
The most anticipated matches will be Djokovic vs. Federer and Nadal vs. Djokovic or Federer.
Federer leads the head-to-head meetings with Djokovic 14-11, but Djokovic has won five of the last six. Included were Djokovic rallying from two sets down in last year's US Open semifinals and Federer's win in the 2011 French Open semifinal.
Potential Nadal vs. Djokovic Final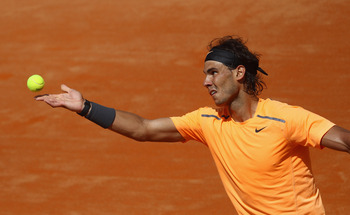 Julian Finney/Getty Images
Nadal holds an 18-14 edge on Djokovic in their head-to-head meetings. Djokovic won their last three meetings, all in Grand Slam finals. Nadal has won the last two on clay this spring. They have contested the last three Grand Slam finals, with Djokovic winning all three.
Potential Nadal vs. Federer Final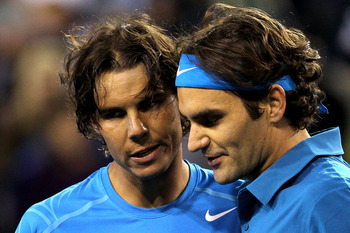 Matthew Stockman/Getty Images
Should Nadal and Federer meet in the finals, it would add to Federer's nearly unprecedented legacy should he defeat Nadal on the red clay of Roland Garros. There is not much left for him to accomplish in his career.
Federer trails Nadal 18-10 in their career matchups. He's one of very few players Federer has a losing record against.
Keep Reading