Ligue 1 80th Anniversary Season: All-Time XI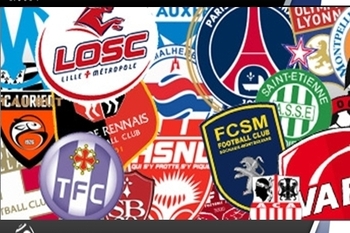 Ligue 1 will be participating in their 80th season in 2012-2013
Ligue 1 will be celebrating their 80th season when it kicks off the 2012-2013 campaign later this summer. In honor of this achievement, I have picked an all-time best XI for Ligue 1. Ligue 1 has produced many great players, but for this XI, players were chosen solely on their performance while they were in Ligue 1. This leaves out many greats who began their career in Ligue 1, but made their significant mark on the game elsewhere.
This list is based solely on my opinion, and I welcome any comments regarding players I left out.
Now behind door No. 1...
Goalkeeper: Gregory Coupet

Coupet double save

Starting at the back, I have chosen the often-overlooked Coupet. Coupet made over 600 appearances in his 18-year career. He began at AS Saint-Etienne before moving up the Rhone to Lyon. He finished at Paris Saint-Germain after a brief stint in Spain. Coupet was twice named Ligue 1 Goalkeeper of the year in 2004 and 2005.
The book on Coupet is that he was a winner. His combination of ability, intelligence, and leadership helped lead Lyon thru their incredible seven-year run. His resume includes seven Ligue 1 titles, one Coupe de la Ligue, one Coupe de France and five Trophee Des Champions.
If you have any doubts about his keeping ability, check out the video.
Left Back: Marius Tresor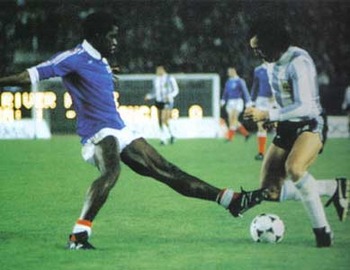 http://footnostalgie2.free.fr/images/tresor1.jpg
Marius Tresor played from 1969 till 1984 for Ajaccio, Marseille and Bordeaux. Making his debut at age 19, Marius became a fixture in the backline for all his clubs and with the French National team. Tresor finally won a Ligue 1 title in 1984 with Bordeaux.
In 2004, Pele named Tresor to his list of 125 greatest living players.
Centerback: Laurent Blanc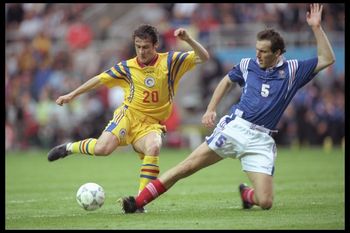 Clive Brunskill/Getty Images
Le President spent 14 years of his 20-year career in Ligue 1. After coming through with Montpellier, Blanc spent time with Nimes, Saint-Etienne, Auxerre and finally Marseille before his career was through. Initially an attacking midfielder before moving to the heart of the defense, his physical stature and his intelligence made him one of the best defenders in the game. His technical ability from his midfield days became a vital part of his game, providing link-up play with the offense.
Despite the move to defense, Blanc maintained his scorer's mentality and netted an impressive 134 times in his career.
Centerback: Robert Jonquet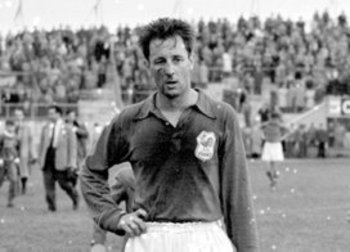 http://img.over-blog.com/272x196/1/97/88/51/football-5/Jonquet.jpg
Robert Jonquet was an integral part of the Stade Reims dynasty of the 1950s. Robert appeared in over 500 games for the French outfit in his 15 years with the club. He won five league titles and was part of both of Reims European Cup finals. His command of the backline provided the perfect balance to an offense that contained the likes of Fontaine and Kopa.
Jonquet retired in 1962 after moving to Strasbourg in 1960. He was widely regarded as one of the best central defenders up to that point.
Right Back: Manuel Amoros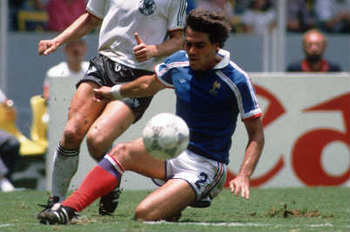 http://www.sports.fr/images/201223/amoros.jpg
Amoros began his playing career with Monaco in 1980. He would spend nine years there before joining Marseille. A talented right back with a solid shot, Amoros was known to lose his cool on occasion.
A tremendous on-the-ball defender, Amoros was part of the French World Cup teams in 82 and 86, After four seasons with Marseille, Manuel left for Lyon for two years, then returned to Marseille for his final season.
Left Midfielder: Robert Pires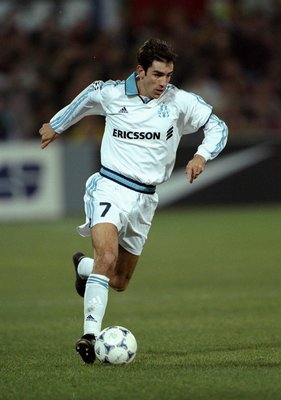 Tom Shaw/Getty Images
Before taking the Premier League by storm, Pires was owning the left flank of French football. From 1993-2000 first with Metz, and then Marseille, Pires was an offensive force. Scoring goals and creating chances for teammates, Pires was an all-around talent. His size and technical ability made him a difficult matchup on the wing.
Central Midfield: Zinedine Zidane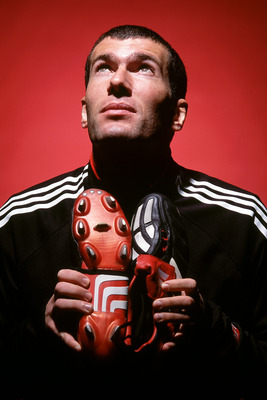 Shaun Botterill/Getty Images
With all his success on the international level and in Italy and Spain, people forget how special he was in during his time in Ligue 1. Zidane made his Ligue 1 debut for Cannes at the age of 17. During his first full year with the club, he led the team to qualification of their first European competition.
After four seasons with Cannes, Zidane moved to Bordeaux, where his skills evolved. He controlled the game from his central midfield role. It was during this time the world of football began to see the incredible touch, the dominating runs and the tremendous will to win that marked his career.
After four spectacular seasons in Bordeaux, Zidane moved onto Juventus, and the rest is history.
Central Midfielder: Michel Platini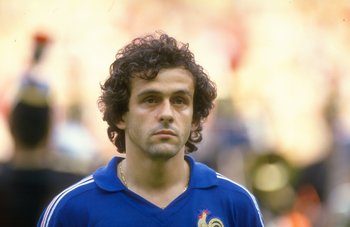 Getty Images/Getty Images
Platini like Zidane made his mark in international competitions and abroad, but his years in Ligue 1 were on the same level. Playing for Nancy and Saint-Etienne, Platini was a scoring dynamo from the midfield. One of the best dead-ball strikers in his era, Platini found the net time and again in league play. Platini led Saint-Etienne to their last Ligue 1 title before heading to Juventus, where he would win three consecutive Balloon d'Ors.
Right Midfielder: Raymond Kopa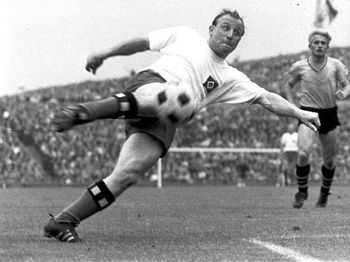 http://www.neubilder.de/albums/Fussball/Raymond_Kopa.jpg
Kopa was the other great offensive force in the Stade Reims squads of the 1950s. A midfielder who was given the freedom to roam, Kopa was a tremendous dribbler. Winner of four French titles, Kopa was the premier playmaker in French football during his playing days.
Despite his ball skills, Kopa was a dangerous scorer. His first stint with Reims saw him net 48 goals in 158 games prior to moving to Real Madrid in 1956. Kopa returned to Reims after three seasons in Spain. He remained at Reims until his retirement in 1967.
Forward: Just Fontaine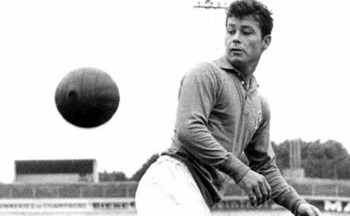 http://static.weltsport.net/bilder/spieler/gross/1807.jpg
Most fans are aware of Fontaine's impressive 13-goal haul in the 1958 World Cup. What many are not aware of is, Fontaine was nearly as efficient in league play as well. Fontaine found the net 165 times in 200 Ligue 1 matches for Nice and Stade Reims. Fontaine was named the best French Player of the last 50 years by the French Football Association in 2003. Fontaine led Reims to the European Cup finals in 1959, where they fell to Real Madrid. In 1962, Fontaine retired due to injury at the age of 28.
Forward: Jean-Pierre Papin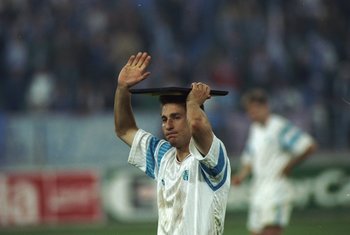 Getty Images/Getty Images
During the late 80's and early 90's, Papin was one of the most feared strikers in the world. His best years were with Marseille from 1986-1992. During that time, Papin set fire to the back of Ligue 1 nets. He scored 134 goals in 215 games for Marseille, was the top scorer in Ligue 1 for five consecutive seasons and won four Ligue 1 titles.
In 1991, Papin won the Balloon d'Or as Europe's top footballer. Papin began his career for Valenciennes before moving to Marseille. He would also have a stint with Bordeaux prior to his retirement.
The Bench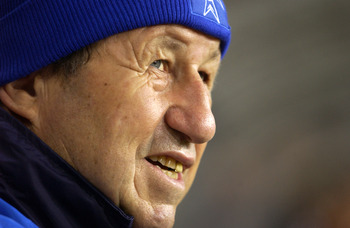 Guy Roux would lead my all time 11.
David Rogers/Getty Images
Coach: Guy Roux
GK: Joel Bats
Def: Patrick Battiston
Def: Jacques Novi
Mid: Jean Tigana
Mid: Didier Deshamps
Mid: Alain Giresse
Fwd: Herve Revelli
Fwd: Youri Djorkaeff
Keep Reading