10 Worst MLB Player Tattoos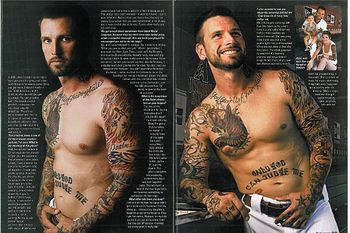 The "Tatman"
A tattoo is a representation of one's beliefs, feelings or ideas.
Once the ink is under the skin, it is nearly impossible to get rid of. Some would wonder why an individual would want to mark themselves with permanent ink, but to these rowdy MLB players, the ink means more than just a representation.
Tattoos can serve as a memorial or dedication to those that have passed that have moved on. Each individual stroke serves a purpose.
So why in the world do these players get these tattoos?
Some of these are downright awful or hideous, and are made even worse by their location.
Who has the worst one? Its up to you!
Josh Hamilton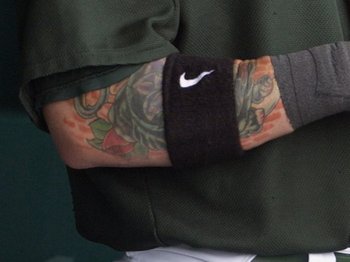 Hamilton's past may never go away.
You got to feel for the guy. Hamilton is one of the greatest comeback stories in the history of the MLB, but his ink serves as a memory to his substance-abuse days.
He covers them up with armbands and tape, as well as the 3/4 sleeves, but hiding his 26 tattoos in nearly impossible.
Ryan Roberts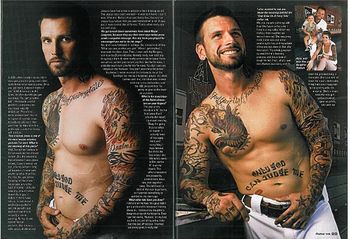 Well...at least he's comfortable with his ink.
Ryan Roberts may have the most tats in the major leagues. From his arm sleeves to the references to God on his stomach, Roberts may have the widest variety of ink.
Interesting facts:
1. The Diamondbacks gave away Robert's themed sleeves on May 12th of this season. As seen here, the tats look exactly like Robert's right arm.
2. Rebel Ink magazine recently ran an article on Robert's ink. Naturally, a photoshoot was necessary.
While Roberts may have more ink than any big leaguer, he takes pride in his tattoos, as shown by his clothing line.
'Tatman' may be Batman's sidekick in an alternate universe, but at least in the real world we can settle for an above-average third baseman.
Scott Spiezio
Spiezio must have some serious cojones.
If he can still pick up women (yes ladies, he is single), this tattoo must serve as a conversation starter.
I can just imagine the conversation:
Spiezio: "Hey pretty lady, you like the ink?"
Girl: "Ummmmmmm"
If the ink doesn't work, hopefully the two World Series rings do.
Brett Lawrie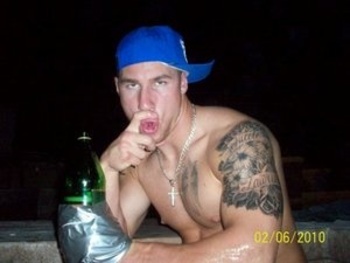 Someone needs to check their Facebook privacy settings.
Lawrie may not have established himself as well as Hamilton or Roberts, but at least he knows how to change his Facebook settings.
This picture, showing the classy 'finger mustache' and how to play 'Edward 40-Hands' is just an example of Lawrie's immaturity.
Don't get me wrong, Lawrie has a great future ahead of him, but this part of me says that Lawrie has an issue with maturity.
The ink even says it. How egotistical of him to put his name on his own bicep. Could be worse, I guess.
Eric Hinske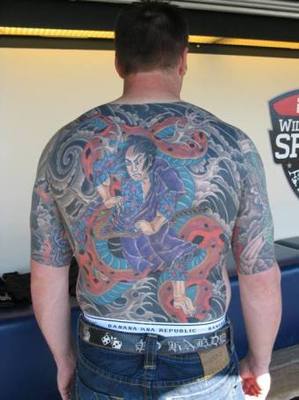 What's worse, the tattoos or the sagging pants?
Wow. The only redeeming part of this tattoo is the fact that you won't be able to see it while he's playing.
I wonder what he was thinking while he went under the needle.
"Oh yeah, this giant Oriental warrior is a great idea!"
I hope he enjoys these as he grows old.
A.J. Burnett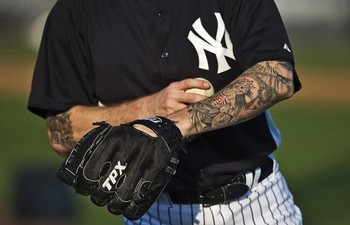 A.J. Burnett, Skeleton King.
Has a ring to it, doesn't it?
Sounds like a Tim Burton movie. Oh wait, sources are telling me that the name has already been used by a fictional character.
This tat is ridiculous. The fact that he wears it openly is even harder to comprehend.
A.J., why?
Andruw Jones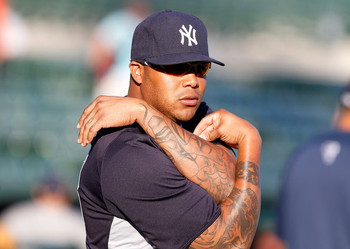 Apparently the spiderwebs are fashionable.
In a move contrary to the Yankee's organization, Andruw Jones is one of the first bench players that sports ink.
Historically, the Yankees have featured the clean cut look with players such as Yogi Berra, Mickey Mantle and Derek Jeter.
Andruw is not a representation of the Yankees organization in the historical sense, but at least the boy can play.
The former All-Star knows two things, how to hit left-handed pitching and how to get tatted up.
My favorite is the giant spider-web on his wenis (yes, that means his elbow).
CC Sabathia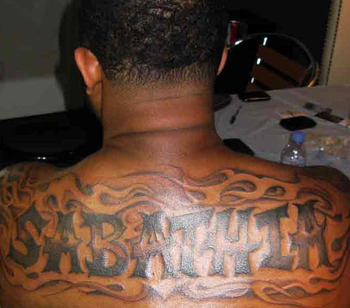 Seems fitting. The big lefty misses his Indians and Brewers days where his name was on the back of his jersey.
As far as tattoos go, this could be worse.
Justin Sellers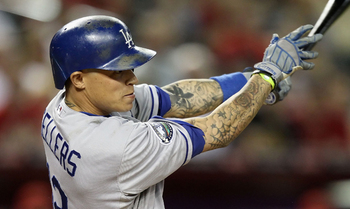 Apparently the spider web on the elbow is a popular spot for some ink.
Maybe Andruw Jones and Sellers share the same artist. The multitude of ink on Sellers' arm looks awful, and I can't protect the kid.
The shame is well-deserved.
Will he enjoy these tats when he's out of the LA limelight? (No Rush reference intended)
Check out this link on Sellers, courtesy of the LA Times.
Brandon Inge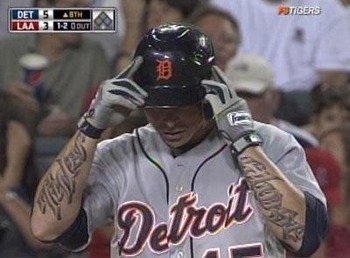 What do his arms say? Does he even know?
These two forearm tats are hideous.
If one could decipher what these random lines meant, they truly would have some computing power in their noggin.
I was told that his right arm says "Tyler" for his first born son, and his left says "Chase" for his second born.
Good idea, bad execution.
Keep Reading