College Basketball: Revisiting the Decade's Top Recruiting Classes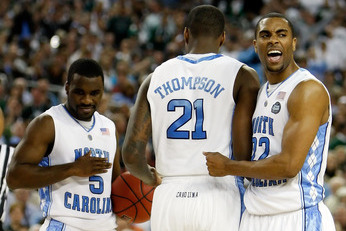 Courtesy of Getty Images
Over the past decade, there have been some incredible recruiting classes come and go. Some of the best ones are the unranked classes that experts do not see coming, yet end up establishing themselves during their college run.
Other recruiting classes include players who either left early for the NBA and players who left school early to transfer to a different team. No matter the ranking, each recruiting class had the chance to become special or become forgotten in history.
In this article, the top-ranked recruiting classes from the past decade will be discussed, according to Rivals. Looking back at these talented freshmen, it is clear that not all of these No. 1 overall classes met expectations, while some of them also surpassed their wildest dreams.
Read on to find out how these former players and coaches stack up against one another.
Begin Slideshow

»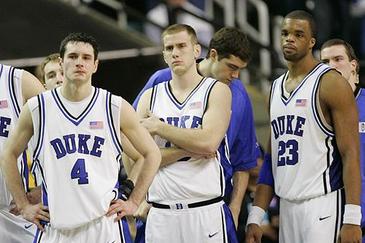 Courtesy of The Blue Zone
Recruiting Class:
5-star PF Shelden Williams
5-star SG J.J. Redick
5-star PF Shavlik Randolph
5-star PG Sean Dockery
4-star C Michael Thompson
This star-studded recruiting class followed in the footsteps of the 2001 Duke team that won the NCAA National Championship. Coach K ended up landing three studs in Shelden Williams, J.J. Redick and Shavlik Randolph.
These three players, along with contributions from Sean Dockery and Michael Thompson, formed the core group of the next four years of Duke basketball. This group advanced to the Sweet 16 during their freshman season, but made up for it the following year by taking the Blue Devils to the Final Four. Duke lost to Connecticut by one point, narrowly missing out on a national championship.
Surprisingly, this was the peak for Williams, Redick and Randolph. Each of the next two seasons, Duke lost in the round of sixteen. Meanwhile, J.J. Redick set ACC and NCAA records with his career totals in three-point shooting.
In fact, Redick averaged over 26 points per game during his senior season. Meanwhile, Williams was one of the country's best post players and averaged over 18 points and 10 rebounds per game during the 2005-06 season. Sean Dockery contributed as a role player and senior leader.
All three players played in the NBA in some form. Redick was drafted by the Orlando Magic and still plays for the team. Williams was drafted by the Atlanta Hawks as the fifth overall pick in the NBA draft. He failed to live up to expectations and has bounced from team to team, currently playing for the Brooklyn Nets.
As for Dockery, he played one season in the NBA developmental league before calling it quits as a professional NBA player.
Shavlik Randolph left the Blue Devils after his junior season, while Michael Thompson left the school following his sophomore season. Thompson never made it to the NBA, but Randolph played five seasons in the league. His last season was in 2010 and he played for Portland.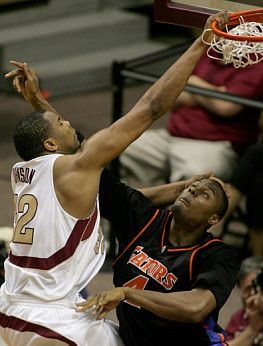 Courtesy of Draft Express
Recruiting Class:
5-star SF Von Wafer
5-star PF Alexander Johnson
4-star PF Diego Romero
3-star SF Antonio Griffin
This class was filled with promise on signing day, but it did not live up to expectations over the course of this group's college career.
Led by star players Alexander Johnson and Von Wafer, this was Rivals' top-ranked recruiting class in 2003. Johnson brought athleticism and length to the Seminole frontcourt, while Wafer was known as a dead-eye perimeter shooter.
As for Diego Romero and Antonio Griffin, they are listed as commitments but did not play for Leonard Hamilton's team until the following season. They walked on to campus as college juniors and had to sit out one season because of transfer rules in place.
Meanwhile, this talented group did not lead the Seminoles to an NCAA tournament berth during their entire college career. Being overshadowed by ACC powerhouses Duke and North Carolina kept Florida State out of the national spotlight.
However, the team did help Florida State post consecutive 20-win seasons during their junior and senior seasons. Alexander Johnson led the way after averaging over 13 points and seven rebounds per game in his junior season. He left the team after the year was over and entered the NBA draft, where he was drafted in the second round by the Indiana Pacers. Johnson played two years in the league before calling it quits after the 2007-08 season.
Meanwhile, Wafer left Florida State after his sophomore season and was drafted in the second round of the 2005 NBA Draft. The sharp-shooter abandoned ship at Florida State after scoring over 12 points per game in his sophomore season. He just completed his eighth professional season by playing for the Orlando Magic.
As for the late additions, Griffin played one season for Florida State and Romero played for two seasons. Neither played amassed much out of their time with Leonard Hamilton's staff. All in all, this was a class of over-hyped talent and lackluster production in college and the NBA.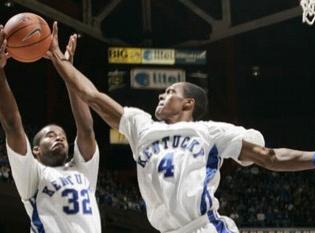 Courtesy of www.BigBlueHistory.net
Recruiting Class:
5-star C Randolph Morris
5-star SG Joe Crawford
5-star PG Rajon Rondo
4-star PG Ramel Bradley
G Patrick Sparks
Coach Tubby Smith hauled in his greatest recruiting class during his Kentucky tenure with this collection of talented prospects. The trio of Randolph Morris, Joe Crawford and Rajon Rondo were ranked among the nation's best, while Patrick Sparks transferred to Lexington from Western Kentucky University. Ramel Bradley was a Top-100 recruit and added depth and athleticism to the roster.
This group set foot on campus with a lot of pressure on their shoulders. The previous 2003-04 squad was the No. 1 overall seed entering the NCAA tournament, but they were upset in the second round. This freshman class was added to a veteran group, including Kelenna Azubuike and Chuck Hayes, and the team won 28 games and lost a heartbreaker in the 2005 Elite Eight.
After the season, Morris shocked the team by declaring for the NBA draft. However, he did not sign with an agent and he was undrafted. Therefore, he was eligible to return to Kentucky and he rejoined the stellar sophomore class.
However, this group of players never reached their full potential. The team failed to advance beyond the second round of the NCAA tournament during the rest of their tenure, and coach Tubby Smith left Kentucky after their junior season. By this time, Morris and Rondo had already left the program.
Crawford and Bradley stayed at Kentucky for their senior season and played under new head coach Billy Gillispie. The team only won 18 games and lost in the first round of the NCAA tournament.
Looking back, the best player from the class is certainly Rajon Rondo. He has become a NBA All-Star and won a championship with the 2008 Boston Celtics team.
Randolph Morris was signed by the New York Knicks and spent four seasons in the NBA. Joe Crawford played two games in the NBA with the New York Knicks and is still trying to earn a roster spot. Ramel Bradley is playing basketball overseas.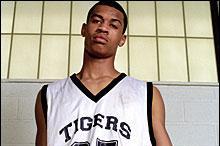 Courtesy of Scout
Recruiting Class:
5-star SG Gerald Green
5-star PG Byron Eaton
4-star SF Roderick Flemings
4-star SG Terrell Harris
4-star PF Kenneth Cooper
This class was ranked as the best in the country because of one player: Gerald Green. Many recruiting analysts believed that he would be a college superstar. However, Green never set foot on campus as he left immediately for the NBA straight out of high school.
Therefore, the rest of the class pales in comparison to Green. During their freshman season, Eaton and Fleming played important roles for the Cowboys but were led by fellow teammates JamesOn Curry and Mario Boggan.
Oklahoma State finished with an awful 17-16 record that season, easily missing the NCAA Tournament. That was head coach's Eddie Sutton's final year coaching, and his son, Sean Sutton, took over the team the following year.
Meanwhile, Flemings left the team and transferred to Hawaii, where he played for two more seasons. Entering the group's sophomore season, two of the most talented players had already left the program.
The 2006-07 team played well under Sean Sutton and posted a 22-13 record, which was a huge improvement over the previous year. Terrell Harris and Eaton emerged as key contributors to the team, especially with Harris and his ten points per game. However, the team failed to earn a bid to the NCAA tournament.
Coming into the group's junior season, the Cowboys disappointed again and only won 17 games. This proved to be Sutton's final season on the team's bench, as they moved on and hired Travis Ford as their new coach.
Byron Eaton and Terrell Harris played their senior season there and emerged as important starters for the team. Each player averaged nearly 14 points and four rebounds per contest. In their final year of college eligibility, the Cowboys finally broke through and advanced to the program's first NCAA tournament appearance since these players were freshmen. The team advanced to the second round but lost to Pittsburgh.
Regrettably, neither player made it to the NBA. In fact, Gerald Green is the only former member of this recruiting class that has made it in the league, currently playing for the New Jersey Nets. This was a class of coaching changes, unmatched potential and early departures that failed to live up to the hype that was stirred up in 2005.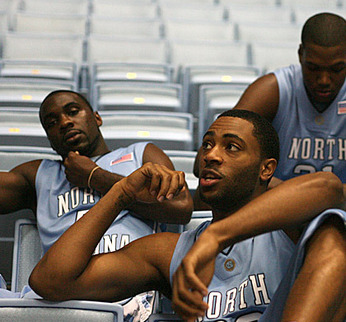 Courtesy of www.InsideCarolina.com
Recruiting Class:
5-star PF Brandan Wright
5-star SG Wayne Ellington
5-star PG Ty Lawson
4-star PF Alex Stepheson
4-star PF Deon Thompson
3-star SF Will Graves
This loaded class proved to be extremely successful and might be the best group of freshmen ever recruited by head coach Roy Williams. The five-star trio of Brandan Wright, Wayne Ellington and Ty Lawson led the way in their freshman season, but all six of these players contributed during their time with the Tar Heel program.
The group reached the NCAA Elite Eight during their freshman season, joining forces with a strong sophomore class featuring Tyler Hansbrough and Danny Green. The team featured incredible depth and athleticism and showed a lot of promise.
Unfortunately, Wright left the team and chased his NBA dreams after his freshman season. However, the remaining group of super sophomores continued to have great success in their second year. North Carolina emerged as a national title contender and advanced to the 2008 Final Four. Ellington emerged as the team's leading scorer, while Lawson was one of the nation's best point guards.
With their NBA stock sky high, the group decided to return for their junior season and chase a national championship. Ellington and Lawson formed the nation's best back court, and Deon Thompson emerged as an enforcer down low.
Combined with Tyler Hansbrough, who returned for his senior season, the 2009 North Carolina Tar Heels left their mark on college basketball history as an all-time great team. They steamrolled their way through the season and won 33 games, including their final win of the season in the national final.
After the season, many of the Tar Heel players made their way to the NBA. Lawson was the 18th overall pick in the 2009 NBA Draft, while Ellington was taken 28th overall by the Minnesota Timberwolves.
Brandan Wright still plays in the NBA, having just finished up the 2011-12 season with the Dallas Mavericks. None of the other players in this class made it to the NBA.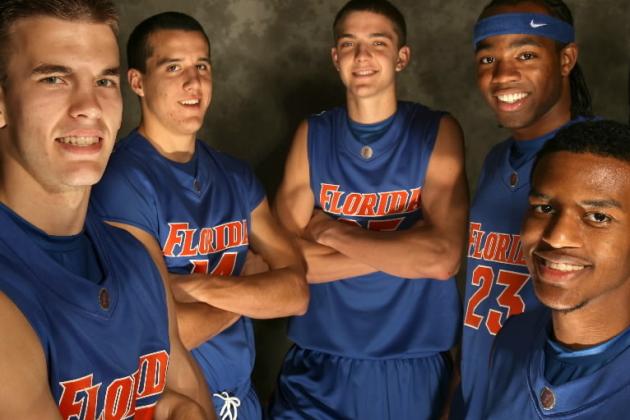 Courtesy of Orlando Sentinel
Recruiting Class:
5-star PG Nick Calathes
5-star SF Chandler Parsons
5-star SF Adam Allen
4-star PG Jai Lucas
4-star PF Alex Tyus
Following the success of Florida's back-to-back NCAA championships, head coach Billy Donovan put together a stellar recruiting class that promised to keep Florida among the nation's elite. Led by Nick Calathes and Chandler Parsons, the Gators were expected to remain the SEC's dominant team.
However, this group of players did not completely live up to expectations during their first two college seasons. Florida missed the NCAA tournament both years and had to settle for NIT appearances.
During their freshman season, Nick Calathes emerged as the team's leader by averaging over 15 points, six assists and five rebounds per game. Jai Lucas and Chandler Parsons contributed key scoring as well, each averaging over eight points per contest.
However, the team missed the NCAA tournament after finishing 24-12. Lucas left the team after one season, mainly because of the logjam at point guard with Erving Walker and Walter Hodge already manning the point.
In his sophomore season, Alex Tyus emerged as the team's second-leading scorer and Calathes continued to lead the team. Florida finished 25-11 and yet again missed the NCAA tournament, a far cry from winning championships just a few seasons before.
Calathes left the team to play overseas basketball, delivering a huge blow to the Gators' season. However, Florida played their way into postseason play. The team finally returned to the NCAA tournament, but they lost in the first round.
Led by senior Chandler Parsons and Alex Tyus, the 2010-11 team was destined to have a better postseason finish. They did so by advancing to the Elite Eight, in which they lost to Butler 74-71.
The only consistent NBA player from this group is Chandler Parsons. He was drafted in the second round by the Houston Rockets and nearly averaged 10 points and five rebounds in his first season. Meanwhile, Tyus never made it to the NBA.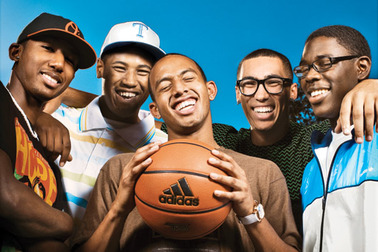 Courtesy of UCLA Magazine
Recruiting Class:
5-star PG Jrue Holiday
5-star C J'Mison Morgan
4-star PG Jerime Anderson
4-star PF Drew Gordon
4-star SG Malcolm Lee
UCLA head coach Ben Howland had just finished up a 2007-08 season in which he led the Bruins to a third consecutive Final Four appearance. With key players Kevin Love and Russell Westbrook leaving the program, Howland needed to land a talented freshman class to restock the roster.
He did just that by signing this stellar class, headlined by star guard Jrue Holiday. All five players were expected to lead UCLA to another stellar run of wins and tournament success.
Rather, this appears to be the start of the recent decline by UCLA. In a recent article reported by ESPN, all five players from this recruiting class appeared to enter college with a "star player" mentality and focused more on partying than basketball. Head coach Ben Howland apparently lost control of the team and let them run the program.
Granted, this class' first season was not a total waste. The team won 26 games, but they lost in the second round of the NCAA tournament. Following that, the wheels fell off of the bus as UCLA finished 14-18 during the 2009-10 season.
As for the players, Jrue Holiday left for the NBA after his freshman season. Malcolm Lee emerged as the Bruins' second-leading scorer during his sophomore season and junior seasons. Lee declared for the 2011 NBA Draft and was selected in the second round by the Chicago Bulls.
J'Mison Morgan and Drew Gordon left the program after their sophomore seasons, with Morgan transferring to Baylor and Gordon moving on to New Mexico. Jerime Anderson quit playing college basketball after his sophomore season.
As highly touted as this class was, the players generally did not develop and meet expectations, and they were the beginning of a disturbing trend at UCLA.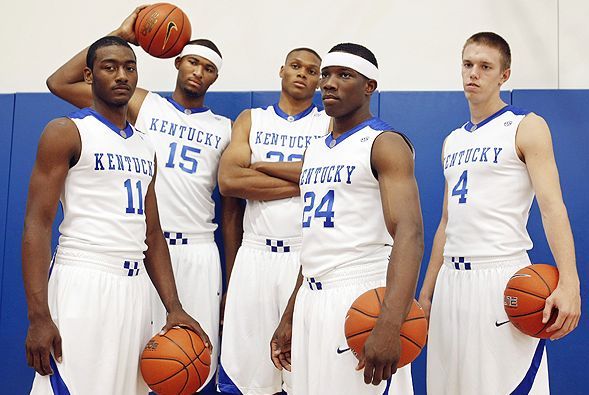 Courtesy of ESPN
Recruiting Class:
5-star PG John Wall
5-star C DeMarcus Cousins
5-star PG Eric Bledsoe
5-star C Daniel Orton
4-star SF Jon Hood
JUCO SG Darnell Dodson
This star-studded class announced to the college basketball world that Kentucky basketball was back and here to stay. The players brought a renewed swagger and confidence to the program and paved the way for the future recruiting classes that John Calipari brought to Lexington.
The most important recruit of all was John Wall. He committed near the end of the spring signing period and became Calipari's next great point guard prospect, following in the footsteps of Tyreke Evans and Derrick Rose.
Wall was joined by DeMarcus Cousins, who was the highest-ranked center in the 2009 class. The rest of the class included center Daniel Orton, point guard Eric Bledsoe, Kentucky native Jon Hood and sharp-shooting transfer Darnell Dodson.
This talented group of players led Kentucky to a complete turnaround from the Billy Gillispie era. Led by Wall's athleticism and Cousins' interior presence, the Wildcats won 35 games and were SEC regular season champions. They emerged as national title contenders but finished one game away from the Final Four. They lost to West Virginia in the Elite Eight.
Wall and Cousins were named 1st-team All Americans, and the four top-ranked freshmen all declared for the NBA draft. John Wall was drafted first overall by the Washington Wizards, and DeMarcus Cousins joined him after being drafted fifth by the Sacramento Kings.
Both players made the NBA All-Rookie team, and Cousins has emerged in his second season as one of the league's premier centers. Meanwhile, Daniel Orton is still trying to make his mark as a center, ending the past season with the Orlando Magic. Eric Bledsoe emerged in the 2012 playoffs as a high-potential guard for the Los Angeles Clippers.
Jon Hood is still playing for Kentucky, and Darnell Dodson left the Kentucky program after his only season playing for the Wildcats.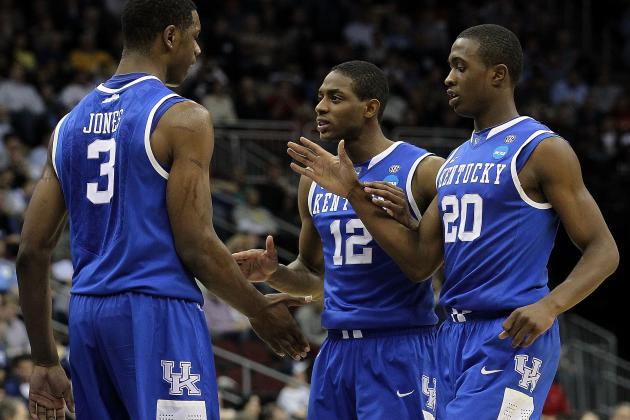 Nick Laham/Getty Images

Recruiting Class:
5-star C Enes Kanter
5-star PG Brandon Knight
5-star PF Terrence Jones
5-star SG Doron Lamb
4-star SF Stacey Poole
JUCO C Eloy Vargas
This class marked the second consecutive season that the nation's best class committed to the University of Kentucky. Coach John Calipari brought in a stellar group of prospects to replace the mass exodus from the 2009-10 squad.
What is remarkable about this team is that the best player of all did not even play for the team. Enes Kanter was ruled ineligible shortly after committing to Kentucky, which led the way for Josh Harrellson to have his time to shine.
Meanwhile, Calipari chose to start Brandon Knight, Terrence Jones and Doron Lamb. From the outset, it was clear that Terrence Jones was the most talented player on the team as his early-season performances created a lot of hype entering conference play.
However, the team struggled in the SEC while playing on the road. Kentucky lost the SEC regular season crown, but they did win the SEC Tournament Championship and entered the NCAA Tournament seeded fourth in their region.
From there, Knight led the team to big wins over No. 1-seeded Ohio State and No. 2-seeded North Carolina that propelled Kentucky to their first Final Four berth since 1998. Although they lost to eventual champion Connecticut, this team put the Wildcats back on the map and hoisted a banner in the Rupp Arena rafters.
After the season, Knight and Kanter declared for the NBA draft and were chosen by the Detroit Pistons and Utah Jazz, respectively. Kanter had a decent rookie season but played behind a stacked front court in Utah. Meanwhile, Brandon Knight had an excellent first season as a Piston and was named to the 1st-team All Rookie roster.
Terrence Jones, Doron Lamb and Eloy Vargas stayed at Kentucky for the 2011-12 season and won a national championship, which you will read about in the following slide. Stacey Poole transferred from Kentucky early in the 2011-12 campaign.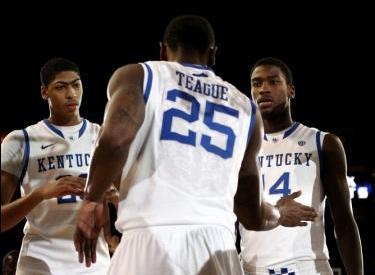 Courtesy of UK Athletics
Recruiting Class:
5-star PF Anthony Davis
5-star SF Michael Kidd-Gilchrist
5-star PG Marquis Teague
5-star PF Kyle Wiltjer
The best class of 2011 belonged to a familiar team- the University of Kentucky. Head coach John Calipari inked the school's third consecutive top-ranked recruiting class by building on the momentum of his two previous groups of freshmen.
This group featured just as many five-star prospects as the 2009 and 2010 classes, but there was something more special about this group. From the moment that they stepped foot on campus, the freshmen proclaimed that they would lead the Wildcats to a national title. Once the season started, they proved that they were not kidding.
The trio of Anthony Davis, Michael Kidd-Gilchrist and Marquis Teague started for the 2011-12 squad, joining returning sophomores Terrence Jones and Doron Lamb. Meanwhile, Kyle Wiltjer played a key role off the bench and quickly became one of the team's best three-point threats.
The young Wildcats steamrolled through the regular season, only losing one game and posting a perfect 16-0 record in the Southeastern Conference. This feat had not been accomplished since the 2003 team pulled it off under head coach Tubby Smith.
Along the way, the freshmen led Kentucky to victories over Louisville, North Carolina, Kansas and Florida, all of whom ended up reaching the Elite Eight during the 2012 NCAA Tournament. This experience against top-flight competition gave the Wildcats an edge that saw them buzz saw their way through March Madness and reach the 2012 Final Four in New Orleans.
Led by Anthony Davis and senior Darius Miller, Kentucky then won the "Game of the Century" when they squared off against the Louisville Cardinals in the Final Four. Davis then put together another strong defensive performance in the national championship game, along with fellow freshmen Kidd-Gilchrist and Teague. Kentucky won the national title by defeating Bill Self's Kansas Jayhawks team.
This group of freshmen tied a NCAA record by winning 38 games during the season. Meanwhile, Anthony Davis won every award imaginable and is set to become the first overall pick in the 2012 NBA Draft. In fact, he will be joined by fellow freshmen teammates Michael Kidd-Gilchrist and Marquis Teague, all of whom are expected to go in the first round.
Meanwhile, Kyle Wiltjer chose to remain at Kentucky and play a bigger role next season. All four of these players seem to have been great commitments for the Kentucky program and have a bright future ahead of them.