2013 NBA Season: 3 Washington Wizards Poised to Breakout in 2013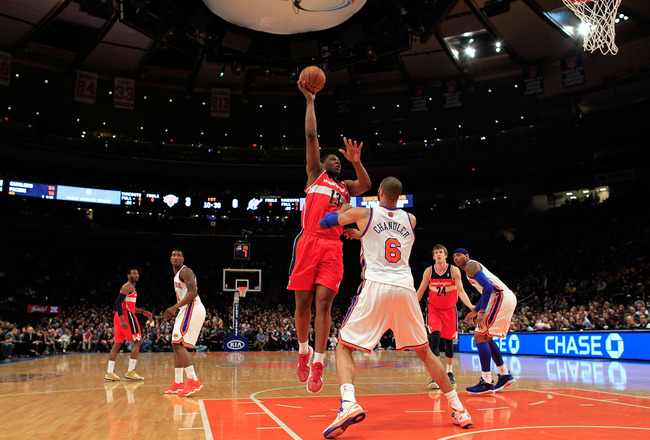 Chris Trotman/Getty Images
The 2012 NBA season was a disappointing one for the Washington Wizards, as they began the season by going a mere 12-44. To close the year out, however, those very Wizards won six in a row, including 8 out of 10, to finished 20-46.
You've got to see the glass as half full, don't you?
As the 2013 season is all the Washington Wizards have to look forward to and as reminiscing may be a tad too painful, excitement should be running through their veins. Their young core will finally have a full off-season to work with, while the veterans will convey their knowledge accordingly.
But who will lead the way?
3. Kevin Seraphin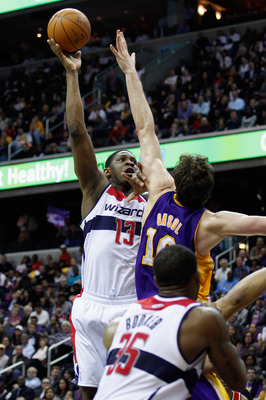 Rob Carr/Getty Images
Position: Power Forward & Center
Age: 22
Height & Weight: 6'9"—275 pounds
The 2012 regular season was one in which opportunity bred success for Kevin Seraphin. The 17th pick of the 2010 NBA Draft was inefficient and inconsistent over the first half of the season, scoring in double-figures on just two occasions and never reaching double-digit rebounds.
All of that changed in the months of March and April.
In March, Seraphin began to turn things around with averages of 9.2 points, 5.5 rebounds and 1.4 blocks per game. This included eight games in double-figure scoring and two double-doubles. One of those two came against Kevin Garnett and the Boston Celtics, where Seraphin posted 15 points and 11 boards.
April brought along even greater success, as the 22-year-old tallied double-figure scoring in every single game of the month. That includes 24 points, 13 rebounds and four blocks against Orlando; 21 points, 13 rebounds and five blocks against Chicago, the team that drafted Seraphin; and 19 and 10 against Indiana.
His April averages finished at 15.5 points, 7.0 rebounds and 1.7 blocks on 52.7 percent shooting from the floor. Time to break out.
2012 Season Averages: 20.6 MPG—15.83 PER—7.9 PPG—4.9 RPG—1.3 BPG
2. Jan Vesely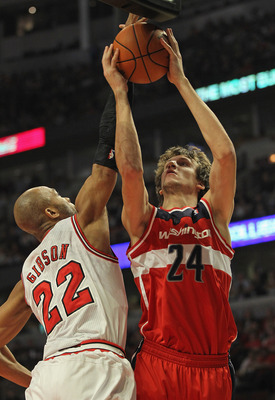 Jonathan Daniel/Getty Images
Position: Forward
Age: 22
Height & Weight: 6'11"—240 pounds
Through the first three months of the season, Jan Vesely scored in double-figures on just three occasions. He also failed to top 11 points and tallied double-digit rebounds on just one occasion: the final game of March.
Vesely finished April with seven games of at least 10 points and four with at least 10 rebounds.
While the 22-year-old's position is still in question, as he's split much of his time between the 3 and 4, his abilities are not. Vesely is an above-average athlete with a solid enough low-post scoring game. He's also rather weak to play in the post on D, calling for his placement on the perimeter.
As soon as his placement is figured out, he'll be ready to break out in a major way.
2012 Season Averages: 18.9 MPG—11.56 PER—4.7 PPG—4.4 RPG—0.7 SPG—0.6 BPG
1. John Wall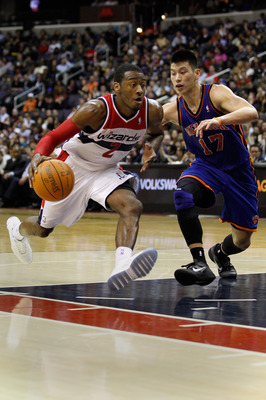 Rob Carr/Getty Images
Position: Point Guard
Age: 21
Height & Weight: 6'4"—195 pounds
How John Wall's spectacular season didn't earn him breakout honors in 2012 is beyond me. Well, until I remember that he was playing with JaVale McGee and Nick Young.
Wall joined Chris Paul and Deron Williams as the only players in the NBA to average at least 16.0 points and 8.0 assists. He was the only player in the NBA to put up those numbers and also average at least 4.0 rebounds. In other words, John Wall is already in elite company.
In 2013, with a full off-season to develop a chemistry with the talented young pieces around him, as well as key acquisition Nene Hilario, expect Wall to make the leap. Again.
2012 Season Averages: 17.77 PER—16.3 PPG—8.0 APG—4.5 RPG—1.4 SPG—0.9 BPG
Keep Reading

Washington Wizards: Like this team?