10 Reasons Addison Russell Will Be an Oakland Athletics Superstar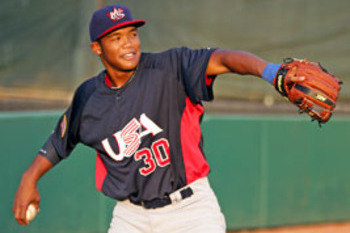 Selected 11th in the 2012 MLB draft by the Oakland Athletics, high school shortstop Addison Russell has the tools to be a future stud with the A's.
That is, if he signs.
Russell is already committed to Auburn, but with his talents he could easily spurn college for professional baseball.
The 18-year-old won't make an impact overnight of course. In four or five years however, Russell could be the next big thing for the A's.
With the current state the team is in, it doesn't take much to make an impact.
Right fielder Josh Reddick is currently one of the top fan favorites, hitting .271 with 14 home runs. Fellow outfielder Yoenis Cespedes nearly has superstar status already and he's only played two months in the major leagues.
With time and coaching—added to his current talent—Russell stands a great chance at making a name for himself amongst the Oakland fans.
Begin Slideshow

»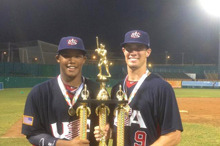 Photo Credit: Auburn.Scout.com
If his high school stats are any indication of the talent Addison Russell possesses, Oakland Athletics fans are in for a treat.
In his senior year at Pace High School (Florida), Russell hit .358/.532/.815. He knocked in 33 runs in 32 games.
Russell hit over .500 in his sophomore and junior years. He averaged 10 home runs, 17 doubles, 16 stolen bases and 38 RBI.
He's already netted over a dozen accolades including 2011 Louisville Slugger First Team All-American and 2011 First-Team All-State according to ESPN High School magazine.
Russell was selected as the shortstop to represent the United States in the U-18 Junior Pan-Am Games as well.
With a lightning quick release, Addison Russell has fantastic arm strength.
Scouts say he can continue to play shortstop, but has the ability to smoothly transition to third base if necessary. Others say the outfield isn't out of the question either.
Regardless, as he begins to grow and mature, his arm strength could increase as well.
Russell also owns what is described as above average foot-speed.
His footwork and powerful arm will allow him to be an effective Major League infielder no matter which spot he plays long-term.
Listed at 6'1'', 210 pounds, Addison Russell has a solid frame.
If he's done growing, he'll be just fine to effectively play shortstop at the big league level (size-wise).
The beauty of Russell's frame is he has room to grow without damaging his talent. A 20-pound increase would only ensure a move to third, but likely will contribute to added power.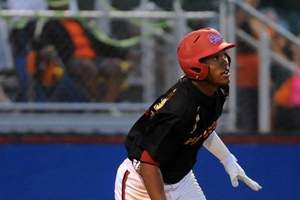 Photo Credit: Pnj.com
Look up scouting reports on Addison Russell and it doesn't matter which you choose, they'll all tout a similar aspect: raw power.
Power at the plate is one of the main aspects of Yoenis Cespedes that got fans pumped. It's the idea of home runs that excites many about Manny Ramirez's call up. Josh Reddick is beloved due to his surge in power.
A guy can hit it over the fence is a guy that is remembered.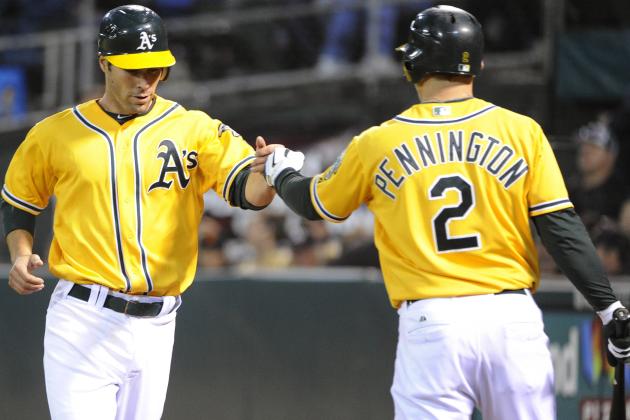 Thearon W. Henderson/Getty Images
Scott Sizemore (left) and Cliff Pennington (right) won't stand in Russell's way too long.
As of right now, shortstop is taken up by Cliff Pennington. Third base has seen a platoon of five different players.
But in about five years, I guarantee Pennington and Scott Sizemore—the starting third baseman lost to injury for the season—will not be with the team.
By the time Addison Russell is ready for the big leagues, the current left side of the infield will be well into their 30s. Currently, both are about average.
Russell will have youth as a huge advantage.
At the point in which Pennington or Sizemore's careers in Oakland are ready to come to an end, Russell's will be—perfectly timed—ready to begin.
Eric Sogard and Adam Rosales aren't going to stand in his way either. They're career backups.
As for the rest of the minor league system, Oakland's lacks left-side infielders. The best option—Grant Green—was moved to center field.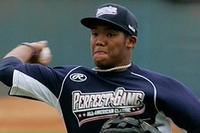 Photo Credit: PerfectGame.org
Being drafted out of high school comes with huge benefits.
Leeway and plenty of time to develop are the two biggest advantages for Addison Russell.
At his age, he'll receive quality instruction from other players and coaches within a professional baseball organization. Even better, he should get four to seven years of quality hands-on practice and education (unless he's a 20-year old phenom).
The Oakland Athletics can take their time with Russell.
He'll be a better player for it.
Time to learn and grow in the minor leagues also provides more time to gain a following. Tearing up the minors turns heads and garners early recognition so that by the time he's called up, fans will be salivating.
Examples of players that did the same include Huston Street, Barry Zito, Eric Byrnes, Nick Swisher, Bobby Crosby and many more.
Christian Petersen/Getty Images

Again, unless Addison Russell tears up the minor leagues and enters the show in two years, the Oakland Athletics are going to take their time with him because he's so young.
By the time he arrives in Oakland (or wherever they are), there might not be too many recognizable faces from today.
Hence, he'll be a superstar by default.
With a revolving door of talent, A's fans have grown accustomed to annually familiarizing themselves with the young talent new to the scene.
Let's say Russell hits the majors in five years.
Cliff Pennington, Scott Sizemore, Coco Crisp are very likely to be gone. It wouldn't be a shock to see Daric Barton, Kurt Suzuki or even Yoenis Cespedes playing elsewhere either.
Russell, Michael Choice and Grant Green very well could be the next crop of youngsters making waves.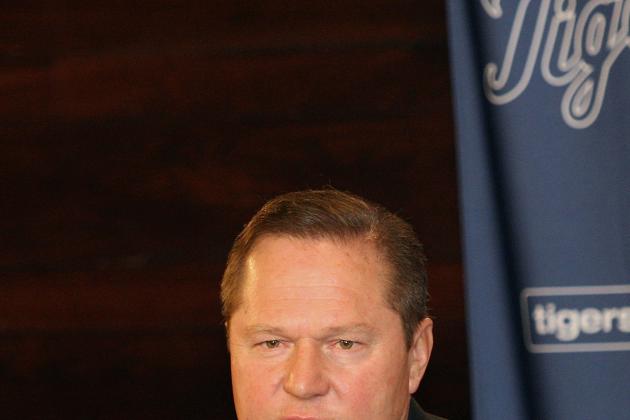 Jorge Lemus/Getty Images
Baseball agent Scott Boras
Two major supporters stand out.
First, agent Scott Boras advises Addison Russell.
Boras has a knack for representing the game's most talented players such as Prince Fielder and Adrian Beltre.
If Russell is on Boras' radar this early, you have to believe Russell has the kind of talent that will make him a superstar for years.
Second, the Oakland Athletics haven't selected a player out of high school since 2001 when they took Jeremy Bonderman.
This kind of switch in routine speaks volumes about the talent the A's believe they're getting.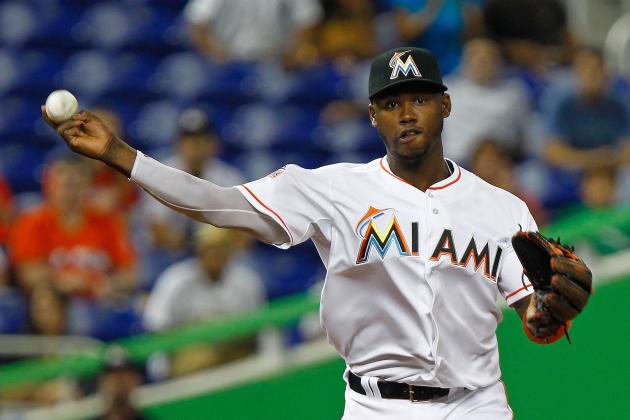 Mike Ehrmann/Getty Images
Miami Marlins third baseman Hanley Ramirez
MLB.com compared Addison Russell to Jhonny Peralta.
Peralta has been a very consistent hitter averaging a .267 average with 20 home runs and 80 RBI a season.
An earlier analysis on The Bleacher Report has Russell's talents and size comparable to that of Hanley Ramirez.
If Russell becomes either of those guys, he'll shine in Oakland.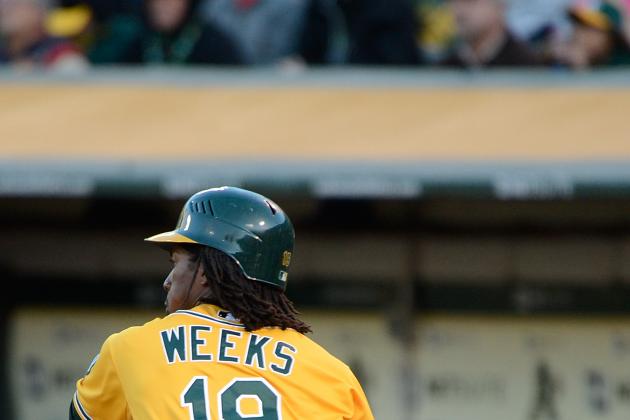 Thearon W. Henderson/Getty Images
Jemile Weeks was the 12th overall pick in the 2008 draft
The Oakland Athletics have seen much success out of their first round draft picks.
Michael Choice and Grant Green—2010 and 2009's picks respectively—should hit the majors in a year or two. Jemile Weeks—chosen in 2008—earned the starting role last season.
The list continues with Cliff Pennington, Huston Street, Joe Blanton, Nick Swisher, Jeremy Bonderman, Bobby Crosby, Eric Chavez, Barry Zito and Mark Mulder.
Every name on the list—save Pennington—has a World Series ring, hefty contract or Rookie of the Year honors.