San Francisco Giants Come from Behind to Beat Cubs, Finally Complete a Sweep
June 5, 2012

Ezra Shaw/Getty Images
After previously going 0-4 this year in series where they had a chance to sweep, the San Francisco Giants finally got the job done Monday afternoon. They came from behind to beat the cellar-dwelling Chicago Cubs 3-2, led by another strong performance from Ryan Vogelsong (4-2, 2.38).
Vogelsong gave up two runs on eight hits, going seven innings for the seventh time in 10 starts this year, lowering his ERA to 2.38, which is tops among Giants starters. 
Falling behind early, Vogelsong gave up five singles in the top of the second, including four two-out singles in a row that put the Giants down 2-0. 
In the bottom half of the inning, the Giants struck back with back-to-back singles from Brandon Belt and Joaquin Arias, followed by a double from Brandon Crawford that scored Belt to plate San Francisco's first run.
The Giants scored another run to tie the game in the fifth inning when Buster Posey led off the inning with a walk, later scoring on Crawford's ground ball to second base.
The force out should've been a double play, but it ended up being a fielder's choice and an RBI for the Giants' shortstop, as Cubs shortstop Starlin Castro had a huge mental lapse. Believing there were already two outs, Castro fielded Crawford's grounder near second base, touched the base, then proceeded to jog towards the dugout before realizing his mistake, allowing the run to score.
The Giants scored the go-ahead run in the seventh inning after another leadoff walk by Posey, followed by an Angel Pagan single and a walk to Belt. Hitting with the bases loaded and nobody out, Arias hit into a double play, scoring Posey from third, which proved to be all the Giants would need.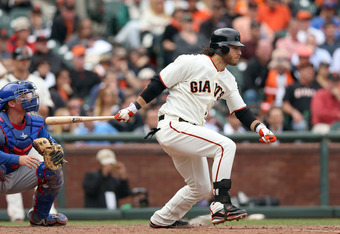 Ezra Shaw/Getty Images
Vogelsong's performance Monday continues to reinforce the Giants' decision to sign the right-hander to a two-year, $8.3 million contract after a resurgent 2011 in which Vogelsong posted a 13-7 record with a 2.71 ERA and a trip to the All-Star Game. 
Vogelsong has gone at least six innings in all 10 of his starts, and his ERA is among the top five in the National League.
Jeremy Affeldt backed up Vogelsong in relief, pitching a perfect eighth and ninth inning for his first save of the year.
The Giants ended up stranding 11 runners on base as they went 1-for-14 with runners in scoring position, but they manufactured enough runs to beat Chicago. The struggling Cubs have now lost 11 straight games on the road for the first time since 1954. 
The Giants now head to San Diego for a brief three-game road trip before heading back to San Francisco for a weekend series against the Texas Rangers, opening up the second installment of interleague play and a rematch of the 2010 World Series.