WWE: Sheamus vs Daniel Bryan & the 15 Best 2/3 Falls Matches in Company History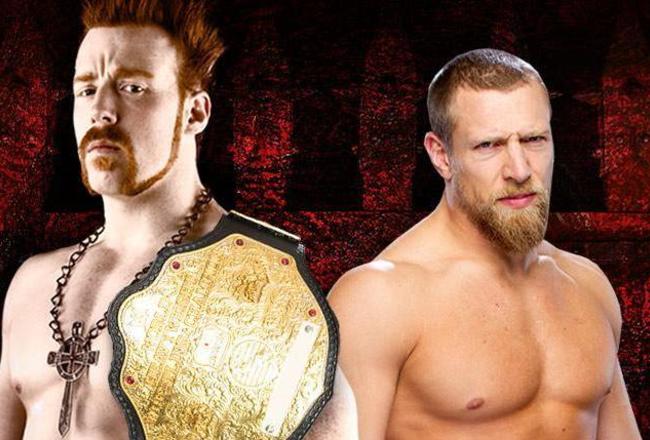 Photo from wwe.com

As a trademark of wrestling's past and of Lucha Libre tradition, the 2 out of 3 falls match amplifies the drama of a match.
Like the back and forth nature of the World Series or the NBA Finals, this type of match sees wrestlers having to make comebacks or fight desperately to gain the first advantage.
Sheamus and Daniel Bryan stole the show at Extreme Rules 2012 with their 2 out of 3 falls match.
It was certainly one of the best of its kind, but where does it rank among the all-time great multiple fall matches? It has to compete with Kurt Angle, classic tag team matches and barbaric 3 Stages of Hell encounters.
Honorable Mention
Randy Orton vs. Triple H (3 Stages of Hell) at The Bash 2009
Strike Force vs. the Bolsheviks Saturday Night's Main Event 1987
Rocky Johnson and Tony Garea in a hard fought match against Riki Choshu and Mr. Saito in 1982
15. Raw 1993: Marty Jannetty vs. Doink the Clown
Marty Jannetty and Doink put on a set of surprisingly quality matches during a feud in '93. Doink's over-the-top clown gimmick and outfit often overshadowed his technical and overall skills.
Doink and Jannetty had good chemistry.
They put on an entertaining battle that, despite sagging in the middle, was well-paced. Doink played the sadistic clown to a tee, clearly enjoying grinding and punishing his foe.
Fans' enjoyment of this match depends on if they can look past Doink's sometimes annoying character.
If they can, they'll take in some excellent wrestling and storytelling, not to mention a superkick for the ages.
14. Smackdown 2011: Rey Mysterio vs. Alberto Del Rio
Alberto Del Rio's arrival to the WWE saw him engage in a feud with fan favorite Rey Mysterio. This was one of the finest matches they put on together.
Counters, dramatic near-falls and bursts of rapid-fire action highlighted a memorable encounter.
Del Rio showed off his stinging kicks and Mysterio did his usual mystifying high-flying.
The 2 out of 3 falls stipulation added depth as Mysterio's decision to tap out to the cross armbreaker early was hailed by the commentators as smart strategy. As the match chugged towards the climax, the score was tied with one fall each.
The Ricardo Rodriguez-assisted count out ending took a bit of air out of a swelling drama.
13. Royal Rumble 1988: Jumping Bomb Angels vs. Glamour Girls
This severely under-appreciated gem marked the second to last title change in the now-defunct WWF Women's Tag Team Championship history.
Leilani Kai and Judy Martin took on an eye-catching highflying team from Japan in the Jumping Bomb Angels in a melding of aggression and athleticism.
Noriyo Tateno and Itsuki Yamazaki were far more popular in Japan, but American audiences got a taste of their enthralling style at the '88 Royal Rumble.
Quick falls and a quick pace, biting, and hair-pulling highlighted the action.
A double missile dropkick served as fitting capper to an exciting match.
12. Insurrextion 2001: Chris Benoit vs. Kurt Angle
While the London crowd blared their air horns, two of the greatest wrestlers of all time continued their engaging feud over honor, respect and Kurt Angle's Olympic medals.
This match was not as superb, not nearly as dramatic as the finest of their work, but breathtaking nonetheless.
At just over 14 minutes, fans no doubt felt that this was too short.
Their usual blend of technical wrestling, intense strikes and storytelling was a pleasure to watch. They pushed the fiery action until the frantic ending, but leaving enough on the table so that we would buy another pay-per-view to see them settle the feud.
Angle and Benoit would top this in another 2 out of 3 Falls Match later that year.
11. 1987: Strike Force vs. the Islanders
This beautifully crafted tag team match featured some vastly under-appreciated wrestlers in Tito Santana and Haku and was powered by a lively Madison Square Garden crowd.
Nick Bockwinkel and Gorilla Monsoon called the action as the four wrestlers delivered high energy and fast-paced wrestling.
Santana took the brunt of the damage from the rival Islanders. He struggled against their underhanded heel tactics and powerful headbutts.
Rick Martel and Santana played to the crowd perfectly. One of the most enduring images of the match is Martel protecting a downed Santana, fists at the ready.
10. SummerSlam 1990: Hart Foundation vs. Demolition
The 2 out of 3 falls tag team title match was the highlight of a poorly received SummerSlam event.
Despite the heavy-handed foreshadowing by Vince McMahon on commentary and the hard to swallow concept that the referee would confuse Smash with Ax, this was still an exciting match.
The Hart Foundation was a hot team at the time and they put on great matches with just about anybody. The power-centric, brawling style of Demolition complemented them well.
The high-energy crowd contributed to the visceral intensity felt throughout the contest.
9. Fully Loaded 1998: The Rock vs. Triple H
The tablesetter for their classic ladder match at SummerSlam, the Rock and Triple H's 2 out of 3 falls match showed us that these two men had something special together.
Their chemistry sharpened over time, but this was still a gripping battle.
The action opened with a slugfest before grinding slower in the middle and rising to a crescendo near the end.
The Degeneration-X and Nation of Domination tension was handled deftly, not overwhelming the match, but adding to the intensity.
The pop for Chyna when she whacked the Rock with a low blow was tremendous.
WWE showed their hand too much by having Jim Ross and Jerry Lawler mention the time limit too often. The time-limit draw ending felt a bit forced and was highly unsatisfying.
8. Armageddon 2002 (3 Stages of Hell): Shawn Michaels vs. Triple H
After Shawn Michaels' return from injury and subsequent World Heavyweight Championship win, his feud with former friend Triple H led to this vicious 3 Stages of Hell Match.
A cage match followed a long, grueling Street Fight and the last fall saw the two rivals battle in a ladder match.
Some fans will bemoan the slow, grinding pace much of the action took while others will light up at the memory of the cavalcade of violence Michaels and the Game put on.
Dented garbage cans, bent chair, broken tables, a bloodied Ric Flair and the sight of a flaming barbed 2x4 whooshing past Triple H's face tell the story of friendship devolving into brutality.
7. Saturday Night's Main Event 1987: Hart Foundation vs. the British Bulldogs
Few teams have had the chemistry that the Hart Foundation and the British Bulldogs had together.
Their rivalry was hypnotizing.
Raw emotion, drama and crisp wrestling were jammed into a short match.
Both teams made it clear how much the tag team titles mattered as did the hyped crowd. Bret Hart was his usual fantastic self, but the star of the match was the Dynamite Kid, who with his nose bloodied became the emotional backbone of the match.
The only flaw in this battle was overturning the Bulldogs' title win because one of the falls was a disqualification, thus invalidating the title change.
Had WWE decided to tweak that ending, leaving that elated audience to soak up the gutsy Bulldogs' win, this match would be even more of a classic.
6. SummerSlam 2000: Chris Benoit vs. Chris Jericho
A magnificent clash between Chris Benoit and Chris Jericho began as an incendiary brawl and excellent technical work was weaved in as they went along.
Burst of quickness and shark-like viciousness from Benoit were some of the pillars of the match.
Even though the fans had just seen Shane McMahon fall from an insane height in the previous match, the action between Benoit and Jericho still ignited them.
The ref tumbled out of the ring, Jericho sold his injured shoulder beautifully and Benoit stole a win. On a crowded card, this match didn't get all the time it deserved, but it remains a classic.
5. Smackdown 2004: Kurt Angle vs. Eddie Guerrero
It's a testament to Kurt Angle and Eddie Guerrero's greatness that they have so many classics under their belts that this match doesn't get talked about nearly enough.
Great catch wrestling was elevated by superior storytelling.
The very civil action that open the match unraveled when Angle began to bend the rules, inspiring Eddie to go on a run of playful cheating.
It's hard not to get caught up in the emotions of this match, Eddie's temper or Angle's frustration.
They paced the action perfectly, building to the flurried and surprising ending.
How many times has the air filter from a car played so significantly in the outcome of a match?


4. Smackdown 2002: Edge and Rey Mysterio vs. Kurt Angle and Chris Benoit
You'd expect no less than a tour de force with these four men involved. Edge's showmanship and Rey Mysterio's agility served as a perfect complement to Kurt Angle and Chris Benoit's styles.
The tension between Benoit and Angle—rivals forced to be partners—created another level of intrigue.
The action moved along at a frenetic pace. The explosive crowd possessed a buzzing energy throughout.
A memorable highlight was Mysterio hitting a 619 from the floor, but fans may be more likely to remember the controversy and subsequent drama that came near the end of the match.
Mysterio had just pinned Angle and he and Edge believed they were to be crowned tag team champs, but Angle had been holding the bottom rope when the ref's hand hit the three-count.
The ref reversed his decision and gave the elated crowd essentially an extra fall.
3. Extreme Rules 2012: Daniel Bryan vs. Sheamus
WWE's 18 second mistake at WrestleMania 28 fortuitously helped launch Daniel Bryan into superstardom.
It was in the promos that followed him losing the World Heavyweight Championship that Bryan's true heel powers grew and this match was the culmination of that metamorphosis.
In a battle of the gutsy warrior vs. the crafty technician, both men proved themselves as top-tier guys and the real winner was the audience.
Littered with "Yes!" chants, this phenomenal match saw Sheamus pulling out some surprising submission moves as well as his usual bulldozer style.
Sheamus' style blended gorgeously with Bryan's and after seeing what these two were capable of together with more than 18 seconds to work with, it was a shame to see the match finally end.
2. Judgment Day 2001: Kurt Angle vs. Chris Benoit
Kurt Angle and Chris Benoit have constructed so many opuses together that a match like this can get forgotten despite its excellence.
The first fall was pinfall only. The second could only be won by submission and the final (if needed) was to be a ladder match with Angle's Olympic medals hanging above the ring.
Intensity hummed for the duration of the match, both men delivering all the fantastic suplexes and submissions we've grown accustomed to seeing.
Angle was impressive as he played the prey in survival mode. He was in the ropes so much it inspired Jim Ross to say, "If the ropes were a woman, Angle would be going steady."
An already heart-quickening battle was made better by the ladder portion. Benoit took some vicious bumps via the steel ladder.
The run-in by Edge and Christian didn't cheapen the match. It only made Benoit look that much more powerful despite losing.
1. No Way out 2001 (3 Stages of Hell): Triple H vs. Steve Austin
Triple H and Steve Austin delivered intensity from the opening bell. Austin's spectacular feud with the Rock sometimes overshadows how great Triple H and Austin were.
Each fall could stand on its own as a great match.
Together, the standard wrestling match, Street Fight and steel cage sections of this match form a masterpiece.
Both men came out of this looking incredibly tough, especially Austin who stayed in the figure four leglock to the point they where he came off as superhuman.
Several lasting images were born from this match: Triple H getting smacked in the face with a beer, Austin's blood splattered on the announce table, both wrestlers sliding on the sweat-slicked mats.
The rubble of their war around them, the drama thumping like a heartbeat, there was a fluttering energy in that arena as the cage was lowered.
And few endings have been more fitting than Triple H simply collapsing on Stone Cold to gain the win.
Keep Reading