Pacquiao vs. Bradley: Undefeated Boxer Provides Little Challenge for Pacquiao
June 5, 2012

Stephen Dunn/Getty Images
Manny Pacquiao is considered the best pound-for-pound boxer in the world. His bout Saturday against Timothy Bradley will do nothing to change that notion.
Bradley comes into the fight with an impressive 28-0 career record. He currently holds the WBO Light Welterweight Title and has successfully defended it four times in the past two years.
Unfortunately, the majority of his wins have not come in dominating fashion.
Only 12 of his wins have come by knockout. While winning by decision still counts the same, it shows that he does not have as much of an ability to finish his opponents with one good hit.
Boxing upsets usually happen by knockout. It is unlikely "Desert Storm" will do enough throughout the match to convince the judges he is better than Pacquiao.
Even the undefeated record of Bradley is slightly misleading. He was slated to face Amir Khan for his WBC and WBO titles last year for a career-high payday of $1.3 million. Unfortunately, this was not enough money for the boxer and he turned down the opportunity.
Bradley was eventually stripped of his WBC belt due to inactivity.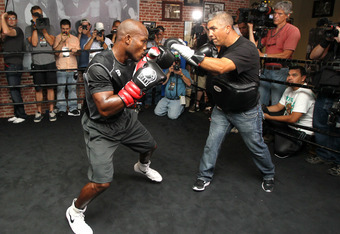 Stephen Dunn/Getty Images
While it is unknown how the hypothetical contest would have played out, Khan would have likely posed quite a threat to Bradley's undefeated record and potential to face Pacquiao for much more money.
Meanwhile, Manny has learned not to take his opponents lightly. Pacquiao struggled in his last fight against Juan Manuel Marquez, but claimed that he underestimated his opponent while going through some personal problems during preparation. 
The WBO Welterweight Champion has learned from his mistakes and he will not take his next challenger lightly. This is not good news for Bradley.
Betting sites, like sportsbet.com, currently have Pacquiao as the overwhelming favorite, netting gamblers only $100 on a bet of $450. Unfortunately, this might be the only way to win any money as Pacman cruises to an easy victory.