2012 MLB Draft: Pittsburgh Pirates Get a Potential Steal in Mark Appel
June 5, 2012

The big surprise of the 2012 Major League Baseball Draft on Monday night was that Stanford right-hander Mark Appel plummeted to the eighth spot of the first round. 
Appel was seen as the likely number one overall pick in most mock drafts.  However, the Scott Boras client fell to the Pittsburgh Pirates because of signability concerns. 
The question now for Pittsburgh is whether or not they can get Appel signed.  The new Collective Bargaining Agreement (CBA) severely penalizes teams for going over slot to sign high upside prospects with later picks. 
If the Pirates were to go five percent over slot to sign Appel and their other draft picks, they will lose their first round pick next season.  The slot value of the number eight pick is $2.9 million, well below the $7.2 million that Appel would have been entitled to if he was the number one overall pick. 
Appel can always just return to Stanford for his senior season next year.  However, if he were to return to college and get injured, he would potentially cost himself millions of dollars. 
Also, refusing to sign this year will likely make teams wary of taking a risk on him next season, especially because the new CBA will still be in place.  With the new hard slotting system, teams are likely going to value players that they know they can get signed at the recommended slot price.
If the Pirates do get Appel signed, they are getting perhaps the best arm in the draft to team up with their outstanding minor league pitching combination of Gerrit Cole and Jameson Taillon, who are teammates on the Pirates high Single-A affiliate.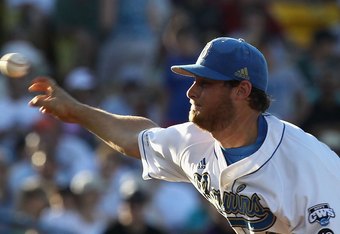 Christian Petersen/Getty Images
I scouted Appel twice this season at Stanford.  He featured a fastball that sat in the 93-97 Mile Per Hour (MPH) range with some good movement to his arm side, a very good slider that was anywhere from 80-89 MPH and a developing changeup that sat between 80-87 MPH.  He has outstanding control, but he needs to improve his fastball command within the strike zone as well as the consistency of the changeup. 
If the Pirates can combine Appel with Cole and Taillon, they will have the best trio of pitching prospects in baseball.  The Pirates' rebuilding process has started to produce a much better product on the field at the major league level. 
Adding three potential aces to the mix in the near future could push the organization into the postseason for the first time since Barry Bonds left town back in 1992. The Pirates made a big splash on draft night; now the hard work of negotiating with Scott Boras begins.