NBA Draft 2012: 5 Lottery-Bound Picks Who Will Bust in the Pros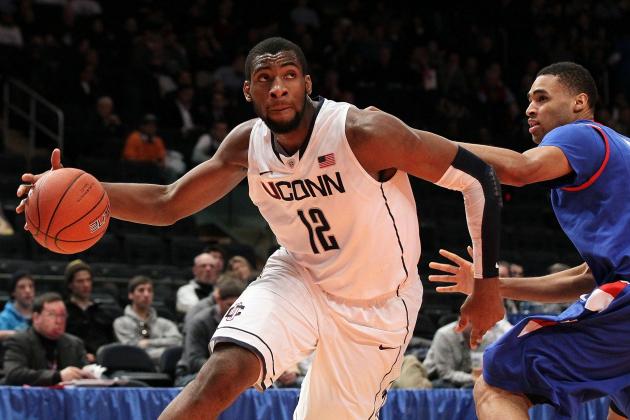 Jim McIsaac/Getty Images

The NBA draft is just a few weeks away, and while the players available, needs of each team and order of picks change every year, one constant is the presence of several high-risk prospects whom lottery-bound teams will be looking at very closely. This draft class especially, with its depth of talent, has a number of college stars who are poised to be taken off the board early, but have major questions and concerns about their long-term professional viability.
Whether they rely too heavily on athleticism instead of skill, do not have the strength nor speed to succeed at their position in the NBA or do not seem mentally ready for the rigorous nature of pro basketball, these players are the ones every team picking in the lottery should be wary of bringing onto their roster.
Here are five players who, despite impressive college careers, seem poised to be disappointments once they join the NBA.
Begin Slideshow

»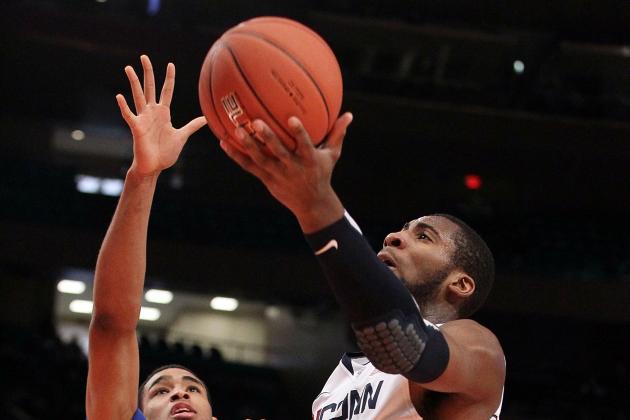 Jim McIsaac/Getty Images

Potential Destinations: Washington Wizards (No. 3), Sacramento Kings (No. 5), Portland Trail Blazers (No. 6, via Brooklyn Nets)
Selecting centers high in the lottery is always risky, as many teams will take big men hoping that eventually their skill and basketball IQ will develop to complement their size and strength.
Andre Drummond, UConn's freshman center and a surefire lottery pick, is another in a long line of high-risk big man prospects who could end up being a major bust at the NBA level.
Drummond's game is predicated almost solely on overpowering his defender and getting to the rim for scoring, he does not have go-to moves in the post and no semblance of a face-up game. Drummond averaged 10.2 points per game last season, and while his sheer size and athleticism were enough to find easy scoring opportunities, those will be far harder to come by in the pros.
He had a troubling tendency to disappear for stretches of games, taking possessions off and not exploiting mismatches or using his physicality to benefit the Huskies. For a 6'10" superb athlete like Drummond, this is simply inexcusable. He should be a constant factor during his time on the court, and these mental lapses are a huge cause for concern as he makes the transition to professional basketball.
Obviously a player of Drummond's size does not need to be bringing the ball up the court or crossing over his defender, but with his lack of polish, Drummond could simply be a liability at times on the court. What's to stop a savvy coach from hacking Drummond, a 29.5 percent foul shooter in college, in order to get the ball back and create more offensive possessions?
Drummond is the kind of player who would have immensely benefited from another year or two at the college level, fine-tuning his game and continuing to grow and mature under Jim Calhoun. The NBA is filled with gifted athletes who did not have the skills necessary to stay on the court and be key contributors. Though he has all the physical tools of a quality center, Drummond belongs back in Storrs, Conn., for another season and not on an NBA roster just yet.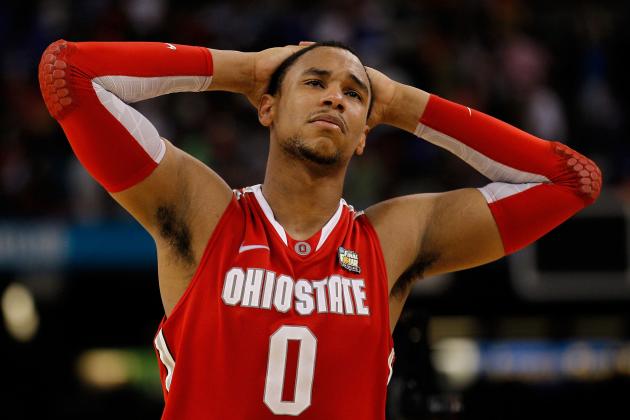 Chris Graythen/Getty Images

Potential Destinations: Toronto Raptors (No. 8), Detroit Pistons (No. 9), Milwaukee Bucks (No. 12),
Jared Sullinger is one of several power forward prospects who will be taken during this year's lottery.
Once perceived to be a franchise-changing big man, Sullinger's lack of growth between his freshman and sophomore seasons with the Buckeyes has led many to believe he will not succeed in the NBA.
Sullinger can score on the block better than anyone available at his position, and while that will be instrumental in what success he does have as a professional basketball player, it does not make up for the many red flags associated with his game.
Sullinger is by no means a great athlete, as he faced conditioning issues a few times last season. At 6'9", Sullinger is a little undersized at the power forward spot despite his length, and his motor troubles are concerning for someone who must find ways to make up for a few inches of height while out on the court.
One way to do that is by out-hustling your defender or running the floor harder, but that is something Sullinger, with his lack of athleticism, will struggle to do in the pros. Like Drummond, Sullinger will not be able to overpower his opponent as easily as he did in college.
While he has the moves to score if he can get position, Sullinger's jump shot is still too shaky to be a legitimate pick-and-pop threat. He does not have the kind of first step to blow by his defender or create separation that many of the quality power forwards in the NBA have, either. He logged some time at center while in college, but given the larger average size of professional players, it is difficult to imagine Sullinger being matched up with an Andrew Bynum or JaVale McGee in the paint.
Historically, big men who are not able to alter shots will struggle to adjust to the professional game defensively, and Sullinger was far from a dominant shot-swatter. He did average a block per game, but he did not have the timing nor discipline of an Anthony Davis or even a Meyers Leonard. Sullinger was not a great help defender while at Ohio State, and teams will be able to exploit him defensively due to his lack of speed and lateral quickness.
Because of his scoring prowess, I don't think Sullinger will be a total wash in the NBA, but he is not the kind of leader people believed he was after his freshman season and could be one of biggest disappointments of the 2012 draft.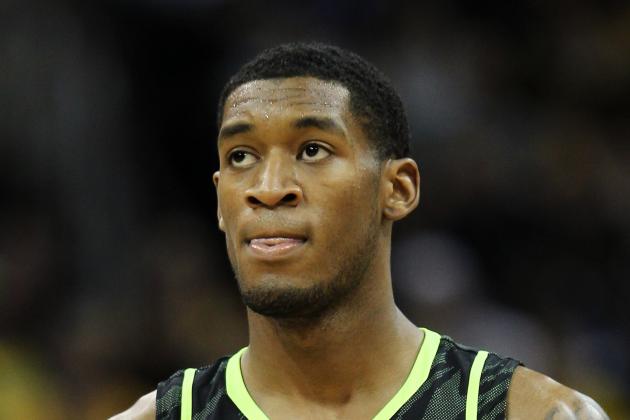 Jamie Squire/Getty Images

Potential Destinations: Portland Trail Blazers (No. 6, via Brooklyn Nets), Golden State Warriors (No. 7), New Orleans Hornets (No. 10, via Minnesota Timberwolves)
Perry Jones III is another player with the physical tools to be a very successful player in the NBA, but there are some obvious deficiencies in his game that could prevent him from ever living up to his potential.
Jones, like Sullinger, did not improve to the degree that many people expected him to, and his plateauing is not a positive sign going into the draft in a few weeks.
Jones is unlike any other player in the class. He has the size of a power forward or even a center at a lanky 6'11", and he should be able to use his size to be a nuisance on the defensive end of the court. Jones has a nice handle for someone his size and showed confidence in his playmaking by often bringing the ball up the court and initiating the offense for the Bears last season.
These are skills that any team wants from their forwards, but Jones has several obvious holes that will keep him from much success at the NBA level.
Like Drummond, Jones showed a disheartening lack of focus during his sophomore season. There were times where it seemed he went through the motions on the court, taking possessions off and not being the impact player Baylor needed him to be. For someone who could very well end up as a Top 10 pick and certainly a lottery selection, a team needs Jones to play his best every second on the court.
Commitment to the game is not something that should be an issue when a player is readying to turn pro.
In addition, Jones is fairly weak for someone his size. Though he has uncommon length, he will not be able to post up other forwards around his height with more bulk, of which there are many in the NBA. This lack of strength can be exploited on defense by a crafty forward who can back Jones into the paint and force him to play in the post.
Though Jones shot well from the field, connecting on 50 percent of his shot attempts, he has an unreliable jumper that will make him an easy cover for a quick defender who can keep him from getting to the basket. Jones must develop a reliable shot to make defenses play him close and allow him to use his athleticism to get to the rim, but his shooting hardly improved during his time in college.
Perhaps if he can fix these issues, he will be a special NBA player, but as of right now, I believe Perry Jones simply has too many issues to be a good professional player once he is selected.
Andy Lyons/Getty Images

Potential Destinations: Portland Trail Blazers (No. 11), Milwaukee Bucks (No. 12), Houston Rockets (No. 14)
Tyler Zeller had a stellar career at North Carolina, winning the ACC Player of the Year in his senior season and being the team's anchor in the middle for four very successful seasons. He is projected as a mid-to-late lottery pick and will undoubtedly be targeted by a slew of teams looking to add size and maturity to their rosters.
While I believe he will have an NBA career as a solid reserve big man, Zeller is not the kind of player a team should be taking with their lottery selection. Zeller may not be a bust in the traditional sense, but for a team looking to add a dynamic 4 or 5 to their roster, he simply isn't the player to take.
Zeller averaged 16.3 points and 9.6 rebounds per game last year, using his size and good hands to finish around the rim and make plays out of the post. He could score with his back to the basket and also had a decent enough jump shot to help space the floor and draw opposing centers away from the basket.
However, despite his offensive skills, Zeller's game lacks some of the fundamental aspects of a quality NBA center.
He does not have the strength nor the physicality necessary to guard some of the bulkier, more offensively aggressive centers in the league and will not be able to provide a strong presence in the paint like he could in college. Though he runs the floor hard, Zeller is not overly athletic and will have difficulty containing explosive big men who are quick on their feet.
He is simply not a physically dominant player like many of the other prospects at the 4 or 5; his game does not have the mix of skill and strength possessed by an Arnett Moultrie or Thomas Robinson.
Zeller has the least upside of any of the forward or center prospects available; he will be a decent scoring big man who will have difficulty on the defensive end of the court. For a selection in the middle or end of the first round, he is well worth it, but size alone is not the reason to take a guy in the lottery if he does not have the other skills necessary to be an impact player.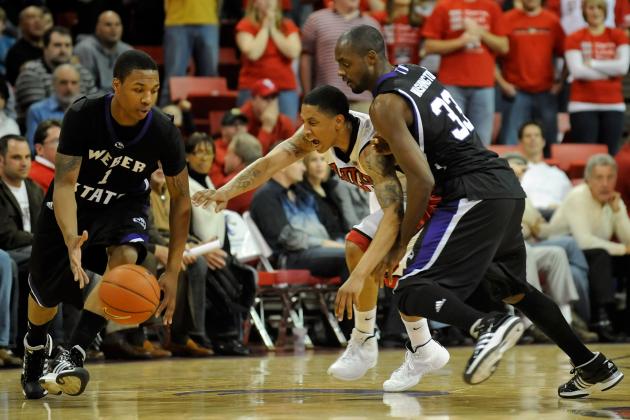 Ethan Miller/Getty Images

Potential Destinations: New Orleans Hornets (No. 10, via Minnesota Timberwolves), Portland Trail Blazers (No. 11), Phoenix Suns (No. 13)
Despite the wealth of talent available at the 4 and 5 spots, there are really only two players available who are considered elite point guard prospects.
Playmaker extraordinaire Kendall Marshall from North Carolina is the more pure point guard, while Weber State product Damian Lillard is the scoring guard who's capable of shouldering his team's offense and regularly breaking down the opposing defense.
After averaging 24.5 points per game and showing he could not only attack the basket and finish at the rim but space the floor and hit shots from the perimeter, Lillard has certainly proved his worth as a scorer.
However, one cannot deny that he wasn't playing against the best possible talent as a member of the Big Sky Conference. It's one thing to torch the Portland State University defense, and it's another thing entirely to translate that ability to score the ball to the highest level of basketball.
Lillard was a decent passer, averaging four assists per game last year, but when he wasn't being the primary scorer each time down the floor, the team's offense was a bit stagnant. He is not a natural facilitator like Marshall, and that is a skill essential to the success of a starting point guard.
Lillard was a nightmare in transition, but it won't be nearly as easy for him to dictate the pace of the game at the professional level. If a defense can make him uncomfortable, either by speeding up the game or slowing it down, Lillard must be able to maintain his composure and execute in the half court, which he was not great at during his time in college.
Lillard's stock has skyrocketed over the past few weeks, and while I think he could be a good guard off the bench and anchor of an offense's second unit, he is not starting point guard material at the NBA level. A team like the Phoenix Suns or Portland Trail Blazers who are desperate for a point guard will likely take him at the tail end of the lottery, but he simply is not the right pick to be your lead guard.