New York Knicks: Does Team Need Another Piece or Just More Time Together?
June 5, 2012

Chris Chambers/Getty Images
Following a wildly inconsistent 2011-12 season, the New York Knicks must find some stability next year in order to emerge as a legitimate threat in the Eastern Conference.
Since they don't have any money to spend on Deron Williams and don't have the right pieces to snag Dwight Howard from the Orlando Magic, the Knicks will need to rely on their current talent to gel better in their first full season together. They deserve the chance to work out the kinks in their squad and see how far they can rise up the NBA ladder.
Their roster is not yet a finished puzzle though. Mike Bibby, Landry Fields, Steve Novak, J.R. Smith, Jared Jeffries and Jeremy Lin are all free agents this offseason, leaving new general manager Glen Grunwald with tough decisions to make.
Retaining the smartest backcourt in the league in Harvard's Lin and Stanford's Fields should be the Knicks' top priority. Looking lost early in the season, the New York crawled to a 8-15 record before Lin revitalized the squad.
As evident from last year's poor performance, Toney Douglas doesn't cut it as a starting point guard. Although Lin needs to decrease his turnovers and improve a bit on the defensive end, their offense played its best with Lin at the helm.
Fields frustrated Knicks fans by losing his three-point shot that helped him thrive during his rookie campaign. As he line-drived shots off target all season, Fields shot 25.6 percent from deep and often sat on the bench late in the fourth quarter.
He is, however, a fine defender and rebounder with the ability to drive to the basket that he should utilize more often. Giving up on him now would be a big mistake for the Knicks.
The team's success will ultimately depend on Carmelo Anthony and Amar'e Stoudemire. Following a season where both stars posted numbers well below their usual standards, the two scorers will need to learn to play together for the franchise to contend.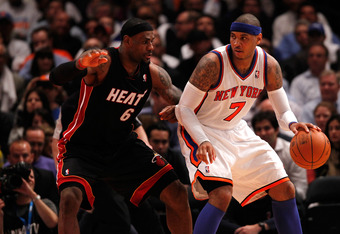 Jeff Zelevansky/Getty Images
In a year where Anthony scored 22.6 points per game, his lowest average since the 2004-05 season, he shined with Stoudemire off the court. Anthony averaged 32.2 points per game while starting at power forward in Stoudemire's absence during nine April games.
Establishing a fluid offense with two forwards who both need the ball will be a challenge, but head coach Mike Woodson now has a full offseason to address the issue.
Stoudemire's effectiveness is the bigger concern. Anthony, whose style of play never fit Mike D'Antoni's offense, played harder for Woodson and reminded everyone that he is still one of the league's premier scorers. Stoudemire, who averaged 17.5 points per game and 7.8 rebounds after starring in New York the previous year, looked worn down and a step or two, or six, slower.
It's too soon to say this problem cannot be solved, especially since the trio of Anthony, Stoudemire and Lin rarely shared the court. And if Stoudemire does not return to form or cannot sync with Anthony, Woodson could consider using Stoudemire off the bench. 
For now, the Knicks should aim to feature a starting lineup of Lin, Fields, Anthony, Stoudemire and Tyson Chandler, with Iman Shumpert slated to return from a torn ACL late in 2012. The bench, on the other hand, needs some retooling.
Their biggest need this offseason, even if they retain Lin, is signing a veteran point guard to help manage a crowded Knicks offense. Everyone wants Steve Nash in a Knicks uniform, but they can only offer him a mid-level exception if the league grants the team Bird rights on Lin.
Even if that happens, Nash will receive more lucrative offers from teams with cap space while other contending organizations such as the Miami Heat and Dallas Mavericks also vie for his services.
Other more attainable options could improve the Knicks' chances of moving up from the No. 7 seed in the East. A veteran such as Jason Kidd, Andre Miller or former Knick Raymond Felton can mentor Lin and keep Anthony and Stoudemire's egos in check.
Although Novak shot three-pointers tremendously all year, losing him should not be a major fear. The Heat rendered him useless in their playoff matchup by swarming him whenever he caught the ball on the perimeter. He can't dribble, pass or play defense, so the Knicks should instead find a multi-dimensional shooter in the NBA draft.
Do you think they regret letting three-point specialist Shawne Williams leave last year?
While they can use another big man for their bench in the likely absence of Jeffries, they might already have their guy. Josh Harrellson, whose numbers prorated to 10.8 points per game and 9.6 boards per 36 minutes, according to Basketball-Reference.com, deserves a bigger role next season.
Also, it wouldn't hurt if someone else beat the Heat for them in the playoffs next year. If the Knicks instead faced the Bulls with an injured Derrick Rose, they might be preparing for a game tonight.     
Not every piece of the puzzle is in place, but the main parts are present. With some minor roster adjustments and more time for the players to develop team chemistry, the Knicks could surface as a formidable club next season.