2012 NBA Playoffs: Power Ranking 10 Most Important Bench Players Still Playing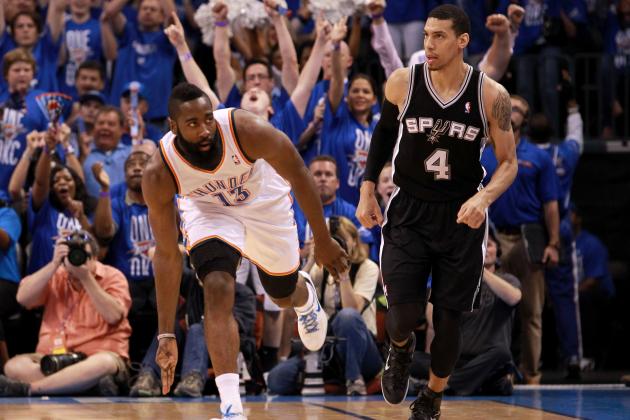 Ronald Martinez/Getty Images
Is James Harden the most important reserve player in the Conference Finals.
When we get this deep into the NBA postseason, the best teams have separated themselves from the pack. In the conference finals, we have the best four teams in basketball battling against one another.
At this point, however, the starting units of the teams begin to cancel each other out. It is your best five against their best five and, competitively speaking, the units should be fairly evenly matched.
This is where the second units come into play. The unsung heroes of these late playoff rounds are the reserve players who impact a single game with a single performance that can swing an entire series one way.
Bench players allow teams the benefit of the unknown. Fans never know who might step up and have a big night off the bench and that type of player has the ability to win a game that otherwise would have been lost.
These 10 players have that opportunity in these conference finals to influence a possession, a game and a series with their play.
Begin Slideshow

»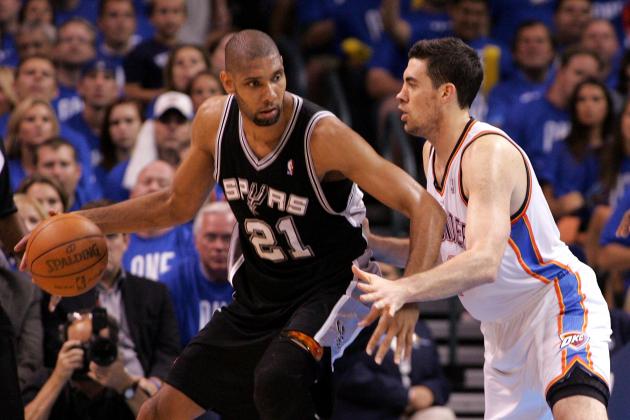 Brett Deering/Getty Images
Nick Collison has helped out a lot off the Thunder bench.
Nick Collison is the most unheralded player on the Oklahoma City Thunder. He doesn't have the name recognition of Kevin Durant and isn't the massive presence that Serge Ibaka and Kendrick Perkins are. Collison, however is still vital to the Thunder's success.
He has been facing a very talented second unit in San Antonio and has brought a couple solid offensive performances to the series. In the Western Conference finals, Collison has shot 12-of-16.
The true role of a bench player is to come in and hold the lead. That makes plus/minus a valuable stat and Collison's plus-two proves he has done that.
Collison's value will continue to go unnoticed, as it is small but true. With sometimes foul-happy players like Perkins and Ibaka on his team, there could come a game where Collison is called on to do more than his usual work.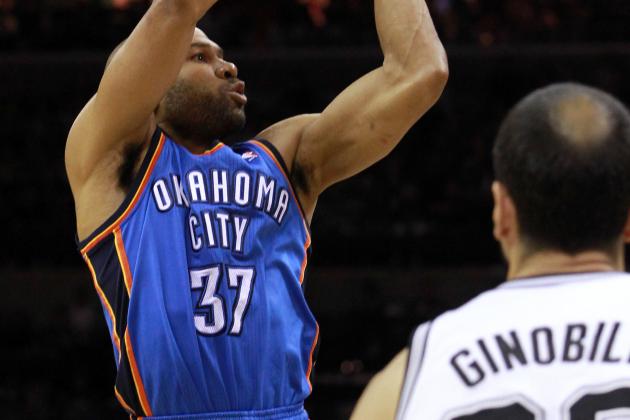 Ronald Martinez/Getty Images
Fisher's calm, veteran leadership was needed in Oklahoma City.
Another year and another deep playoff run for Derek Fisher. Though his jersey has changed colors and text, the veteran point guard has once again returned to the Western Conference finals, his old stomping grounds.
Fisher is playing a far lesser role now than he was the last time he was here. Now he is backing up one of the most dynamic guards in the NBA, Russell Westbrook. Fisher is still playing around 22 minutes per game and instilling his veteran confidence and leadership on the young Oklahoma City team.
Fisher has shown that he does still have some game with his 6-of-8, 13-point performance in Game 1. However, the most impressive part of this series for him has been that even on off nights shooting the basketball, his plus/minus remains a steady positive.
In a decisive Game 5 victory in San Antonio, Fisher played 20 minutes and registered a plus-18. He is doing what a role player should do off the bench and holding ground.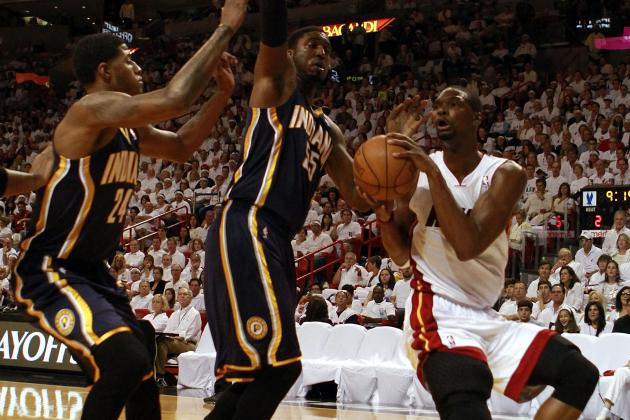 Marc Serota/Getty Images
If Chris Bosh returns in Game 5, it may be as a reserve.
No player on this list could have as great an impact late in these series as Chris Bosh. Miami's usual starting power forward has been injured since early in the Indiana series and has yet to suit up against Boston.
Rumors are swirling now that Bosh is going to be making his return in the series' fifth game. Bleacher Report's own Peter Owen wrote a story on Bosh coming off the bench, should he return.
He has not played for nearly three full weeks and the starting unit has started to develop some chemistry. Bosh would not have to deal with Kevin Garnett as much should he come off the bench; instead, he would give the Miami second unit a massive upgrade in talent along with allowing Dwyane Wade or LeBron James more rest time.
Call it a cop-out, but a 70-percent Chris Bosh off the bench is more important to Miami than Marquis Daniels or Tiago Splitter are to their respective teams.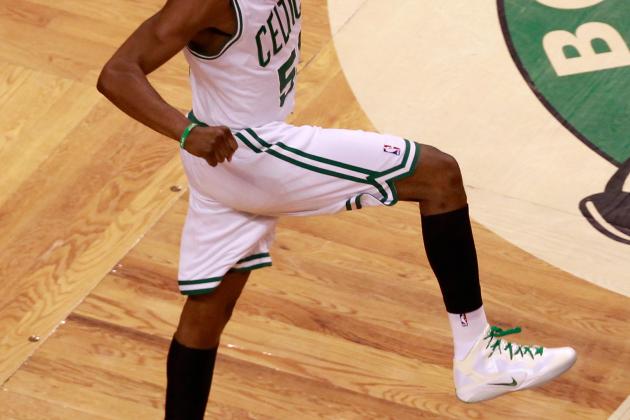 Jared Wickerham/Getty Images
Keyon Dooling after his third corner three of Game 4.
Keyon Dooling can officially be labelled a wiley veteran. His performances in the Eastern Conference finals have cemented that reputation.
Dooling saw exactly what the Boston Celtics were missing from Avery Bradley's injury and he went out and replicated Bradley's production in Games 3 and 4. Dooling played the role of pest on the defensive end, constantly harassing Mario Chalmers while he had the ball. Then Dooling set himself up for a shot that Bradley has become adept at hitting, the corner three.
In Game 4 in particular, Dooling came off the bench to hit three of those corner bombs, the third of which was the biggest, as it came at a time when the Celtics were hemorrhaging their massive lead. He is also responsible for this awesomeness.
Dooling's veteran presence off the bench for Boston helped them win two games at home, but now he must continue to give the Celtics some percentage of what Bradley brought in Game 5.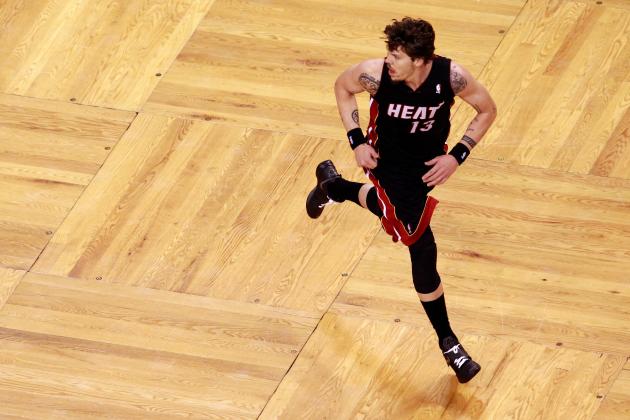 Jared Wickerham/Getty Images
Mike Miller has hit some big threes for the Heat.
Battling through severe back pain to the point of a constant grimace, Mike Miller has been able to hit some clutch shots for the Miami Heat in this series. Through the first three games of the series, Miller was the Heat's most consistent offensive weapon off the bench.
Despite his quiet Game 4 performance, Miller has been playing well for Miami. He drilled three big three-pointers in Game 3 to keep the Heat alive.
Miami has struggled with spacing the floor for large chunks of time in this series. Miller is their most valuable asset when it comes to clearing space for LeBron James and Dwyane Wade to drive to the basket. He needs to get it going from deep early on in Game 5 when the Heat return home.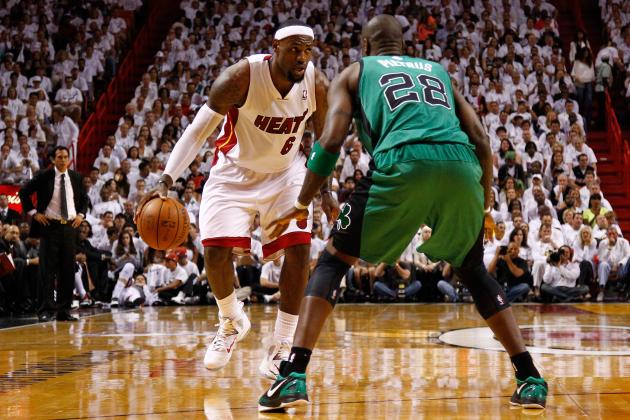 Mike Ehrmann/Getty Images
Pietrus' defense on LeBron James has been solid.
Much of the Boston Celtics' bench has been pressed into starting duty or is sidelined with injury. With Brandon Bass and Ray Allen in the starting lineup and the likes of Chris Wilcox and Avery Bradley out for the season, players like Mickael Pietrus have been forced to step up.
Pietrus is a streaky shooter who right now is on a cold streak. The good thing about that is it could change any quarter and you might see him nail four threes in a row.
In the meantime, his efforts on the defensive end and on the glass have meant the world to Boston. He has been matched up with LeBron James often in this series in an effort to save Paul Pierce's legs for offense. Though he has made some questionable decisions on touch fouls, Miami has not capitalized at the line, thus making Pietrus look great.
His back-to-back offensive rebounds in the closing minutes of Game 4 saved Boston two possessions and allowed them to run down a lot of clock.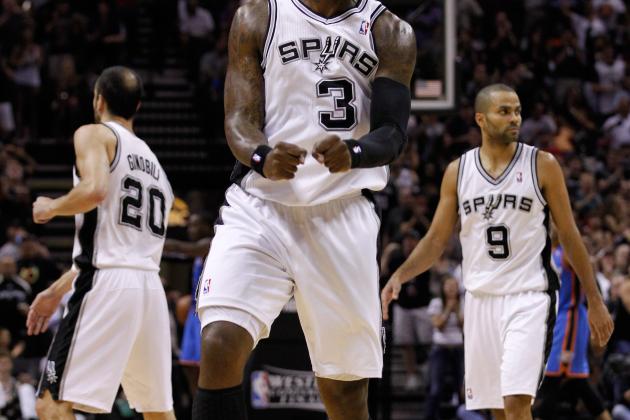 Tom Pennington/Getty Images
Jackson's passion off the bench has been invaluable for the Spurs.
It took two games for Stephen Jackson to get his legs under him in the Western Conference finals, but since then, he has been a force off the San Antonio bench.
Jackson was the lone bright spot for the Spurs in the Game 3 blowout, drilling four threes and scoring 16 points. He followed that up by struggling to keep the Spurs in Game 4, finishing with 11 points before fouling out. Similarly, in the tightly contested Game 5, Jackson hit another four treys en route to 16 points.
A late-season pickup, not a whole lot was expected of Jackson in San Antonio, but as the playoffs have gone on he has emerged as a serious threat off the bench. Jackson must continue making the Thunder pay from deep, where he is 12-of-19 this series.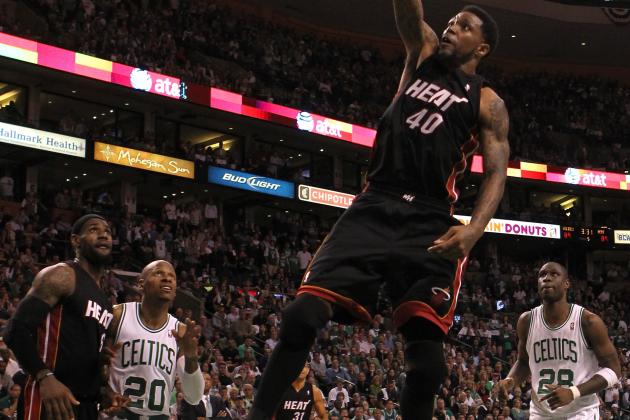 Jim Rogash/Getty Images
Udonis Haslem is the most important reserve in Miami.
With Chris Bosh out for the first four games of the Eastern Conference finals, Udonis Haslem has been the only quality big man on the Miami roster.
Haslem has been his usual self, doing the things that he has done for the past nine seasons: interior defense and rebounding. Haslem has posted double-doubles in Games 2 and 4, but largely disappeared on the other nights.
His inconsistency has harmed Miami, but he remains their most important reserve, averaging over 24 minutes per game. In Miami's Game 2 overtime victory, Haslem posted a solid 13 points and 12 rebounds. It is performances like that that have kept Miami in games where they fell behind by large deficits.
In the losing effort of Game 4, Haslem gathered a series-high 17 rebounds to go along with 12 points. Nights like that will draw the attention of Boston's defense away from Miami's stars.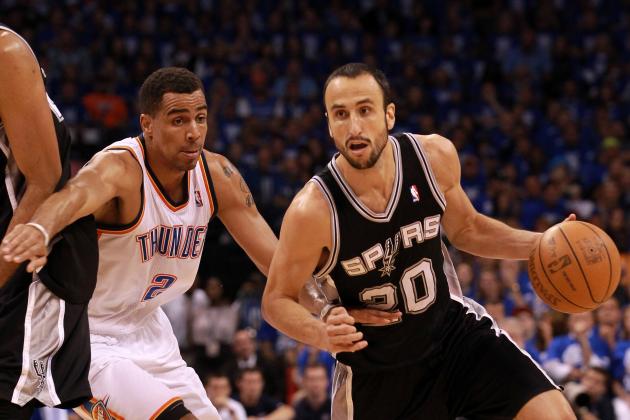 Ronald Martinez/Getty Images
Ginobili's value to the Spurs is unquestioned.
Nothing new here, Manu Ginobili has a lot of practice doing the sixth-man thing. He won the NBA's Sixth Man award back in 2008. After starting most of last season, Ginobili once again found himself entering games off the bench this year.
Despite getting the start in Game 5, Ginobili is the perfect reserve player, as he takes almost nothing off the table while adding an explosive scoring option that the Spurs occasionally lack in their starting five. Ginobili has been putting up over 16 points per game against the Thunder this series, including 24 and 20 points in their two wins. In his start Monday night, he also poured in 34.
The Spurs need Ginobili to play well if they are to get through Oklahoma City. He shot a combined 15-of-25 in Games 1 and 2 before falling off a little on the road. Ginobili's importance off the bench to his team is almost unmatched in these playoffs.
Ronald Martinez/Getty Images
James Harden is the most important bench player remaining.
It seems fitting that the NBA's Sixth Man of the Year in 2012 also tops this list. James Harden has come off the bench for Oklahoma City all season, yet he is their second- or third-most important player.
Harden brings a legitimacy to the Thunder's second unit and can pick up the slack should Kevin Durant or Russell Westbrook struggle. Most second units' duty is to hold serve until the starters can return. With Harden, the Thunder's reserves can push to increase leads or fight to get back into ball games.
Harden's 19 points per game in the Western Conference finals is tops among remaining bench players. He has also grabbed six boards on average. His Game 2 performance showcased his value perfectly, as he was arguably the best player on the court, pouring in 30 points on 10-of-13 shooting.
If the Thunder are to advance to the NBA Finals, James Harden will be a key reason. He proved that with his clutch three over Manu Ginobili to seal Game 5.