Boise State Football: Biggest Red Flags for the Broncos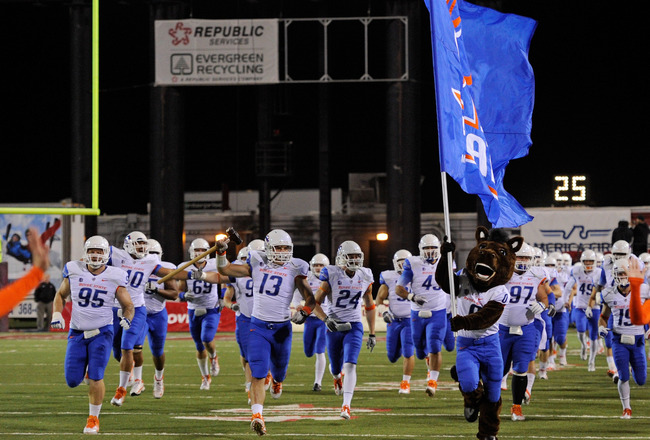 Ethan Miller/Getty Images
The 2012 football season is quickly approaching. While it seems miles away for fans and fanatics, it most likely feels like a matter of inches for the Broncos coaching staff and players.
With the giant task of replacing so many amazing starters from last year's squad the limited time probably has Coach Petersen, and the rest of the staff, a bit on edge.
Spring practice ended with a solid spring game for the Broncos, and overall things looked good. However, there were a few red flags that may have made Petersen a little more nervous.
Let's look at the red flags that may have the Broncos working overtime.
Leadership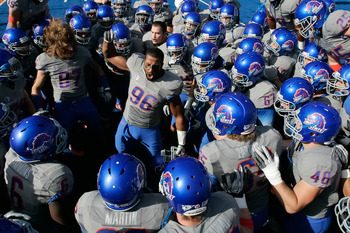 Otto Kitsinger III/Getty Images
The last few years, the Broncos have had the luxury of having clear leadership on the team. Both sides of the ball had key players who could elevate the Broncos by their example and veteran leadership.
However, in 2012, leadership will be a big question.
There are 25 seniors currently on this year's squad, but few of them are the kind of leaders the Broncos are accustomed to. Gone are Doug Martin, Kellen Moore, George Iloka, Tyrone Crawford, Nate Potter, Tyler Shoemaker, Shae McClellin, Billy Winn, Chase Baker and Byron Hout.
Those players will be nearly impossible to replace on the field, and what they brought as leaders may be even more difficult to duplicate.
Still, there are some key candidates who will be challenged to step up in 2012.
D.J. Harper, Mitch Burroughs, Michael Atkinson, Jerrell Gavins, Chandler Koch, Joe Kellogg, Dan Pual, J.C. Percy, Chris Potter, Cory Yriarte and Drew Wright are all leadership material, just to name a few players. They have shown promise, but will need to translate that into a convincing message if they want to help motivate their team and help the Broncos rise to the lofty expectations typical for them now.
Another key leadership factor will be centered on the quarterback. The quarterback is an automatic leadership role. As it stands now, the Broncos don't have one, or, at least they don't have a starter.
Joe Southwick seems to be the leader, but Nick Patti is nipping at his heels. If Southwick wins, he has some familiarity with the rest of the team, so it might be easier for him to step into that leadership role. However, whoever wins the position will be playing a bit of catch-up.
There are several other players on the team who could potentially be looked at as leaders, but the whole issue certainly has to have Petersen a bit concerned.
Look to the leadership that develops during Fall camp as a key indicator of how far the Broncos go in 2012.
Kicking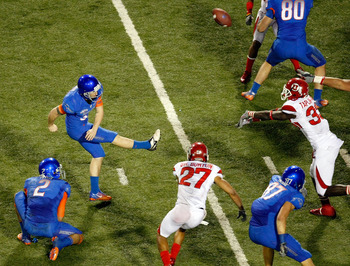 Ethan Miller/Getty Images
Boise State fans, coaches, players and even haters are probably tired of hearing this old story. However, it must be repeated.
The Boise State kicking troubles are legendary. So much so that most forget that the Broncos former kicker Kyle Brotzman is also the NCAA's highest scoring kicker of all time. However, that same record-breaking player is probably best known for his missed kick against Nevada in 2010.
In the same way, Boise State kicker Dan Goodale didn't do himself any favors or win any fans by going wide right against TCU in 2011. It was the second time in two years that Boise State missed a BCS bowl game and maybe more because of a wide right field goal.
In the spring game this year, those kicking troubles resurfaced as Goodale missed the game's first extra point, sending it bouncing off the left upright.
But wait, there's more!
Not only did the first extra point go rogue, but so did most of Trevor Harman's punts. If you were at that game, you know that it became painfully comical watching punt after punt get blocked or go off the side of Harman's foot.
Walking out of the Broncos' spring game this year you could hear the familiar criticism rolling off the tongues of the Bronco faithful. In fact, many of the descriptions of the Boise State kicking game were so colorful that they can't be repeated here.
To say it was a red flag would be an understatement.
Still, there may be hope in the form of Jake Van Ginkel and Sean Wale. The former is an excellent field goal kicker who happened to clear a 37-yard field goal during that same spring game, and the latter is an excellent punter on his way to Broncoland come August.
Both of these players should elevate the kicking game, and give Coach Petersen a reason to lower the red flag.
Defensive Secondary
Otto Kitsinger III/Getty Images
Last year, the Broncos' BCS dreams were brought down in a storm of flying footballs launched from the arm of Casey Pachall, TCU's quarterback. He lit the Bronco secondary up for 473 yards and five touchdowns.
The Broncos were already thin in the secondary, but injuries compounded that problem greatly. Petersen tried to make the adjustments, but the manpower just wasn't there.
Fast forward one season. Have things changed? Yes and no.
Jamar Taylor will be back and so will Jerrell Gavins, who missed most of last season with a knee injury. He was granted a medical redshirt and will be playing one more year for the Broncos.
Lee Hightower, Jeremy Ioane, Bryan Douglas and Ebo Makinde are all back as well, and all should start or seriously contribute.
Beyond that list, however, are a few guys with little or no playing time. Darian Thompson, Hazen Moss, Dillon Lukehart, Josh Borgman and Taylor Loffler. However, Loffler suffered an injury this spring, and he may not be back this season.
Jamar Taylor finished off 2011 with a 100-yard pick six against Arizona State in the Vegas Bowl, and looked great this spring. He will no doubt be ready to go, but Gavins is a mystery. Is he healed up? Will he be back to his starting form?
Gavins did not participate in spring ball, but he will be there come August when fall camp starts. At that point, it will be obvious if he is ready or not, but longevity could be an issue.
Newcomers Chaz Anderson, Donte Deayon and Chanceller James will also join the team in August. James is a safety, while the other two are corners. Boise State will need all three to contribute.
At this point, look for Taylor and Gavins to start at the corners and Ioane and Hightower as safeties. But the red flags are, of course, Gavins's health and the guys who back up these players.
It's anyone's guess if the players on the roster come fall are able to fill in the talent gap in enough time to shut down enemy passing attacks. Bronco fans are no doubt hopeful that they will.
Defensive Line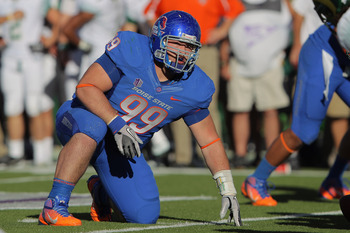 Doug Pensinger/Getty Images
The depth of the Broncos' defensive line is a huge red flag this season; but, look on the bright side, there are no starters coming back, so it should make for serious drama come fall camp.
While no starters return, there are some players with game experience in the mix. Ricky Tjong-A-Tjoe, Tyler Horn and Michael Atkinson will all be back. But they will need some serious assistance if they want to continue to play the Bronco-style defense.
That assistance will come in the form of some new faces. Samuel Ukwuachu, Darren Koontz, and junior college transfer Demarcus Lawrence are all poised to contribute. Beau Martin, Kharyee Marshall and Robert Ash could also give some much needed depth.
Another key factor will be the freshman class. Sam McCaskill out of Sheldon High School in Eugene, Oregon is a defensive end with serious skills, and Darien Barrett out of Inglewood High School in Inglewood, California is another impressive talent. Both of these guys may see the field in 2012.
Overall, the defensive line is one big question mark. However, it has the potential of being an exclamation point.
No matter the punctuation, red flags or concerns, the 2012 season will not be boring.
Keep Reading

Boise State Football: Like this team?