View from the Pali, Volume 20: Pali Blues Start Season on a Tear
June 4, 2012

While it has been anything but a decent season for Charlie Naimo's Los Angeles Blues, it has been a much different case for his Pali Blues, who have reeled off four straight wins to open the 2012 W-League season.
A number of notable returnees and fresh additions dominate this year's Pali lineup. Three of those notable returnees are goalkeeper Anna Picarelli and defenders Christie Shaner and Sasha Andrews.
"Even though it is only my second year with the team, I feel an obligation to the club to bring back the national trophy to Pali, and I can't wait to get started," Picarelli told bluessoccerclub.com. "Aside from bringing back the success of the club, I hope we can create the buzz around women's soccer that Los Angeles needs.
"I think this year we have a great combination of experienced players and young talent and we are going to be a force to be reckoned with in the W-League.  I can't wait until the season begins and I finally get to see this awesome group together on the field."
Whitney Engen is another returnee that brings defensive tenacity to the Blues. Engen was on the 2009 championship side under Naimo.
"I have played for Charlie twice before, once with Pali in 2009 and then with the Chicago Red Stars in 2010. I have a lot of respect for him as a coach and I really enjoy the competitive environment that he creates," Engen said of her joining the club. "I am thrilled to be joining a class act group of girls and I believe that the team is going to have all of the pieces to contend for a Championship."
Also coming to the team are some local products in the Pepperdine trio of Anisa Guajardo, Lynn Williams and Michelle Pao, and Cal State Fullerton's Ann Tangorra.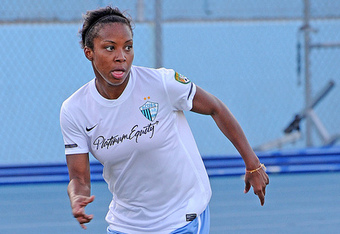 "I know that Charlie is building a strong team with many talented players, but it's just a confidence boost to know that not only will I be playing alongside two of my teammates, but also two of my closest friends," said Guajardo, who is a returnee from last season.
Servet Uzunlar is a Matilda that brings an added dimension to the Blues' attack.
"I'm so excited and fortunate that I am able to play for Pali Blues this season," Uzunlar said of joining Pali. "Playing in the States has always been a goal of mine, so I can't wait to get over to LA and join the team."
other notable additions to the team include defender Cami Levin, midfielder Taylor Lytle, forward Liz Bogus, former USA Under-20 star Nikki Washington (who also was on the 2009 championship side), midfielder Sarah Huffman, Maryland Terrapins Danielle Hubka and Lydia Hastings, and midfielder Beth West.
Pali opened their season on May 13 with a 2-0 victory against the LA Strikers. Bogus opened the scoring in the 68th minute, while Huffman added a late goal in the contest.
The Blues continued their run with another 2-0 victory, this time against the Santa Clarita Blue Heat on May 20. Tangorra opened the scoring in the 36th minute, while Washington doubled Pali's advantage in the 51st minute of play.
In-between league matches, the New Zealand Under-20 Women's National Team paid a visit to the Home Depot Center. The Young Football Ferns were outclassed by the Blues, 3-0. Tangorra, Elizabeth Eddy and Guajardo scored for Pali.
On May 30, the Blues made it three-for-three in W-League Play in their 2-1 victory over the LA Strikers. Washington broke the deadlock in the 30th minute and Bogus converted a 42nd minute penalty. Samantha Johnson scored for the Strikers in the 57th minute of play.
Santa Clarita made things challenging in the second meeting between the Blue Heat and the Blues, but it was Uzunlar's second-half stoppage time heroics that proved to be all difference, as Pali shut out Santa Clarita to the tune of 1-0.
Three matches in four days await the Blues. On June 6, Pali takes on the Victoria Highlanders at Palisades Charter High School's Stadium by the Sea in Los Angeles, CA. Kickoff is scheduled for 7 p.m. PT/10:00 p.m. ET.
Pali will then hit the road for a couple of matches in Colorado. On June 8, the Blues face the Colorado Rapids women. Kickoff at Dick's Sporting Goods Park is scheduled for 5 p.m. PT/8 p.m. ET. On June 10, the Colorado Rush host Pali in Commerce City. Kickoff for that contest is scheduled for 11 a.m. PT/2 p.m. ET.