Power Ranking the Best Fights of Each Current UFC Champion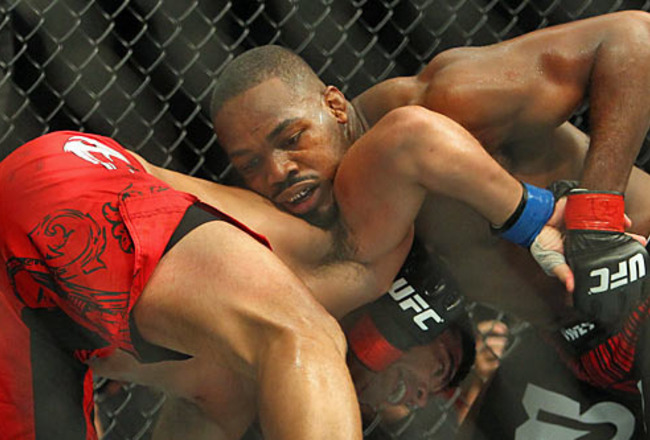 thedragonzone.com

Each UFC champion has done their very best to prolong greatness.
From Anderson Silva to Georges St-Pierre, the UFC's perennial titleholders are still getting it done when it matters most.
And with new flashy champions like Jon Jones and Jose Aldo taking center stage, some of the best fights in recent memory have manifested from unforgettable title runs.
Here's how each current champion's best fight stacks up against the others.
7. Dominick Cruz's Unanimous Decision over Urijah Faber at UFC 132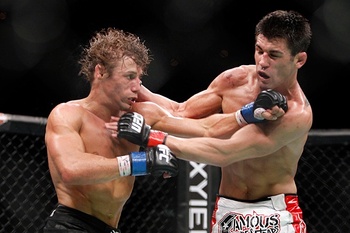 sherdog.com
Whether you like it or not, Dominick Cruz is currently the most lackluster UFC champion.
Mostly due to only having two fights within the organization, but more importantly because he doesn't necessarily possess the finishing ability that other guys on this list do.
While his bouts with Demetrious Johnson and Urijah Faber proved that he deserves to be champ, Cruz's performance was anything but overly spectacular.
With that said, out of both of those fights, his striking dominance over Faber at UFC 132 stands out the most.
It may not have been all that memorable, but Cruz did enough to rightfully remain top dog.
6. Benson Henderson's Unanimous Decision over Frankie Edgar at UFC 144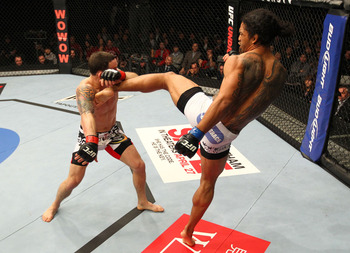 knucklesammach.blogspot.com
Similar to Dominick Cruz, Benson Henderson has yet to finish a fight in the UFC.
But even though the new lightweight champion hasn't flashed brilliance inside the cage, he has still beaten some of the best fighters around.
The most impressive victory came by way of unanimous decision over Frankie Edgar at UFC 144.
Henderson didn't dominate Edgar, but he was able to outstrike a champion that hadn't lost since late 2009.
And even though Edgar was able to bring "Smooth" to the ground on four separate occasions, Henderson was still able to display elite striking skills that often left Edgar dumbfounded.
For now, this is his defining moment, but to think it's the be all, end all in Henderson's career is simply false.
5. Jose Aldo's KO over Chad Mendes at UFC 142 RIO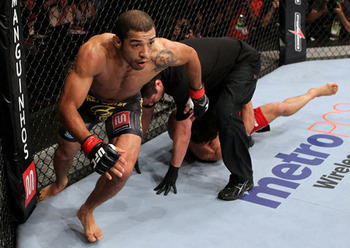 mmamania.com
Jose Aldo is quickly becoming one of the most well-rounded fighters in the UFC.
His dominance over the featherweight division, albeit a shallow weight class, has launched him into MMA stardom.
The fact of the matter is that Aldo has performed to a specific championship tee throughout his three-fight UFC career, resulting in his name often being thrown into pound-for-pound discussions.
Key title victories over Mark Hominick and Kenny Florian surely bolster his resume, but his most recent championship defense against wrestler Chad Mendes at UFC 142 commands the most recognition.
This is not only because the bout took place in Aldo's native Brazil—resulting in him celebrating his victory by running into the crowd—but more importantly due to one devastating knee that rendered Mendes unconscious with one second left in the first round.
The game plan was perfect, the setting was surreal and the finish was more than memorable.
4. Junior dos Santos' KO over Cain Velasquez at UFC on Fox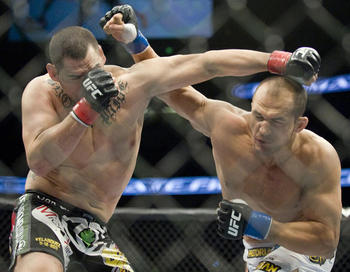 thestar.com
Not only was Junior dos Santos' victory over Cain Velasquez at UFC on FOX 1 historic based on its national implications for the sport, but it marked the arrival of boxing to MMA's largest outpost.
Usually compared and contrasted, mixed martial arts is rarely subjected to one specific ability, but Dos Santos has proven that tendency completely wrong, utilizing elite boxing skills to finish some of the best heavyweights in the world.
His first-round KO of Velasquez is by far his most memorable of the sort, winning the most coveted title in the UFC in front of millions of viewers.
That KO, more specifically the single strike that pounded into Velasquez's temple, could be considered the punch heard 'round the world.
It was short, but it marked the arrival of the UFC onto the grand stage that is mainstream America.
Thanks, Fox.
3. George St-Pierre's TKO over BJ Penn at UFC 94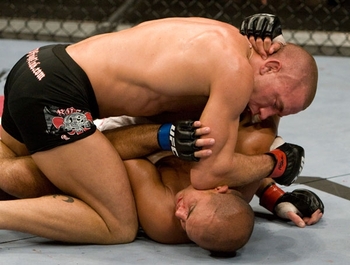 yourmma.tv
It's no secret that Georges St-Pierre has been around the block.
Maybe that's why he's always banged up.
With seven straight title defenses under his belt, alongside nine career title fight victories, St-Pierre is arguably the greatest champion in UFC history.
His dominance over the welterweight division has been historic, having secured lopsided victories over Jake Shields, Josh Koscheck, Matt Hughes, Thiago Alves and Matt Serra.
But his biggest victory to date has to be his destruction of the great BJ Penn at UFC 94.
St-Pierre may have received unnecessary ridicule for apparently "greasing" prior to the bout, but nothing of the sort was ever found to be true.
That leaves us to believe that his performance against Penn, which was their second showdown inside the Octagon, was simply based off greatness.
St-Pierre not only outstruck "The Prodigy" 92-16, but he was able to take him down four times, passing his guard on 10 separate occasions.
Elbows rained down as GSP made his case for being the best pound-for-pound fighter on the planet with a fourth-round TKO victory.
2. Jon Jones' TKO over Mauricio Shogun Rua at UFC 128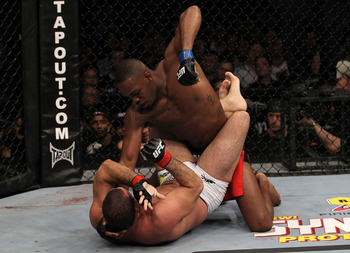 bloodyelbow.com
Jon Jones is the newest and greatest thing in the world of MMA today.
The success he has endured at such a young age doesn't seem to make sense.
Jones' ability inside the cage doesn't seem mortal; it seems robotic.
His arms move in ways other fighters dream, and his lengthy frame seems unfair when stacked up against other light heavyweights.
Jones has been able to finish three out of his four title fights early, with Rashad Evans being the only No. 1 contender to last all five rounds.
But despite submission victories over Lyoto Machida and Rampage Jackson, two guys known for not tapping, Jones' most prominent victory inside the cage was the one that crowned him the youngest champion in UFC history.
That bout, opposite Mauricio Shogun Rua at UFC 128, was more or less the 24-year-old's coming out party.
Jones had a field day, demonstrating spinning elbows, devastating knees and a primal ability to finish a fight in just 13 minutes.
It was such a worthy victory that Jones was automatically considered a top-five fighter in the world.
1. Anderson Silva's Submission over Chael Sonnen at UFC 117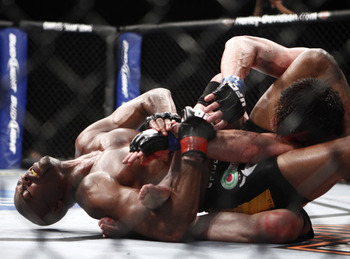 withleather.uproxx.com
Anderson Silva's UFC career has been filled with memorable victories, each of which could easily make this list.
Whether it's an infamous front heel kick to Vitor Belfort's face or a falling back jab that breaks Forrest Griffin's jaw, Silva as nearly done it all.
But amidst career victories that have basically rendered Silva the greatest fighter of all time, it's his most lackluster performance to date that captures the eyes of most.
His near-five-round bout with Chael Sonnen at UFC 117 is the defining moment of Silva's career.
Sonnen was en route to an improbable victory over the sport's most iconic fighter, rag dolling "The Spider" around the Octagon for no less than 24 minutes.
It was the first time Silva looked human. He was unable to stop Sonnen's takedowns and overwhelming ground and pound.
But just as we were ready to crown Sonnen with the biggest upset in UFC history, Silva sunk in a triangle choke with one minute left in the final round and ended all the commotion.
Funny how elite fighters tend to give elite effort when it's all on the line. Easily one of the most memorable finishes in MMA history.
For more UFC news and coverage, Follow @DHiergesell
Keep Reading