Tito vs. Forrest or Wandy vs. Franklin: Which Is the More Useless Rematch?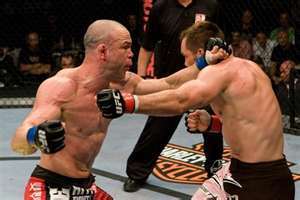 Photo by Yahoo Images

Rematches are put together for a variety of reasons: A super close fight requires a do-over. A bad decision where one fighter clearly gets robbed is also a good reason. Sometimes injuries plague a card and sheer necessity takes over. And sometimes it's just a mystery.
The latter two reasons come into play when discussing Tito Ortiz vs. Forrest Griffin and Wanderlei Silva vs. Rich Franklin.
In the case of Wandy and Franklin, necessity took over. Originally scheduled to be Wandy vs. Vitor Belfort, the bout took a hit when Vitor went down with a hand injury. The two had coached opposite one another on The Ultimate Fighter: Brazil, and were to have a rematch of their 1998 fight, which saw Vitor starch Wandy in only 44 seconds.
Rich Franklin, the consummate company man who was scheduled to face Cung Le, didn't hesitate when the UFC called him to step up, yet again, to save the day. He'll now face Silva in a rematch of their 2009 catchweight fight that Franklin won by unanimous decision.
It's not that it's a bad fight. The first one was an entertaining affair that won Fight of the Night honors. It's just that it's a pointless fight, especially as the main event.
It's being contested at a catchweight, again, which doesn't exactly help its lack of validity. It simply has no divisional relevance, which should be the first consideration of any non-title main event.
Tito vs. Forrest is actually a rubber match. Tito took the first one back in 2006, and Forrest took the next one three years later. Both wins were split decisions.
If you weren't privy to the fine print you might think this makes for a fine narrative for a trilogy.
Not so much.
This is Tito's retirement fight, or so he's announced. Declaring a retirement before a fight immediately renders that fight meaningless because it matters nil who wins or loses. It's a move born out of financial gain—the logic being more people will be compelled to buy knowing it's Tito's last fight.
And that's fine. Tito is a legend of the sport. Certainly he's earned the right to dictate how he goes out. But that doesn't make the fight any more meaningful.
Forrest, well, he just doesn't seem too interested in fighting anymore.
Still though, it's a decent scrap that's occupying the number three spot on a very stacked card, so it's not like this one fight is carrying the event.
Wandy and Franklin are the main show on an extremely lackluster card that is criminally being offered as a pay-per-view.
Granted, the UFC deserves credit for finding a suitable replacement on such short notice. Injuries are common and something they have no control over. But with a co-main event of Fabricio Werdum vs. Mike Russow, this card is severely lacking in attraction.
For that fact alone, the Wandy vs. Franklin fight is hands down the more useless rematch.
This article is
What is the duplicate article?
Why is this article offensive?
Where is this article plagiarized from?
Why is this article poorly edited?