NHL13 Cover Vote: 4 Reasons Why Pekka Rinne Will Win the Vote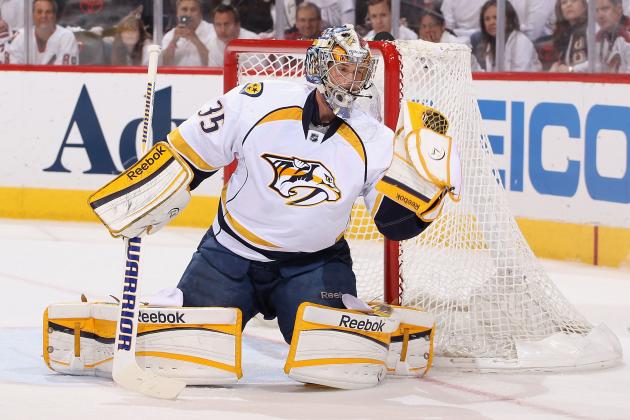 Christian Petersen/Getty Images

Finland might finally have its NHL superstar.
Well, its NHL13 superstar, at least.
The final vote to determine the cover player of NHL13 has concluded, and there's only one thing left to do—wait the painful 15 days until the winner is announced at the NHL Awards Show on June 20th.
Will it be Flyers' forward Claude Giroux, or Preds' goalie Pekka Rinne? That's yet to be officially decided, but the player who truly deserves the spot is clear: the unflappable, impeccable Rinne.
The League's leader in wins and saves in 2011-2012 led Nashville to the fourth seed in the Western Conference and a surprising first-round series win over the Detroit Red Wings.
Given his impressive and consistent performance throughout the season, Rinne has been named a finalist for the 2012 Vezina Trophy, too, which will also be named at the NHL Awards Show later this month.
Whether Vezina winner or not, though, Rinne should be basking in the spotlight of millions of XBOX 360 and Playstation 3 consoles around the globe starting Sept. 11th, the official release date of EA Sports' latest virtual hockey creation. It would be the first-ever appearance of a Finn on the cover of the popular video game series, which has existed since 1991.
Why does a Rinne photo on the NHL13 cover seem so likely? Five reasons why the star goalie should emerge victorious are on the coming slides.
Begin Slideshow

»
While Predators' mascot Gnash spread the Rinne love around 'Smashville', Rinne took to the airwaves to run his own advertisement spoof (see left).
The 30-second video, based off of Dos Equis' popular "World's Most Interesting Man" commercial series, features several impressive highlights of Rinne in action—all in tune, of course, with the now-iconic tropical music and faded-yellow tint.
It just wouldn't be the same, though, without the ad's iconic catchphrase, and thankfully, Rinne doesn't disappoint.
"I don't always play video games," he says, "but when I do, I play EA Sports."
Yeah, of course you do. 2K Sports hasn't released an NHL game since 2010.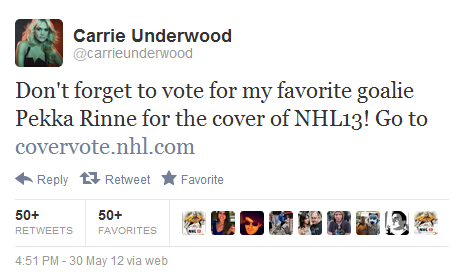 Country music star Carrie Underwood certainly highlighted the list of Rinne's Twitter supporters (tweet at left), but the wife of Preds' teammate Mike Fisher wasn't the only celebrity to voice their support of Nashville's flawless backstop.
TV personality Charlie Sheen gave the nod to Rinne:
He deserves it! That's for sure!RT @RadioVendetta @charliesheen. Can you help Pekka be first finish player on cover of EA sports NHL Game?

— Charlie Sheen (@charliesheen) May 25, 2012
Meanwhile, another Nashville country crooner, Dierks Bentley, also pushed the hometown vote:
I want to help Nashville's Pekka Rinne get on the cover of @EASPORTSNHL NHL13! #VoteRinne at covervote.nhl.com. Sem… say.ly/LQd3ozo

— Dierks Bentley (@DierksBentley) May 25, 2012
Rinne's real hometown—Kampele, Finland, a town boasting the whopping population of 16,162—might not have been able to influence the vote much, but the support from his adopted residence city left little to be desired.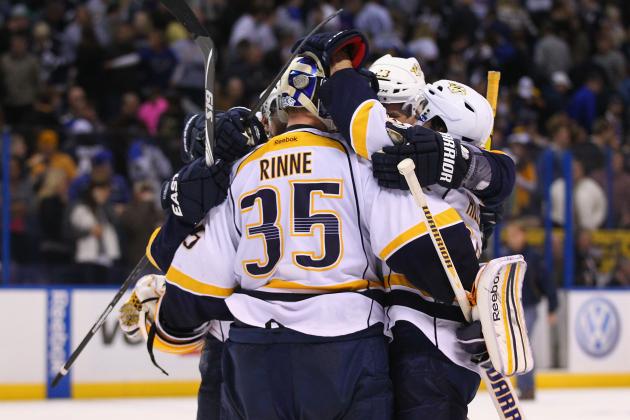 Dilip Vishwanat/Getty Images

Since taking over as the Predators' starting goaltender in 2008, Rinne has transformed Nashville from a perennial bubble-team to an up-and-coming Stanley Cup contender.
In '08-'09, Rinne's presence did little to help the Preds' fate, as the club finished the year dead last in the Central Division with only 88 points.
Rinne's 32-16-4 record the following season, however, brought the Predators back into the eight-team playoff field.
Then, in 2010-2011, No. 35's stunning .930 save percentage and 2.12 GAA led Nashville to the fifth seed entering the postseason and then, remarkably, the franchise's first-ever playoff series victory—a six-game triumph over the Anaheim Ducks.
Rinne and the Preds' 2011-2012 performance, nonetheless, was arguably the best in club history—a 104-point regular season (Nashville's highest since 2007, the Western Conference's fourth seed and a stunning five-game win over Detroit in the opening round—the Red Wings' first quarterfinals loss since 2006.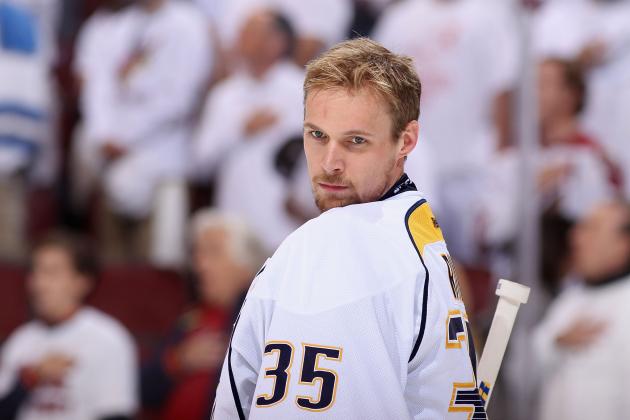 Christian Petersen/Getty Images

The impact that Pekka Rinne has had on the Predators' fortunes is nice, but, by himself, there's little doubt that Rinne may very well be the most reliable goaltender in the NHL.
Calculated by the NHL's standard point-earning system (two points for a win, one point for an overtime/shootout loss), Rinne has averaged 1.192, 1.189, 1.171 and 1.287 points per game, respectively, over his four seasons as a starter.
He's recorded save percentages of .917, .911, .930 and .923, respectively.
He's registered GAA's of 2.38, 2.53, 2.12 and 2.39, respectively.
He's tallied shutout totals of seven, seven, six and five, respectively.
It doesn't get any more reliable than that.