4 Rookies Already Moving Up on NFL Depth Charts
June 5, 2012

Bob Levey/Getty Images
Every National Football League preseason provides a stage for dramatic and sometimes unpredictable positional battles involving rookies.  High draft picks selected at positions of obvious need are transparent in their paths to early starts.  But the volatility and chaos of roster management also sees mid- and late-round picks bubble up depth charts into roles of varying impact and prominence.
Beyond purely football evaluation means, factors such as injuries, legal woes and unexpected retirements or cap casualties can all lay a significant foundation for a rookie to surprise with his playing time.  And surprise playing time is the precursor to surprise rookie performance—a viewing and scouting nuance each year that many of us enjoy celebrating.
When a rookie, or even an emerging young player, does well and exceeds the expectations of his readiness or talent ceiling, I think there is a certain appeal to the triumph in that player's story.  It is also a recognition that there remains some mystery to evaluation and predicting player performance even in this era of heightened analysis and information collection.
These elements of surprise and longer odds in sports are very good for the soul of the game and those of us that immerse ourselves in it.
Here, I take a look at four rookies from the 2012 draft class that are already enjoying propitious starts to their respective careers, moving up their teams' depth charts to where they could be making an impact on Sundays early this fall.
DeVier Posey, WR, Houston Texans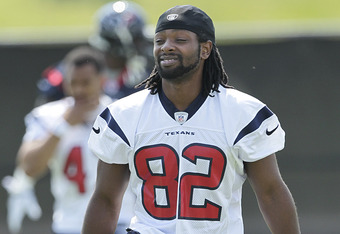 Bob Levey/Getty Images
Keshawn Martin, WR, Houston Texans
After being taken in consecutive rounds (Posey in the third, Martin in the fourth) this past April, this Big Ten Conference wide receiver duo has made the most of a fertile situation.  After releasing incumbent disappointment Jacoby Jones (he later signed with the Baltimore Ravens), and the lack of overall talent and/or experience otherwise on Houston's receiving corps, the ingredients are in place for some great camp battles.
According to Ourlads, via Draft-Hub's team pages, veteran Kevin Walter is the only one blocking Posey from becoming the starting wideout opposite superstar Andre Johnson.
Martin, meanwhile, who possesses one of the more translatable slot receiver skill sets in this rookie class, is likely competing with 2011 undrafted free agent Lestar Jean for primary snaps from that alignment.
Neither Posey nor Martin were prospects whom I particularly loved during the draft process, but others certainly did.  More importantly, it is clear that Houston had a plan in mind for both when they anointed each as mid-round selections. 
Of further relevance is that, given their respective natural talent, if they are able to stay healthy, learn the offense and keep their noses clean, there is a tremendous opportunity of fit available to both of them in this Texans offense, even right away.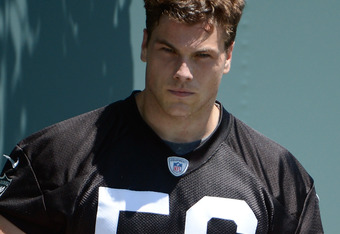 Thearon W. Henderson/Getty Images
Miles Burris, LB, Oakland Raiders
Burris was already a player that a lot of draftniks regarded as a sleeper and potential draft steal when Oakland made him its fourth-round selection back in April.  I see him as a smaller version of New England's Rob Ninkovich because of a diverse skill set as a front-seven defender.
See this recent write-up from Jeremy Hyde (@Froginthewindow) of Draft-Hub, a report I respect and largely agree with.
Burris could be a useful complement to Aaron Curry, essentially just a pass-rushing specialist, on the outside for the Raiders.  But with Rolando McClain's recent jail sentencing, the Oakland linebacking corps could be even thinner this fall, resulting in some available snaps for Burris inside also.
Brandon Boykin, CB, Philadelphia Eagles
In what seemed like a predetermined, foregone conclusion to many in the industry, myself included after putting a first-round grade and early second projection on Boykin, this pick had kelly green gold sprinkled all over it when the Eagles pulled the trigger in the fourth.
The most versatile impact player in the country in 2011 in major college football, Boykin plummeted down draft boards in late April due to concerns over recovery from a broken foot and subpar size.
And although I firmly believe that he can, and ultimately will at some point in his career, be a winning perimeter corner (in the mold of a Tim Jennings or Antoine Winfield), Boykin has the physical tools and immediate game to wrest slot corner duties from Joselio Hanson.
If he can lock that spot down, pushing Hanson to more of a depth piece, and provide consistency inside, it should lend greater flexibility to the Philly secondary for Nnamdi Asomugha and Dominique Rodgers-Cromartie to win on the outside.