St. Louis Blues: Looking Back on My First NHL Game
June 4, 2012

Dilip Vishwanat/Getty Images
"Hey man, what are you doing tonight? Nothing? Hey, I have an extra ticket to tonight's Blues game... you want to go?"
It was a Friday night game (November 21, 2008) against the Anaheim Ducks, and my season ticket holding friend John wanted me to tag along to a game at the Scottrade Center. Quite honestly, the old saying of "I'd rather watch paint dry" couldn't have been any more accurate.
"Hockey is the most boring sport in the world. I'm not wasting my time, or my weekend, going to watch a sport that no one cares about," I responded in an attempt to blow him off.
It was the truth. I couldn't stand hockey, even though I never gave it much of a chance. It was a low scoring sport that had no entertainment value. It was essentially soccer on ice.
I am a hometown St. Louis guy who loves the city. Well, everything but the Blues. It's not that I hated the team or sport, I just felt that little game played inside the Scottrade Center didn't matter.
That's where everything was a blur. Somehow John poked and prodded me to go to that night's Blues game. Just an educated guess, but it's plausible he convinced me through the purchase of several nine dollar beers.
"This is ridiculous. Look at all these people in their oversized jerseys. Are the stands going to be even half full?" I asked.
"Sweaters," John said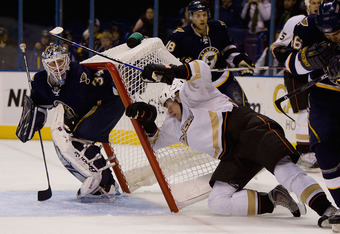 Dilip Vishwanat/Getty Images
"Huh?" I shot back, knowing it was some hockey purist term he was correcting me on.
"Err, they are called ...nevermind."
We walked into the Scottrade Center. I complained it was cold. He bought two Bud Light beers. I complained if he was going to pay more than $18 for beer than it should at least be at a Cardinals game. We sat in the seats near the ice. I complained that somehow the stadium was able to get more cold.
"You never complain this much. Just give it a chance, and I promise you'll have fun. Nothing beats actually being at a hockey game live," John said.
I rolled my eyes.
It was nearing game-time, and the clock continued counting down. All of the sudden, this organ started blaring catchy, almost beautiful music from its pipes and a horn loud enough to mirror a tornado siren went off.
The team skated onto the ice and began warming up to the roar of the half full crowd.
"Huh. That was pretty cool. Still not sold out though," I said in an attempt to hide that I could have been wrong about having fun.
The team went back to the locker room. I was confused. John and I got to talking before being interrupted again by the organ music and loud horn.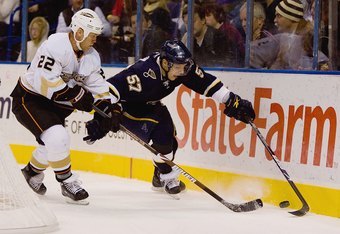 Dilip Vishwanat/Getty Images
The cheering was deafening as the sold out crowd filled the stadium with boos as the Ducks took the ice, then on a dime, screamed in exhilaration as the Blues came on seconds later.
I hadn't noticed the Scottrade fill up. My first look at a sold out Scottrade Center filling the ice to the roof with cheers is an atmosphere I'll never forget.
It was impressive. In my biased hatred for hockey and the Blues, I realized I had never really given the sport a chance besides a few minutes every now and then during my channel surfing.
Charles Glenn came onto the ice and gave the most amazing rendition of the Star-Spangled Banner I've ever heard. The emotion of the players on the ice was electrifying. The crowd yelling "Blues" in replace of "Home of the brave" sent pleasant chills down my spine.
Chants of "Let's go Blues" filled the stadium as the referee dropped the puck. I couldn't help but join along.
I was becoming hooked, and the game hadn't even started.
John explained the ins-and-outs of the game to me when I was confused about icing and other penalties. I wasn't sure what was really going on besides the obvious, but I was enjoying it.
The back-and-forth game ended in a 3-2 win for the Blues.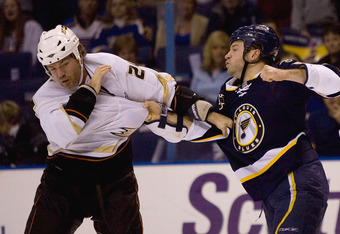 Dilip Vishwanat/Getty Images
It was suddenly I who couldn't stop talking about the Blues. My constant complaints had changed into praises, and they changed over just three periods.
Hockey really was an exciting sport, and I had missed out on it for 22 years because of ignorance.
To this day, I can't name more than 20 players in the NHL who aren't on the Blues' roster. I don't watch NHL games, but never miss the Note. The games have become as important as Cardinals games—my personal schedule is worked around them.
I am a casual hockey fan who loves the Blues.
Some of the lingo still mixes me up in confusion, but I'm learning it. I still get to every game early to see the team warm up so I can hear the mix of the organ, horn and cheers. Davis' national anthem is still the best I've ever heard, and the fans screaming "Blues" at the end of it still gives me pleasant chills.
Oh, and nothing can get me more pumped up than John Belushi's character in Animal House yelling in the third period movie montage.
I was wrong about the Blues, but they've become another one of my sports' obsessions, thanks to that very first game.
I'm not even sure why I decided to share this. Just a memory I recalled after running across my Blues playoff ticket from this past season. I've become dedicated.
My friend was right though.
Nothing beats going to a hockey game live.