One Tell-All Stat for Bryce Harper and Every Other Washington Nationals Hitter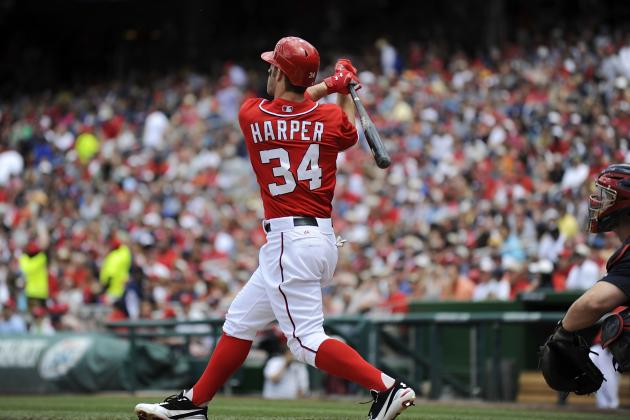 Jonathan Ernst/Getty Images

The Washington Nationals are off to a roaring start in 2012 and their dominance can not be narrowed down to one single player. Their success is truly a team effort and each player has contributed in one way or another.
Although most of the players have helped the team, others have been slumping and can improve upon their production to make the Nats even better.
Bryce Harper's impact on the team is felt in his production on the field (that can be quantified) as well as off the field. His call-up alone gave the team a boost that they needed when the club was burdened by injury.
Adam LaRoche has been extremely efficient and is one of the best hitters in the lineup this season. That is the kind of production that will lead the Nats to further success this year.
Let's take a look at the hitters that the Nats have put in their lineup and the most important stats that they have compiled thus far.
Begin Slideshow

»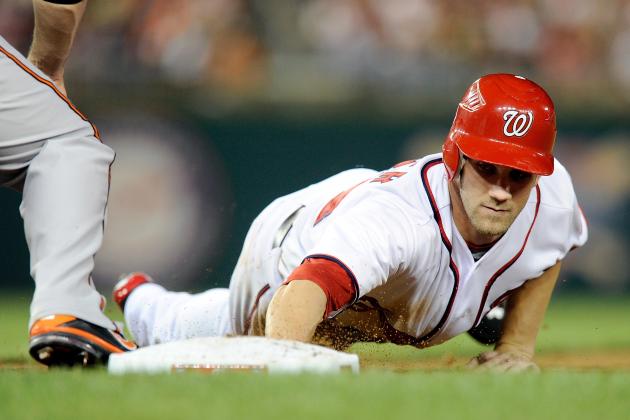 Greg Fiume/Getty Images

Harper leads the Nationals with a .740 offensive winning percentage. Offensive winning percentage takes offense and defense into account to formulate a winning percentage if a team had nine of a certain player on offense.
A major reason as to why Harper leads the Nats in this category is the fact that he does it all, including leading the Nationals in slugging percentage with a .562 average.
Harper has seven doubles, four triples and five home runs. His four triples also lead the team, the next closest player has two.
His pure determination allows for him to turn singles into doubles and doubles into triples which only increases these numbers.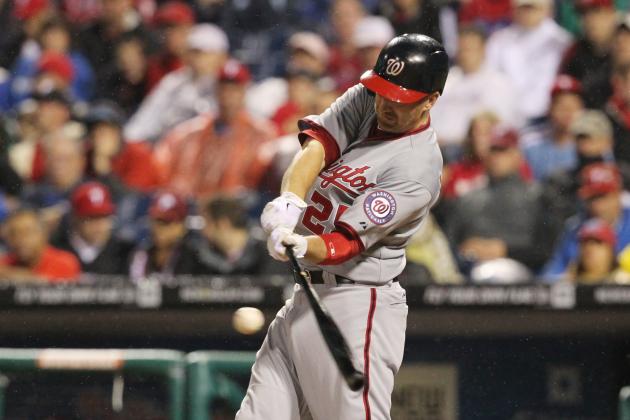 Hunter Martin/Getty Images

LaRoche leads the Nationals with 35 RBI this season. The next closest on the team is Ian Desmond with 23.
LaRoche has been a pleasant surprise for Washington this season and should continue to drive in runs with Michael Morse back in the lineup.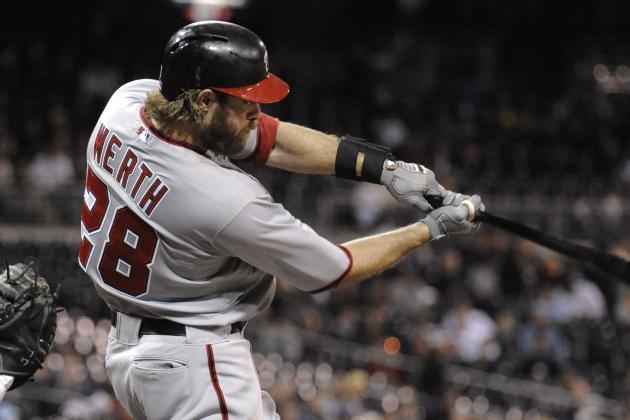 Denis Poroy/Getty Images

Jayson Werth is currently on the disabled list after breaking his wrist, but before he went out he was having a very productive season.
More impressive though was his batting average against left-handers. Werth was hitting .400 versus lefties. That kind of production will go very far when he returns from the DL.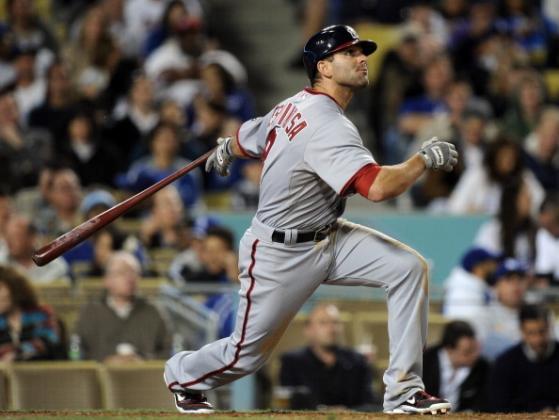 Harry How/Getty Images

With the good comes the bad and on all teams there has to be someone who can be doing more. On the Nationals, one of those players is their second baseman, Danny Espinosa.
Espinosa has not been able to keep his average up in 2012 as he is only hitting .223. He needs improve his average if he wants to help this team out.
Greg Fiume/Getty Images

Michael Morse has just started playing again for the Nats this season and is a pivotal piece to their team.
Just how important is he to the Nats?
According to baseball-reference.com, Morse led the Nationals last season with a 3.1 WAR. This means that he contributed to more than three wins over what a replacement player would provide.
With Morse back in the lineup, Washington should expect the quality of play from Morse to earn that team-leading WAR once again.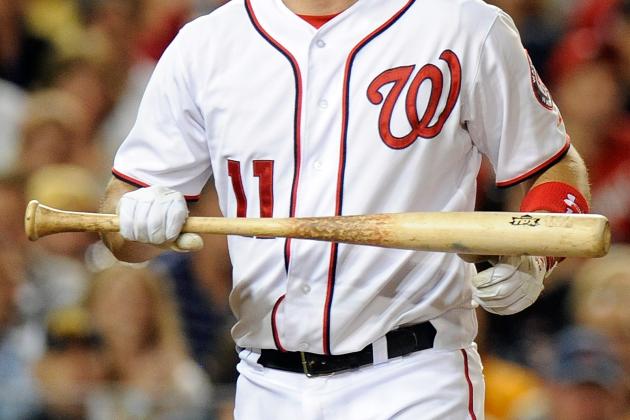 Greg Fiume/Getty Images

Zimmerman unfortunately falls into Danny Espinosa's category of low batting average.
Zimmerman, a career .286 hitter, has a career-low .233 average through 38 games this season. All parts of his offensive game are struggling thus far, as he only has two home runs and 18 RBI.
He has to get it going if he wants to help this team to make the playoffs.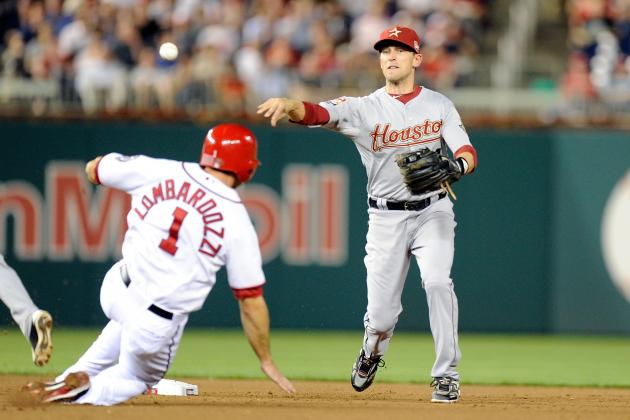 Greg Fiume/Getty Images

Steve Lombardozzi was not sure what role he would play on the Nats this season, but manager Davey Johnson liked what he saw from him in spring training. Injuries to Morse, Zimmerman and Werth have opened the door for Lombardozzi.
It has opened the door quite a bit, as a matter of fact, as Lombardozzi has played 12 games in left field, 11 at third base, six at second base and one at shortstop.
With his pinch-hitting appearances, Lombardozzi has appeared in 40 games total.
Pretty good for a guy who did not know what role he would play coming into the season.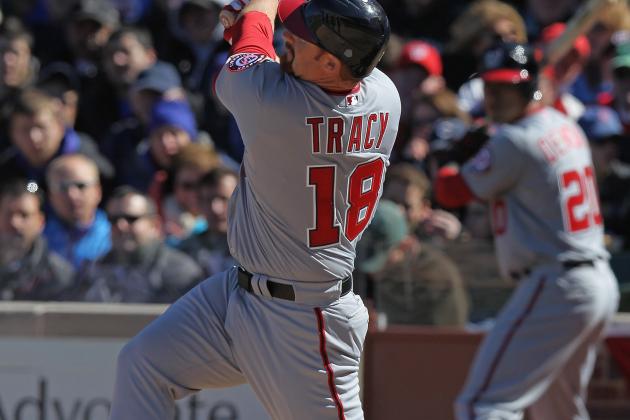 Jonathan Daniel/Getty Images

Chad Tracy has only 55 at-bats but has driven in 12 runs in those at-bats. He makes the most out of his opportunities and leads the Nationals with a 4.1 AB/RBI rate.
Tracy was driving in runners at a great clip and had a .837 OPS before getting injured. He now might miss the rest of the season after undergoing surgery to repair a groin muscle at the end of May.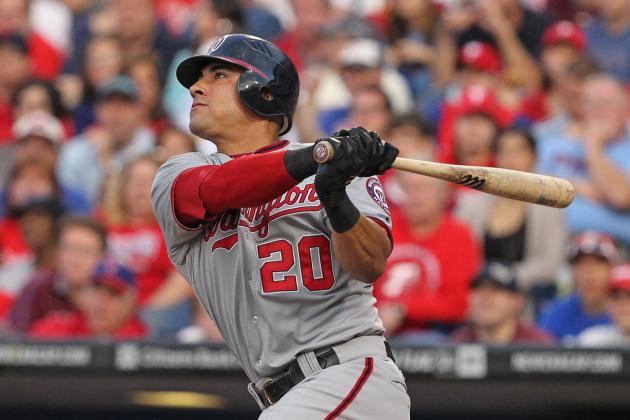 Hunter Martin/Getty Images

The Nats shortstop has eight home runs already this season, which matches his 2011 home run total and is two less than his career-high 10 in 2010.
His power is a nice addition to his game and is the most surprising stat that Desmond has this season.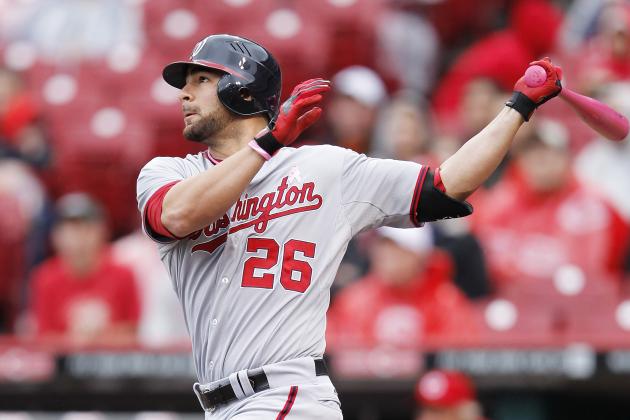 Joe Robbins/Getty Images

Jesus Flores was given the task of replacing Wilson Ramos after Ramos was lost for the season after tearing his ACL. Flores has surprised a lot of people with his ability to hit in a full-time role as opposed to his normal part-time role.
Flores only had a .567 OPS in 2011. In the season in which he played his most amount of games, 2008 with 90, his OPS was .698.
This season Flores has a .700 OPS and will catch the majority of the rest of the games from here on out, if he can stay healthy. With a nice OPS like this, Flores can be very productive.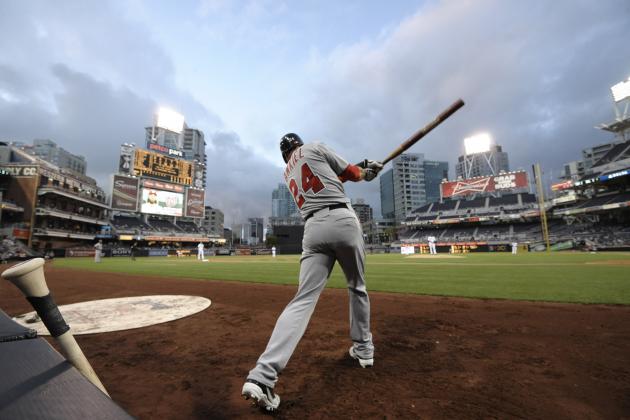 Denis Poroy/Getty Images

Rick Ankiel only has nine walks this season, but three of them have been intentional. He is tied for the team lead in this category.
It proves that, although Ankiel's average is low, he is still a dangerous hitter in the right situation and if there is a chance to face a hitter lower in the lineup with men on base, there are some teams that will go that route.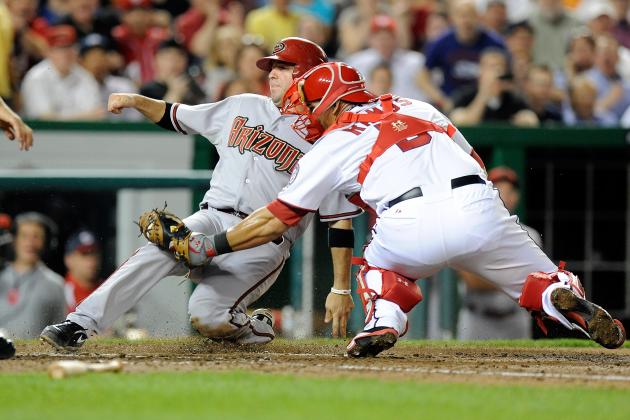 Greg Fiume/Getty Images

Ramos is out for the season after tearing his ACL and has left the catching duties to Flores.
Ramos' numbers behind the plate are actually not as good as Flores', so perhaps baserunners will be a bit more alert without Ramos catching.
Ramos had a caught stealing percent of 17, compared with Flores' 29.
Ramos was the more offensive catcher, but the Nats will have, statistically, a bit better defense behind the plate going forward.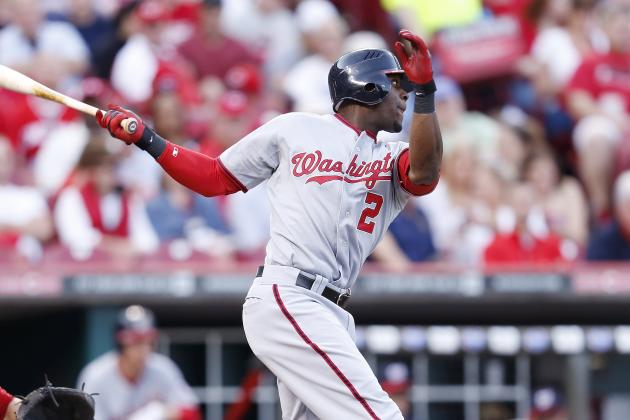 Joe Robbins/Getty Images

Roger Bernadina has been filling in the outfield throughout the season for the Nats and in the process has posted a .230 average.
His average is a bit low, but his home and away splits are quite telling. Bernadina loves playing at Nationals Park, where he hits .270. He is only hitting .200 on the road but has hit his only home runs on the road.
So, although the power might not be there for Bernadina at home, the average is and he is helping the team out when he is in D.C.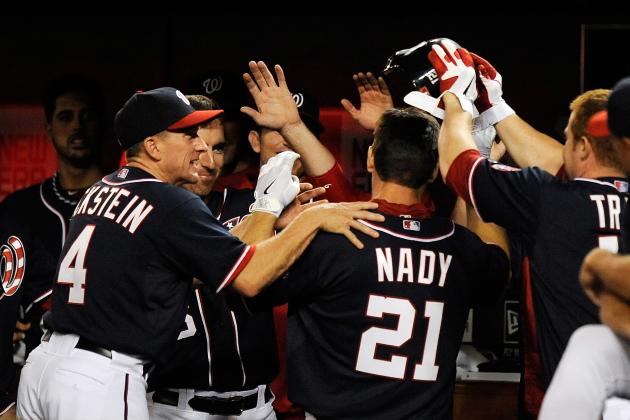 Patrick McDermott/Getty Images

Xavier Nady is only hitting .155 this season, but as a pinch-hitter he is hitting .444.
Nady is 4-for-9 as a pinch-hitter with a double and a home run. Nady does not get many starting gigs but his production off the bench seems to be more valuable this season anyways.
On a team that is contending for a playoff spot, every player on the team is important, especially those who can come off the bench to pinch hit.