Tim Tebow's Value for Fantasy Football 2012 as a New York Jet
June 4, 2012

Jim Rogash/Getty Images
Tim Tebow finished last year as the 19th highest scoring quarterback in ESPN standard leagues. For most players, this would not be that impressive, but because it's Tim Tebow everything is magnified, especially since he did that in only 12 starts.
After his off-season trade to the New York Jets, it's fair for fantasy football owners to be wary of trusting any of the hype around Tim Tebow this season. But there are several reasons why Tim Tebow might have some value for fantasy football 2012.
The most obvious reason to consider Tim Tebow for your fantasy team is his ability to run the ball as a quarterback. In his short career, he has already put up 12 rushing touchdowns and a yards per carry average of over five yards. That type of production from the quarterback spot is great for fantasy teams.
It's that running ability that creates the opportunity for Tebow to see the field, even if he is listed on the depth chart as the backup quarterback of the Jets. His ability to function as a power back with the threat of throwing the ball makes him a likely candidate to get goal-line carries on a Jets team that wants to be a running team, but is lacking in talent at the halfback position.
Sources out of training camp have reported he'll also get involved in the Jets' special teams plays as a punt protector. There will undoubtedly be times where the Jets fake a punt and go for it on fourth down, which plays into two of Tebow's strengths: it's a clutch situation, and he has a chance to catch the other team by surprise.
These opportunities to be a dedicated runner should not be overlooked for their fantasy value.
Tebow also has a very strong arm, which allows him to be a threat to throw for a touchdown every time he drops back. Since he's currently a backup quarterback, chances are that when he is allowed to throw from the wildcat formation he'll probably be looking to go deep, which should mean a high yard to completion ratio as well as a lot of long touchdowns.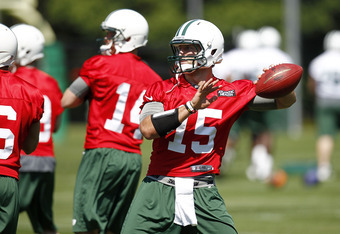 Jeff Zelevansky/Getty Images
If your league rewards these deep throws with extra points, those deep throws add up fast, especially in combination with the rushing touchdowns Tebow should be racking up. 
But the real reason you want Tim Tebow on your team is the combination of the skills mentioned above with the chance to take over the starting job of the New York Jets by season's end.
It's a terribly kept secret that the Jets have been less than thrilled with the progression of Mark Sanchez, and despite giving him an extension, it's widely believed that if Sanchez struggles early, Tebow will make a serious run at the starting QB job.
Compounding that belief is the fact that Tim Tebow's fans managed to push him into the starting job in Denver. No disrespect to Denver, but it's not the media center that New York is. If Sanchez struggles, don't be surprised to see more than just billboards asking for Tebow to be inserted as the starter.
I wouldn't recommend drafting Tim Tebow to be your starting quarterback, but he's not a bad player to grab at the end of the draft as a backup. The upside he offers if he gets the starting job is huge, as last season he put up some great fantasy games, and in the meantime he still has some value as a running back playing in the quarterback slot.
Plus, it never hurts to have God's favorite QB on your team in case you need a little luck.