Fantasy Football: 3 Studs That Will Disappoint Early
June 4, 2012

Justin Edmonds/Getty Images
Several big-name fantasy studs will be returning to action in 2012 after missing time for various reasons. As a result of that time off, the following players will need time to get back to playing up to their full potential.
Here is a list of fantasy guys who will disappoint early in the season.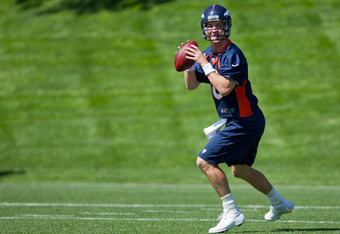 Justin Edmonds/Getty Images
Peyton Manning, Denver Broncos
Manning's addition to the Denver Broncos will make the team better as a whole. His presence alone should improve the team's receiving corps and his ability to read defenses should make Denver's offense operate at a much higher level. That said, Manning has been away from the game for a long time and it will likely take him a while to knock the rust off and get used to his new surroundings. 
The Broncos have talent at the receiver position with Demaryius Thomas and Eric Decker, but both guys are still a bit unpolished and rounding into form. It will take time for them to get on the same page with their four-time MVP quarterback.
Manning could return to being a fantasy gold mine at some point during the 2012 season, but don't expect him to come roaring out of the gate by putting up big numbers in Denver. It will take time.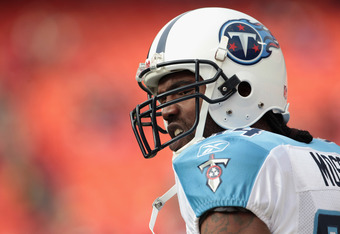 Jamie Squire/Getty Images
Randy Moss, San Francisco 49ers
Moss sat out the 2011 season after a fairly disastrous campaign in 2010 that saw him on three different rosters. Now he has new life with the San Francisco 49ers. He now has a second chance to show that he can still compete at the NFL level.
The 49ers will almost certainly try to take advantage of Moss as much as possible. Quarterback Alex Smith has several new targets to go along with Moss, as Super Bowl hero Mario Manningham made the move to San Francisco, and the team also used a first-round draft pick to take Illinois' A.J. Jenkins. 
Like Manning, Moss will have to adjust to NFL game action after sitting out for so long. Smith will likely look for him early and often this year, but the seven-time Pro Bowler probably won't be ready to dominate for a few weeks. Heck, he may not be able to "dominate" games at all anymore at all, but he should be productive.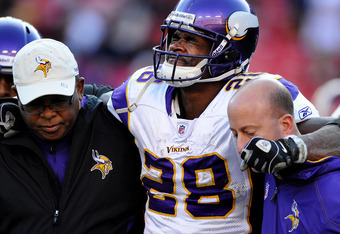 Patrick Smith/Getty Images
Adrian Peterson, Minnesota Vikings
Peterson tore his ACL and MCL, and damaged the meniscus in his left knee on December 24 which  sent shockwaves through the NFL. Many believed Peterson would miss a chunk of the 2012 season as a result, but he told the Minnesota Star-Tribune he expects to be ready by Week 1. 
Regardless of whether or not he is ready to go full speed on September 9 against the Jacksonville Jaguars, the Vikings are also guaranteed to ease him back into things. Minnesota has the luxury of giving carries to a capable backup in Toby Gerhart until Peterson is ready to handle a full load.
It may be several weeks before the four-time All-Pro is back to himself, and you probably shouldn't rely on him as a fantasy player for a while. But you should expect him to get back to full-speed at some point in 2012.