How Carmelo Anthony's Summer Vacation Is Different from Yours
June 4, 2012

Marc Serota/Getty Images
The idea of the NBA superstar lifestyle doesn't always match up with reality. 
For Carmelo Anthony of the New York Knicks, "summer vacation" is not all cookouts, swimming pools and days at the beach. Basketball is pretty much a year-round profession. 
Anthony was in attendance at the Jeep "Power By Design" event in the Flatiron District in New York City Monday afternoon and answered questions from an assembled group of reporters (Jeep was announced as the corporate sponsor for USA Basketball, which Anthony was on hand to represent). Anthony is no stranger to Olympics basketball and Team USA duties — Carmelo took home a Bronze in Greece in 2004 and then helped Team USA score a Gold at the 2008 games in Beijing.
Anthony was nice enough to spend a few minutes talking to Bleacher Report about the summer, the Olympics and the upcoming 2012-13 Knicks season.  
This summer, Anthony will be heading to his third Olympics in London, and that's just part of what's on the Knicks superstar's mind as the month of June begins.
Anthony turned 28 years old on May 29, and he and wife LaLa Vasquez celebrated at Downtown New York Nightclub Greenhouse with a small crew of close friends.
Carmelo said he's taken the last two weeks off and "chilled with his son and his family." But now it's back to work, "back in the lab" as Carmelo put it.
Keep in mind it's been less than a month since the Knicks season came to an end on May 9. A few weeks off and it's right back to work for Carmelo with the Olympics fast approaching in July.
Anthony might be only 28, but it's his third Olympic Games, each Olympic experience different.
"The Olympics are always great, Greece was great in '04, then Beijing was different and I'm very excited for London, different country, different experience"
With the Olympics comes a whole new set of teammates. Once the games start, any on-court issues from the NBA season are put aside. 
"Once we're together we're all on the same team, same goal"
One of the more intriguing dynamics with regards to Carmelo Anthony's inclusion on Team USA is how he'll gel with the coaching staff. There are three assistants, and two of them have direct links to Anthony: Jim Boeheim, Head Coach of the Syracuse Men's Basketball team, the coach who recruited and coached Anthony in college. It was only for one season but it was a memorable one.
Carmelo led Syracuse to their first men's basketball championship in 2003 and then made the leap to the NBA.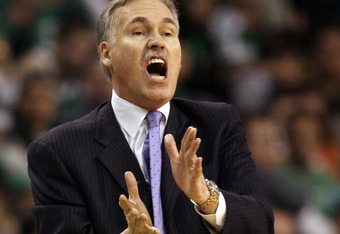 Elsa/Getty Images
The other assistant coach had a different experience with Anthony. Mike D'Antoni was the head coach of the Knicks from May 5, 2008 until he resigned this past season on March 14, 2012.
When D'Antoni stepped down, the media exploded with rumors of discord between D'Antoni and Carmelo. How does Anthony feel about being reunited with these two coaches under whom he had decidedly different experiences?
"I'm really looking forward to it, it's going to be like a reunion." That's how Carmelo responded to being asked about playing under Coach Jim Boeheim again. As for D'Antoni?
"There's no bad blood there, lots of stuff was said but it was never really like that. I'm looking forward to seeing him (D'Antoni) as well."
There are myriad questions about the 2012-13 Knicks. With only a few players under contract for next season, next year's New York Knicks could look very different than the version that was on the court last season.  
How does Carmelo Anthony envision next year's Knicks' squad?  
"I'd like to get the key guys back, I think we should resign all the important parts and then fill in the rest"
Anthony's summer is going to be busy, but it's probably going to be pretty fun as well. As for the Knicks in 2012-13, well that remains to be seen.