Why It's Time for the Red Sox to Abandon the Daniel Bard Experiment
June 4, 2012

Abelimages/Getty Images
Daniel Bard as a starting pitcher?
As soon as it was proposed, it didn't sound like a good idea. There are damn good starters, and there are damn good relievers. In his first two-plus major league seasons, Bard proved to the Boston Red Sox that he's a damn good reliever.
Nonetheless, general manager Ben Cherington and the Red Sox brass made the decision to try Bard out as a starter. Officially, the experiment is now two months old, and it's not going well at all. Bard has had his moments, but as a whole, his time as a starter in 2012 has been a failure.
It's time for the Red Sox to cut their losses and pull the plug on the Bard-as-starter experiment. It's not working, and it's dragging the team down.
The numbers do a fine job of telling the story. Bard has made 10 starts this season, and he has a 5.30 ERA and a 0.94 strikeout-to-walk ratio in 54.1 innings, according to FanGraphs. Yup, he has more walks (37) than he has strikeouts (34), and his walk totals tarnish his somewhat respectable .256 opponents' batting average.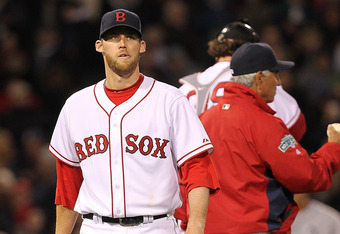 Jim Rogash/Getty Images
Bard's struggles aren't limited to the regular season. As you may or may not recall, he struggled to get on track during spring training as well, when the team was trying to stretch him out as a starter. He pitched 24.2 innings this spring, surrendering 18 runs and 16 walks. Those results were hardly encouraging, and in retrospect, they were clearly a sign of things to come.
Bard tried to put a positive spin on his spring struggles when he was named a member of the rotation way back in early April. Via NESN.com:
I think it was good that I had a couple of struggles and gave up some runs early in games. That's really good practice for me for what's going to happen during the season. I'll take the rough ERA now and the learning experiences to make it count when the games start to count.
Welp, so much for that. The games have been counting for two months, and Bard has yet to shake off the struggles he endured in spring training.
If you've been watching Bard's starts, you know why he's struggled so much this season. He can't throw strikes on a consistent basis, and his fastball has been a complete mystery. He can't locate it consistently, nor can he maintain a consistent average velocity. His fastball is 93-94 in some starts, and 90-91 in others.
As Nick Cafardo of The Boston Globe pointed out, Bard hasn't been able to reach back for a blistering high-90s fastball when he needs one.
At this point, the Red Sox should be asking themselves what's wrong with Bard. Are his mechanics out of whack? Are his struggles getting to his head? Is he hurt? Is it a mix of all three?
It wouldn't be a huge shock if Bard had some kind of injury. Cafardo suggested in his column that Bard may simply have a dead arm, which would make sense. Bard has pitched at times as if he does have a dead arm, especially in his most recent start on Sunday against the Toronto Blue Jays.
Whatever the issue(s) is/are, fixing Bard is going to take time. This is not a situation where the Red Sox will simply be able to press a button and turn Bard into a quality-start machine.
Keeping him in the rotation and hoping that he'll eventually figure things out will accomplish very little. The Red Sox have lost six of the 10 games Bard has started, and all 10 of them have been adventurous. Whenever he takes the mound, the team knows that earning a win is not going to be easy.
That's a psychological disadvantage. The other 24 guys on the team go into Bard's starts knowing that they're going to have to hold up their end of the bargain, because they can't take it for granted that he's going to hold up his end. There have been times this season when his unreliability seems to have sucked the life out of the team (Sunday's game was one of them).
The point: When Bard starts, nobody has a fun time. Him least of all.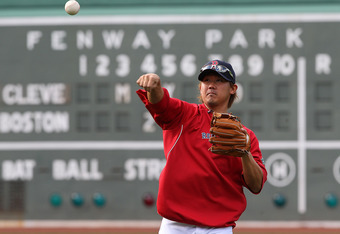 Jim Rogash/Getty Images
The Red Sox have options. He wouldn't be a significant upgrade, but the team can choose to slide Daisuke Matsuzaka into Bard's spot in the rotation. He's just about a year removed from Tommy John surgery, and he's already made seven minor league rehab starts. The Red Sox are going to have to call him up, and sooner rather than later.
Of course, there's always the trade market, and the Red Sox have plenty of pieces to deal. Chief among them is Kevin Youkilis (Jon Heyman of CBSSports.com has the latest on him), who could perhaps be swung for a decent starting pitcher. 
As for Bard, you just get the sense that he could use a break, and a stint on the DL would be a good way to give him one. The Red Sox could no doubt come up with some kind of excuse to make that transaction, and it would give them the opportunity to slowly work Bard back into the mix as a reliever.
Bobby Valentine has his bullpen pretty well under control now, but it's bound to need reinforcements in the future. Bard could play the role of a midseason trade acquisition.
Regardless of how they approach the situation or what they choose to do with him afterwards, the Red Sox need to get Bard out of their starting rotation. The AL East race is going to be a tough, long-lasting battle, and they'll be at a disadvantage as long as Bard is a weak link in the rotation.
The Red Sox should have never put him there in the first place. They need to correct their mistake before things get even further out of hand. 
If you want to talk baseball and/or classic baseball books, hit me up on Twitter.