MLB Trade Scenarios: One Realistic Deal for Each MLB Team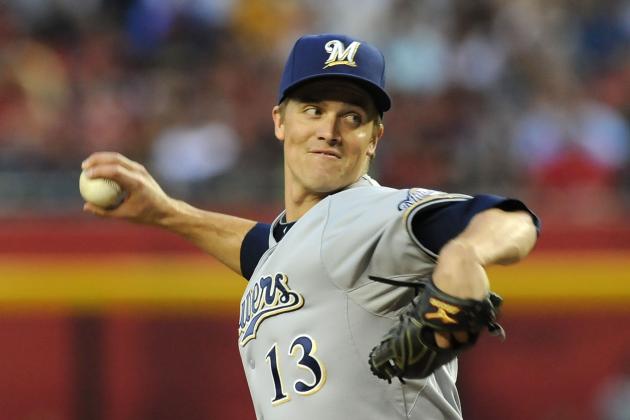 Norm Hall/Getty Images

The trade deadline is still just under two months away, but with each passing week, teams begin to distinguish themselves as buyers and sellers.
Each team also has either a clear cut need or an obvious player they will look to deal at this point, and while plenty will change between now and two months from now, the trade market is already taking shape.
Here is a look at one realistic deal for each of the 30 MLB teams. Some teams will be buyers filling a need, while others are going to be sellers unloading veterans for prospects.
Begin Slideshow

»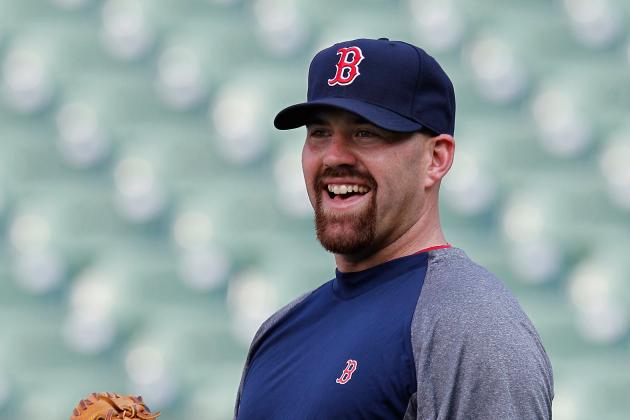 Rob Carr/Getty Images

Trade Target: Red Sox 3B Kevin Youkilis
Trade Chips: (2) Mid-Level Prospects
The Diamondbacks benefited from a breakout season by Ryan Roberts last year (.249 BA, 19 HR, 65 RBI), but so far this season he has failed to hit with enough power to off-set his batting average (.234 BA, 3 HR, 22 RBI).
The Diamondbacks have managed to hang around in the NL West despite injuries, and they are still in good shape to be contenders this summer.
Adding Youkilis would give them a boost offensively, and given the fact that he is under-performing (.245 BA) and in a contract year in which he earns $12 million, it likely wouldn't take more than a few decent prospects to pry him away from Boston.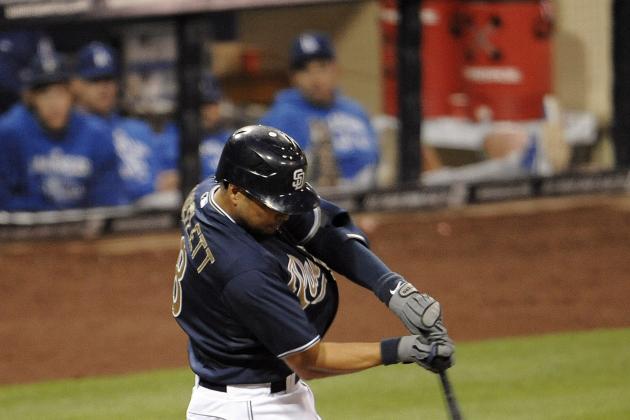 Denis Poroy/Getty Images

Trade Target: Padres SS Jason Bartlett
Trade Chip: (1) Low-Level Prospect
With the recent demotion of rookie shortstops Tyler Pastornicky, the Braves are in need of a solution at shortstop for the rest of the season.
Top prospect Andrelton Simmons was called up, but at just 22 years old, he is far from being big league ready and is simply a temporary solution.
The Padres have seemingly moved on to a middle infield of Alexi Amarista and Everth Cabrera, and Bartlett could be on his way out once he returns from a knee strain.
After giving Orlando Hudson his out-right release a few weeks back and simply eating the rest of his contract, the Padres will likely take whatever they can get in return for a team picking up even a few million of the $7 million that Bartlett is still due. He could be this season's Rafael Furcal if everything falls right.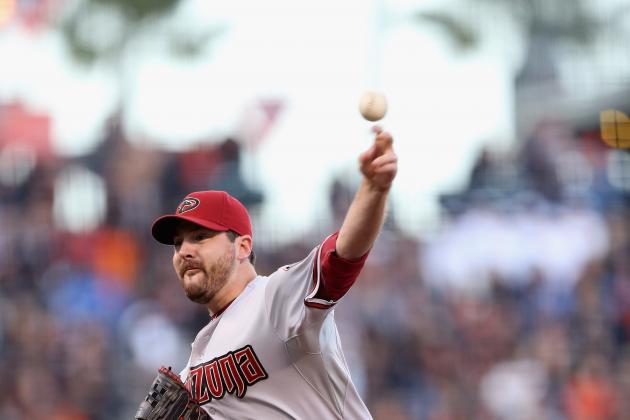 Ezra Shaw/Getty Images

Trade Target: Diamondbacks SP Joe Saunders
Trade Chips: (1) Mid-Level Prospect, (1) Low-Level Prospect
The Orioles have hit a bump in what had started out as a fantastic season, and it has been due in large part to their pitching coming back to Earth a bit after a tremendous start.
Tommy Hunter (10 GS, 2-3, 5.59 ERA) was recently demoted to Triple-A, leaving the Orioles without a fifth starter, and Saunders would make the perfect low-cost replacement.
It would seem counter-productive for a team like the Diamondbacks to deal a veteran starter, but with Trevor Bauer knocking on the door the team may soon be looking to open up a rotation spot for him.
While Saunders has been solid (11 GS, 3-4, 3.65 ERA), he represents the most expendable pitcher on the staff, and while he may not net a huge return there will certainly be interested teams.
David Banks/Getty Images

Trade Target: Cubs SP Ryan Dempster
Trade Chip: (1) Top Prospect, (1) Mid-Level Prospect
Depending on who falls out of contention, and whether or not any surprise players become available, Dempster could be the most sought after player on the market come July.
That would no doubt drive his trade value up, and given his terrific start to the season (9 GS, 0-3, 2.90 ERA, 54 Ks, 59 IP) his value is already very high.
No team has a better grasp on the Red Sox prospects than the Cubs, with former Sox GM Theo Epstein running things, and Epstein no doubt would like to get some of his personal favorites back to join him in the Cubs' rebuilding effort.
Perhaps a package centered around Ryan Lavarnway would be of interest to Epstein, as the Cubs' catching situation is hazy to say the least right now.
One thing is for sure—the Red Sox will be in the market for pitching after demoting Daniel Bard earlier this week.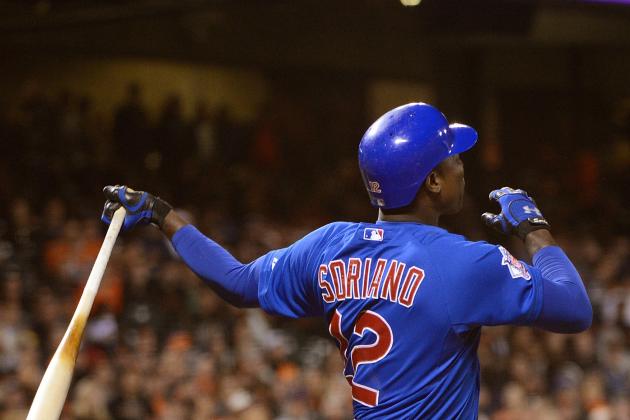 Thearon W. Henderson/Getty Images

Trade Target: Anything
Trade Chip: LF Alfonso Soriano
There is no doubt that the Cubs will be aggressive sellers at the deadline this season, with more than a few players on their way out the door as the rebuilding efforts continue.
However, one player the team would love to unload above all others would be left fielder Alfonso Soriano, and the two years and $36 million he is due beyond this season.
He is having a decent season (.262 BA, 8 HR, 31 RBI), so there could be some interested parties; especially given the fact that the Cubs are likely willing to settle for saving $2-$4 million total to unload him.
If they can move him, save a few million and get anything in return, it would open up a much-needed starting outfield spot (potentially for Bryan LaHair if Anthony Rizzo is called up) and be a major coup for the organization.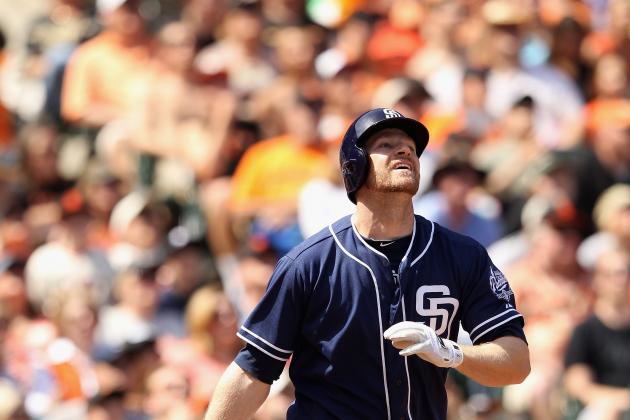 Ezra Shaw/Getty Images

Target Target: Padres 3B Chase Headley
Trade Chip: (2) Mid-Level Prospects
The White Sox and Padres have a working relationship after the Carlos Quentin deal this past offseason, and with the teams heading in opposite directions another trade could be happen down the road.
The next few weeks will go a long way towards determining just how aggressive the White Sox will be, as they are one of the hottest teams in baseball of late and look like the class of the AL Central.
That said, third base has been a huge hole, as Brent Morel (.177 BA, 113 AB) struggled mightily before going down with an injury, and recently acquired Orlando Hudson (.171 BA, 41 AB) has been just as bad.
Headley is under Padres control through 2014, so they don't need to trade him, but he represents one of the few players that they have who possesses solid trade value, and they are looking to move some people and rebuild. His .253 BA, 7 HR, 25 RBI line may not look like much, but take into account that he plays at Petco Park and has a solid .370 OBP—he would be a fantastic addition for the South Siders.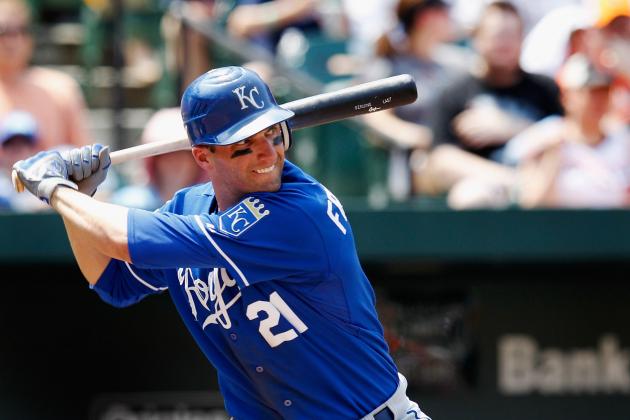 Rob Carr/Getty Images

Trade Target: Royals RF Jeff Franceour
Trade Chips: (2) Mid Level Pitching Prospects
The Reds signed Ryan Ludwick (.205 BA, 6 HR, 21 RBI) this offseason to provide some outfield depth and platoon with Chris Heisey in left field, but he has struggled mightily.
Center fielder Drew Stubbs (.235 BA, .300 OBP) continues to strike out at a dizzying pace, and would benefit from getting more days off against tough right-handers.
The Reds could decide to call Ludwick a bust and simply look for someone to take over as the regular left fielder, and Franceour would be a solid pickup.
Coming off a solid year last year, the Royals have taken a step back because of their lack of pitching. If they can land a decent pitching prospect or two from the Reds in return for the 28-year-old outfielder they would likely pull the trigger.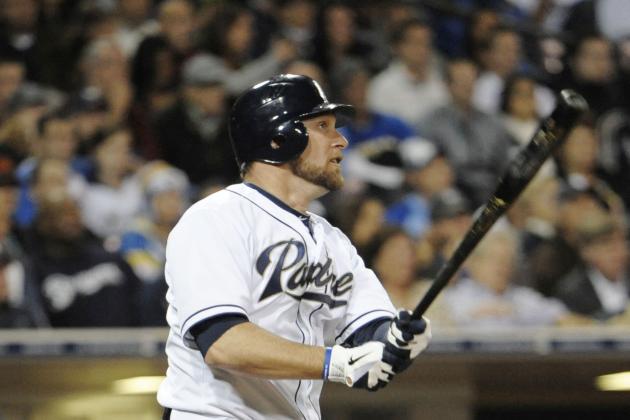 Denis Poroy/Getty Images

Trade Target: Padres OF Mark Kotsay
Trade Chip: (1) Low-Level Prospect
The Indians would greatly benefit from adding a powerful bat to the middle of their lineup—someone like Carlos Quentin, for example.
However, the team's farm system and payroll will likely keep them from making a move of that scale, as someone like Quentin won't come cheap.
That said, nearly anything would be an upgrade in left field where Shelly Duncan (.207 BA) and Johnny Damon (.180 BA) have been pathetic.
The 36-year-old Kotsay has settled in nicely as one of the league's better fourth outfielders in recent years, and he is hitting .324 though 37 at bats this season. Adding him to the mix certainly wouldn't hurt, and would no doubt come cheap.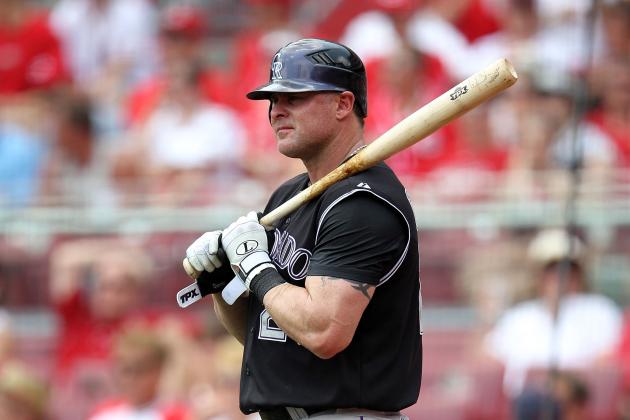 Andy Lyons/Getty Images

Trade Target: (1) Mid-Level Prospect
Trade Chip: 1B/PH Jason Giambi
Teams are always looking to add some pop to their bench for the stretch run, and with the Rockies likely out of the playoff picture for this season expect Giambi to become available.
He hit 13 home runs in just 131 at bats last season, and has proven more than capable of producing in a limited role.
This season he has hit .250 BA, 1 HR, 7 RBI through 36 at bats. With the market for power bats expected to be thin at the deadline, come July the Rockies could find a team that is willing to give up a mid-level prospect in order to add Giambi's bat to their bench.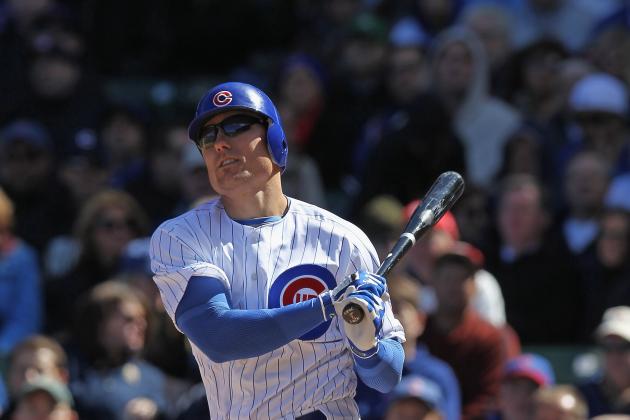 Jonathan Daniel/Getty Images

Trade Target: Cubs IF Jeff Baker
Trade Chip: (1) Mid-Level Prospect
The Tigers have a glaring hole at second base, and have since they had Placido Polanco back in 2009. Though they tried Brandon Inge there early on, Ramon Santiago (.202 BA) currently holds the job.
While Santiago is a valuable utility man he is by no means an everyday player, and the team simply does not have a better option right now.
The trade market is thin at second base, but the Cubs have a pair of expendable guys in Blake DeWitt and Jeff Baker, as Darwin Barney is manning the position.
The Cubs thought enough of Baker last year that they made him unavailable at the deadline, but that won't be the case this year. He has hit decent in 58 at bats, with a .259 BA, 1 HR, 6 RBI line, and he would certainly be an upgrade capable of putting up respectable numbers in an everyday role.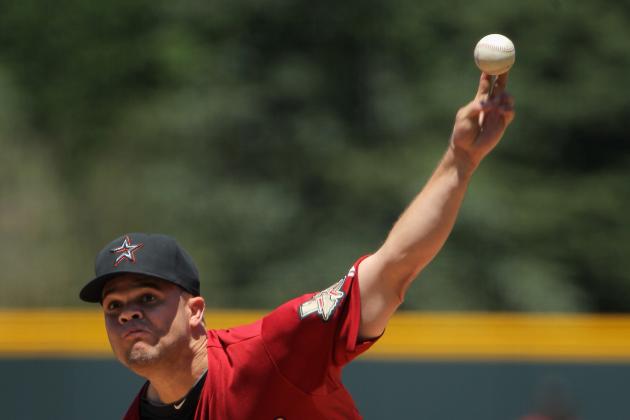 Doug Pensinger/Getty Images

Trade Target: (1) Top Prospect, (1) Mid-Level Prospect
Trade Chip: SP Wandy Rodriguez
The Astros asking price for Rodriguez, combined with his contract, kept him in Houston at the deadline last year. As the rebuilding efforts continue, though, the team may be more willing to deal him this season.
Due $13 million next season with a $13 million option for 2014 ($2.5 million buyout), trading for Rodriguez would be a commitment for any team.
With a 36-35 record and 3.36 ERA in 95 starts over the past three seasons for some bad Astros teams, he may well be worth the commitment, and he would be one of the best pitchers available.
With a 4-4 record and 3.14 ERA this season, the asking price will be high, but the Astros will try to get another key building block in return for the 33-year-old left-hander.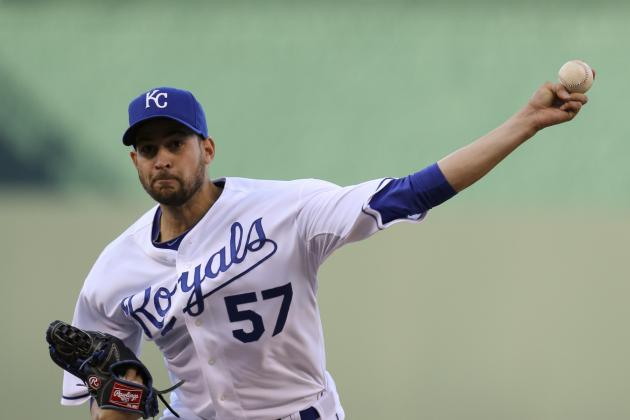 Ed Zurga/Getty Images

Trade Target: (2) Mid-Level Prospects
Trade Chip: SP Jonathan Sanchez
The Royals have come up on the wrong end of their offseason trade with the Giants, as they sent outfielder Melky Cabrera to San Francisco in exchange for Sanchez in an attempt to bolster their rotation.
Sanchez has been horrible (6 GS, 1-2, 6.75 ERA) and is currently on the DL with tendinitis, while Cabrera is currently first in the NL with a .364 average, 82 hits and seven triples.
If he can show some signs of turning it around when he returns from injury, Sanchez would have some trade value. While he is wild, he can be dominant at times, and in a contract year he will have something extra to pitch for down the stretch.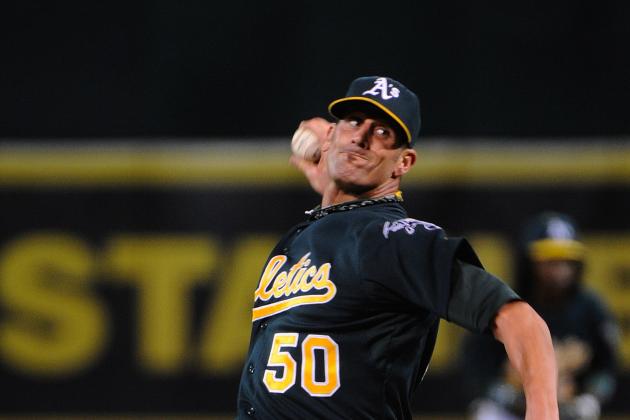 Thearon W. Henderson/Getty Images

Trade Target: A's RP Grant Balfour
Trade Chip: (1) Mid-Level Prospect
The Angels have begun to turn things around after their horrible start, and once Jered Weaver and Chris Iannetta return from injuries the team will be in good shape top-to-bottom.
One area where they could use another piece, though, is in their bullpen.
Sure, Ernesto Frieri and Scott Downs have been terrific in the back-end, while Jordan Walden and Jason Isringhausen will be key guys as well. Beyond those four, however, there is not much in the way of reliable arms. LaTroy Hawkins was solid prior to fracturing his pinky finger, but that could be an injury that limits him for a while.
Balfour (27 G, 3.76 ERA) struggled a bit in the closer's role earlier this season, but he remains one of the better setup men in baseball, and that is the role he would fill with the Angels.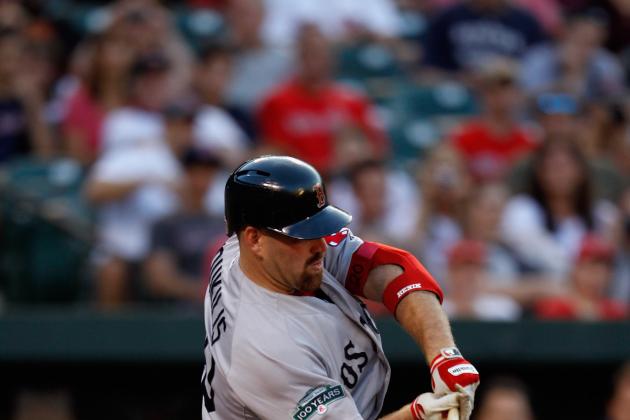 Rob Carr/Getty Images

Trade Target: Red Sox 3B Kevin Youkilis
Trade Chips: (2) Mid-Level Prospects
The Dodgers have been fantastic early on this season, and have held their own since Matt Kemp hit the disabled list.
They could use some starting pitching depth, but with Nathan Eovaldi filling in well for Ted Lilly and Lilly expected back soon they should be fine there.
Their real need is at third base, where Juan Uribe has been unable to off-set his low average with power this season and has really brought nothing to the table for a couple of years now.
If Youkilis is made available, there will be a handful of teams vying for his services, and it will simply be a matter of who puts together the best trade package.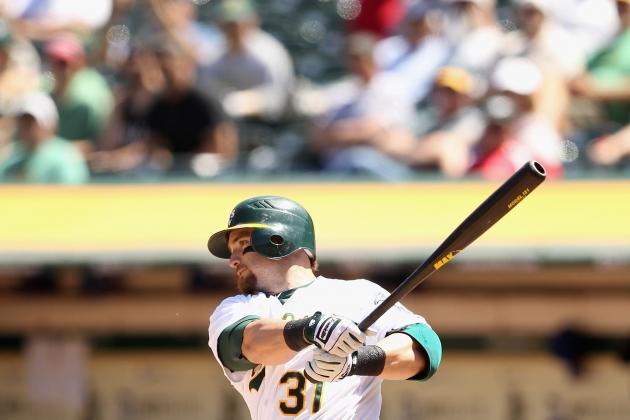 Ezra Shaw/Getty Images

Trade Target: A's OF Jonny Gomes
Trade Chip: (2) Low-Level Prospects
No one in baseball has been hotter than the Marlins, and now that everyone has begun to play to their potential they are among the most complete teams in baseball.
However, with Emilio Bonifacio currently injured, the outfield alongside Giancarlo Stanton is currently made up of Bryan Petersen (.200 BA) and Chris Coghlan (.163 BA).
What you see is what you get with Gomes. He has run production abilities (5 HR, 14 RBI), strikes out a ton (41 Ks in 100 AB) and finds a way to get on base a decent amount (.366 OBP).
He'd be an upgrade over either of the aforementioned guys, and would provide for a team that has a relatively thin bench.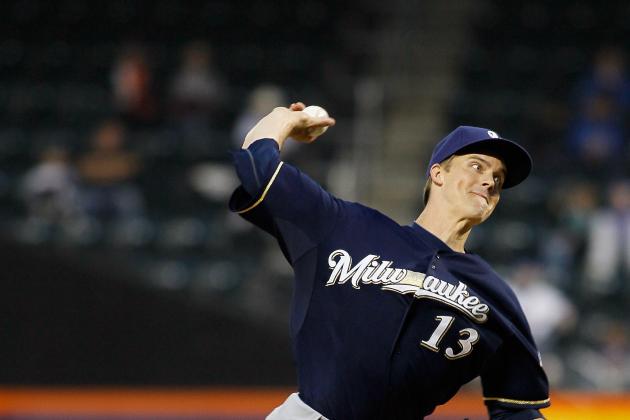 Mike Stobe/Getty Images

Trade Target: (2) Top Prospects, (2) Mid-Level Prospects
Trade Chip: SP Zack Greinke
The Brewers have been worse than expected in the absence of Prince Fielder, and with Zack Greinke in the final year of his contract the team will have a decision to make at the deadline.
With a farm system that is fairly thin, the Brewers don't currently have the pieces for a rebuild. In the same vein, they don't currently have a team good enough to legitimately contend.
If they spend to keep Greinke, they'll likely not have the money to make a splash in free agency and will continue to be a middle-of-the-pack team.
If they deal Greinke (6-2, 3.46 ERA), he'd net them a huge return and they could set themselves up for a quick rebuild and return to contention.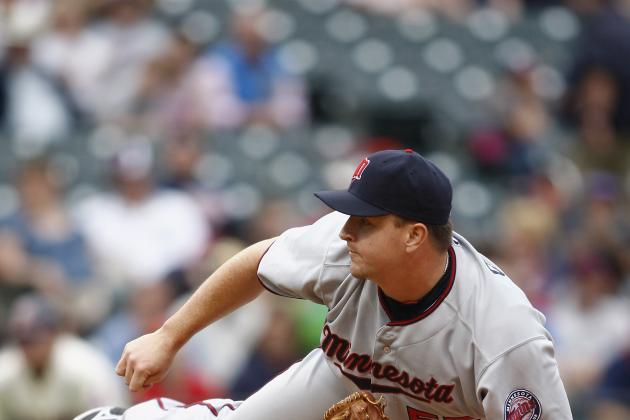 John Grieshop/Getty Images

Trade Target: (1) Mid-Level Prospect, (1) Low-Level Prospect
Trade Chip: RP Matt Capps
For a struggling team set to become sellers at the deadline, the Twins don't have much in the way of tradeable assets.
Carl Pavano (2-5, 6.00 ERA) is of little interest, Justin Morneau ($14 million in 2013) is too expensive and the team will likely make the price on Denard Span too high.
Free agent to-be, closer Matt Capps (13-of-14 Sv, 3.38 ERA), is the most tradeable player on the roster, and after giving up catcher Wilson Ramos to originally acquire him they'd no doubt like to get something worthwhile in return.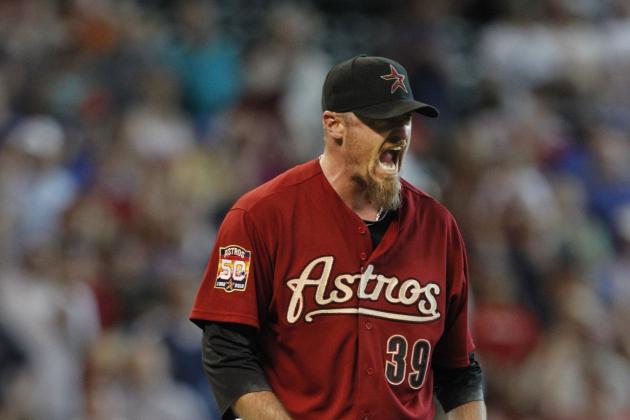 Bob Levey/Getty Images

Trade Target: Astros RP Brett Myers
Trade Chips: (2) Mid-Level Prospects
The Mets are arguably the best team in New York right now, and I don't think anyone would have guessed that would be the case at the beginning of the season.
The lineup has been hit with some injuries and ineffectiveness, but for the most part it should sort itself out. The real need lies in the back end of the bullpen.
Closer Frank Francisco (14-of-17 Sv, 5.40 ERA) has been anything but lights-out, and for the team to make a serious run at contention they will need to upgrade at closer.
The Astros moved Brett Myers to the closer role after a disappointing 2011 season, and he has been great (14-of-15 Sv, 2.25 ERA). He doesn't come cheap, so the Astros may have to settle for less of a return to unload him, but he'll be of interest to a number of teams as one of the better relief options on the market.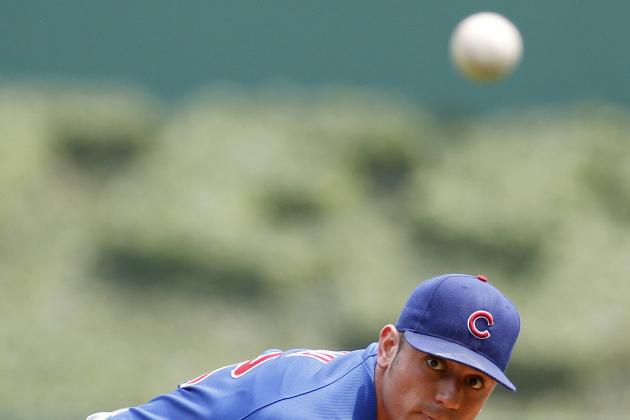 Justin K. Aller/Getty Images

Trade Target: Cubs SP Matt Garza
Trade Chips: (2) Top Prospects, (2) Mid-Level Prospects
There is no denying that the Yankees rotation needs help, as Phil Hughes (4.96 ERA) and Ivan Nova (5.60 ERA) have both struggled mightily to this point.
They have already indicated that they prefer Garza to any other potentially available arms, and that combined with the fact that he is under team control through next season should only add to his return value.
The Cubs don't have to trade Garza, and could certainly factor him in as a part of their rebuilding, but if the return is high enough they won't think twice about dealing him. It all comes down to just how badly the Yankees want the 28-year-old right-hander.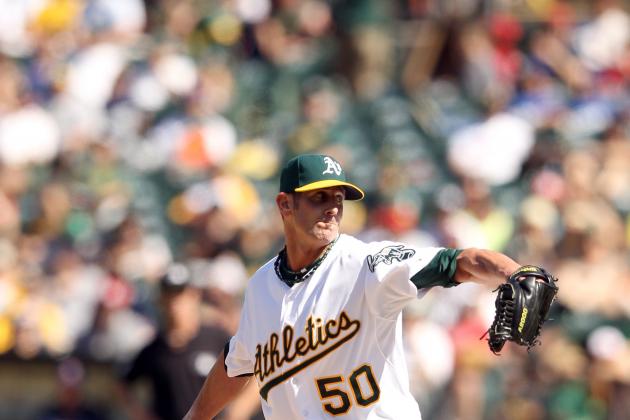 Ezra Shaw/Getty Images

Trade Target: (2) Mid-Level Prospects
Trade Chip: RP Grant Balfour
The A's will no doubt be sellers at the deadline again this year, but after dealing Trevor Cahill and Gio Gonzalez in the offseason, they don't have a whole lot of tradeable parts.
Ace Brandon McCarthy is a free agent at season's end, but he is more likely to be extended than traded. Their most tradeable piece is likely reliever Grant Balfour.
Teams will look to give up one mid-level prospect to acquire him, but seeing as he will be one of the better relievers on the market the A's could push for two.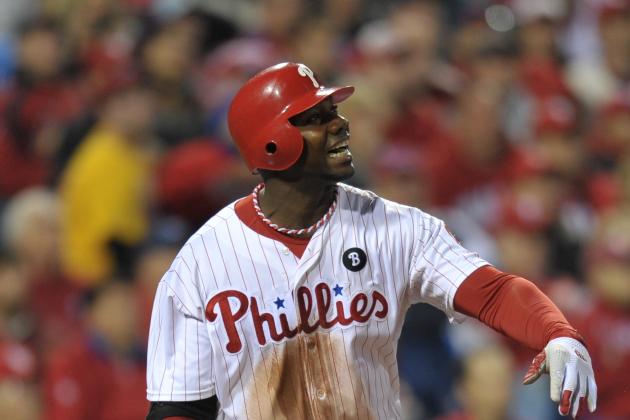 Drew Hallowell/Getty Images

Trade Target: None
Trade: Chips: None
The Phillies are in an interesting position, in that if they can just keep their heads above water now they will be getting some big help later on in the season.
Ryan Howard (ruptured achilles), Chase Utley (knee) and Roy Halladay (strained lat) are all on the disabled list, and Howard and Utley have been all season.
Getting back three of the best players in the game is bigger than any acquisition the Phillies could make, and because it remains uncertain as to when they will come back, the team won't make a move outside of waiting for those three to return.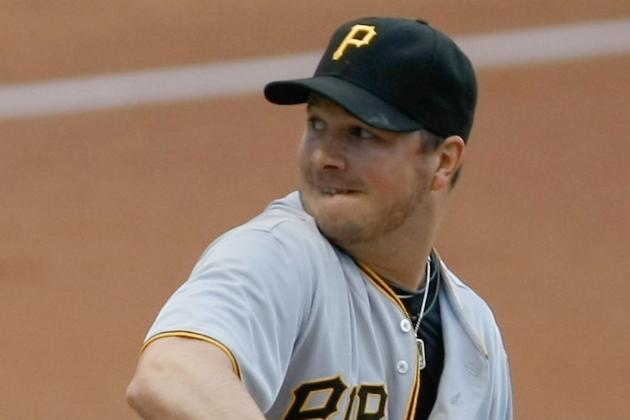 Scott Boehm/Getty Images

Trade Target: (2) Mid-Level Prospects
Trade Chip: SP Erik Bedard
The Pirates are off to a solid start this season thanks almost entirely to their starting pitching; and while they should stay competitive, their offense won't be enough to make them legitimate contenders.
They won't be aggressive sellers, but with some veteran pieces with expiring contracts they could be sellers to a point come July.
Bedard in particular is off to a good start (3.72 ERA, 9.1 K/9), and with an affordable contract of $4.5 million he would be an attractive option to a number of teams.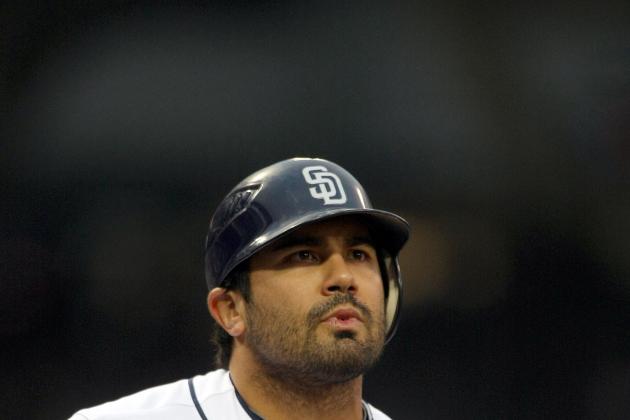 Donald Miralle/Getty Images

Trade Target: (1) Top Prospect
Trade Chip: LF Carlos Quentin
Injured for much of the start of the season, Quentin has been phenomenal through his first six games with the Padres this season.
He is 12-for-23 with 5 HR and 9 RBI, and is hands down the most appealing trade chip the Padres hold. They gave up a pair of mid-level pitchers to get him from the White Sox, but they could get more in return if they choose to flip him.
Chances are he will be the biggest bat of the trade market at the deadline, and with so many teams potentially on their way to being buyers, his trade value could become even higher.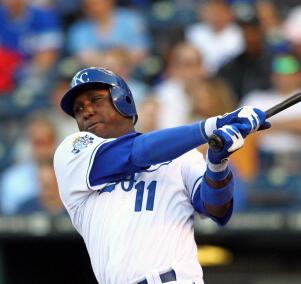 Tim Umphrey/Getty Images

Trade Target: Royals 2B Yuniesky Betancourt
Trade Chips: (2) Low-Level Prospects
The market for second basemen is incredibly weak this year, but with the future of Freddy Sanchez in doubt right now there is no question that a second baseman is the Giants biggest need.
The trio of Ryan Theriot (.236 BA), Joaquin Arias (.233 BA) and Emmanuel Burriss (.212 BA) couldn't hit water falling out of a boat. A team like the Giants is in need of all the offense they can get—expect them to try to upgrade.
Betancourt (.279 BA, 1 HR, 5 RBI) has hit decently in limited at bats, and had 29 home runs over the past two seasons. He could make a similar impact that Juan Uribe did for the championship team.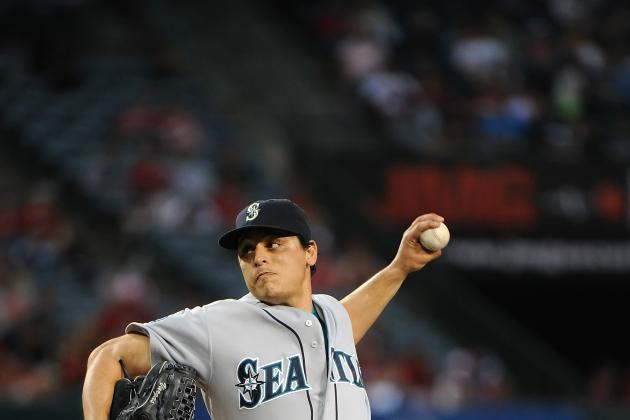 Lisa Blumenfeld/Getty Images

Trade Target: (2) Mid-Level Prospects
Trade Chip: SP Jason Vargas
The Mariners are taking the right steps towards contention, as they have infused their lineup with homegrown talent and have a good farm system on its way as well.
The most intriguing player at the deadline has to be Ichiro Suzuki. Suzuki is in the final year of his contract, but with a full no-trade clause I don't expect him to be going anywhere.
One player who could be moved is Vargas, a 29-year-old left-hander who is off to a great start (7-4, 3.64 ERA). While he is signed through next season, the Mariners would be wise to sell high on him now.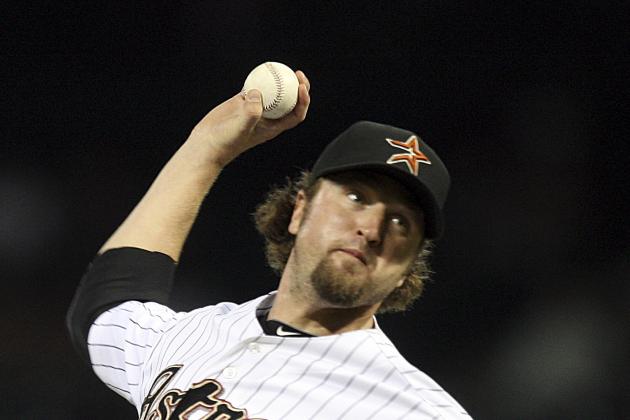 Bob Levey/Getty Images

Trade Target: RP Brandon Lyon
Trade Chips: (1) Mid-Level Prospect
The Cardinals have battled through a number of injuries this season, yet they remain in the thick of things in the NL Central.
Once their injured players get healthy, their biggest need is in the bullpen, where they could benefit from having another setup reliever.
Lyon had a horrendous season last year, appearing in just 15 games and posting an 11.48 ERA, but he has been lights-out this year with a 2.53 ERA and 8.9 K/9 in 21.1 innings of work.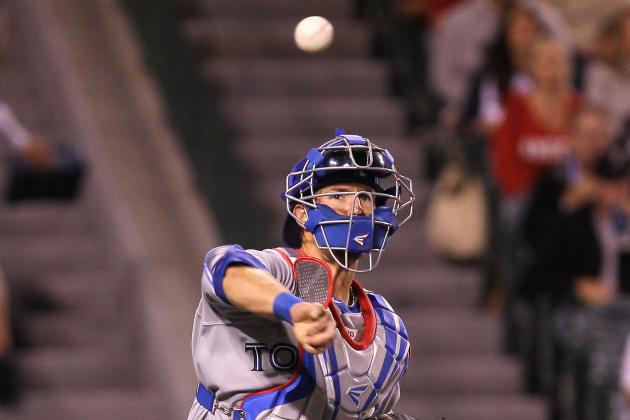 Stephen Dunn/Getty Images

Trade Target: Blue Jays C J.P. Arencibia
Trade Chips: (1) Mid-Level Pitching Prospect, (1) Low-Level Prospect
The Rays have been among the best teams in baseball this year, despite being without Evan Longoria much of the season.
Their lineup has a number of holes, but none may be bigger than the catcher position, where Jose Molina (.189 BA), Chris Gimenez (.191 BA) and Jose Lobaton (.211 BA) have combined for 2 HR and 12 RBI.
The Blue Jays have one of the best catching prospects in Travis d'Arnaud (.322 BA, 13 HR, 37 RBI at Triple-A), so they could look to deal Arencibia (.229 BA, 9 HR, 29 RBI) to open up room for him.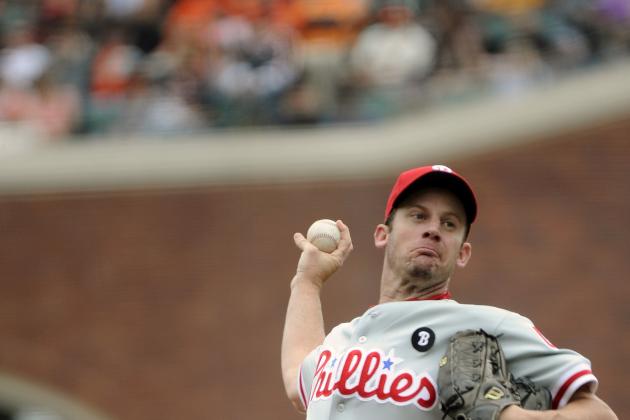 Thearon W. Henderson/Getty Images

Trade Target: None
Trade Chips: None
There is no more complete team in baseball than the Rangers, and following the addition of Roy Oswalt they likely won't be making any more moves.
They have arguably the best bullpen in baseball, a fantastic lineup that has largely avoided injuries this season and a starting rotation that is plenty good enough to take the AL West.
Jeff Gross/Getty Images

Trade Target: Astros 1B Carlos Lee
Trade Chips: (1) Mid-Level Prospect
The Astros have surprised this season, as their offense has far out-performed expectations. While they likely won't be legitimate contenders, they have some solid pieces moving forward.
One player who doesn't figure into their future is Carlos Lee, who is in the final season of a six-year, $100 million contract.
He's off to a good start with a .297 BA, 4 HR, 23 RBI line, but with Adam Lind demoted to the minors, the Blue Jays have a clear need at first base.
Even if Lind returns the Blue Jays could use another bat, as they have an incredibly thin bench and could shuffle their lineup around to give him some time at DH.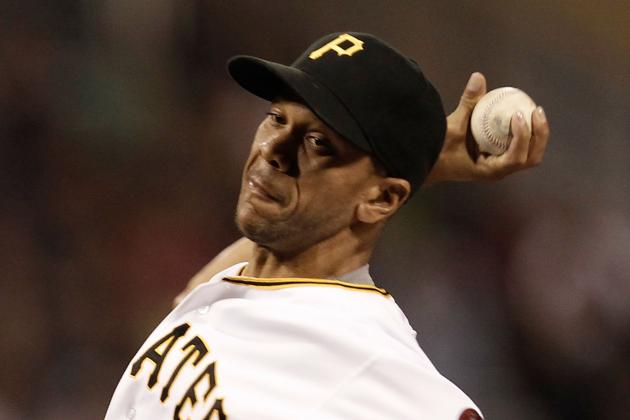 Jared Wickerham/Getty Images

Trade Target: Pirates RP Juan Cruz
Trade Chips: (1) Mid-Level Prospect
As good as the Nationals starting pitching has been, their bullpen does have some holes, and they will likely look to add at least one arm at the deadline.
Cruz (22 G, 1.74 ERA) has been terrific for the Pirates, converting 3-of-3 save chances and serving mostly as the team's primary setup man.
The 33-year-old is only making $1.25 million this season, and his contract is up at the end of the season, so he is the perfect rental player for the Nationals bullpen.