Auburn Football: Who Will Be the Tigers' MVP in 2012?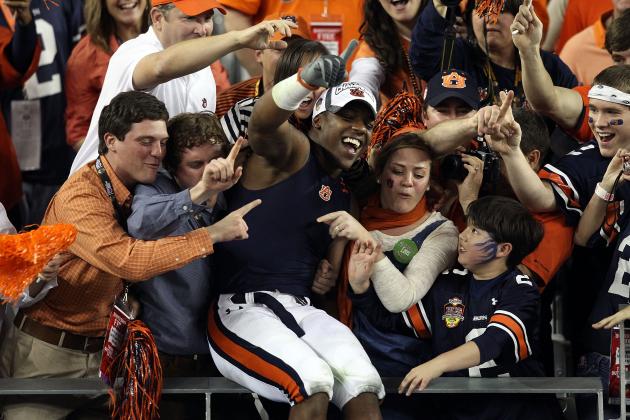 Christian Petersen/Getty Images

Many critics of the Auburn Tigers are skeptical of their potential in 2012, but they are basing their caution on the 2011 season when the team was filled with young, inexperienced players.
Well, those young players are now all grown up, and the veterans from the 2010 championship season will be even better with a stronger supporting cast.
In football, every player on the team is valuable, even its weakest link. The stronger links, however, sometimes have to carry some extra weight and pick up the slack when needed.
So who will be Auburn's MVP in 2012? Here are my seven picks, which includes both offense and defense.
Begin Slideshow

»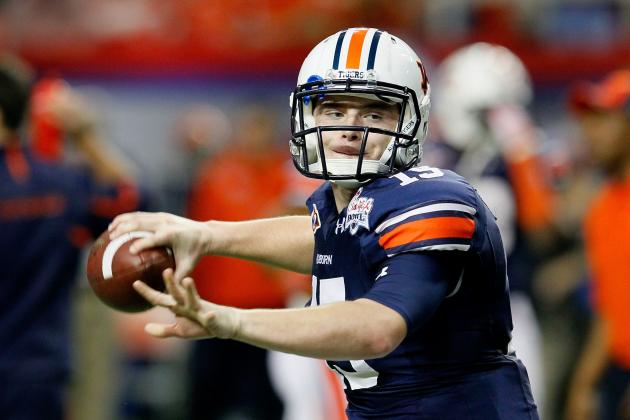 Kevin C. Cox/Getty Images

Quarterback, 6'4", 223 lbs., Sophomore
Clint Moseley is the Tigers' most experienced quarterback, and he also has the best size.
Moseley was one of the most underrated players in the nation in the 2009 recruiting class; Scout.com gave him only a 2-star rating, but his achievements should have warranted something much higher.
He passed for 3,758 yards with a 66.8 completion percentage, 35 touchdowns and five interceptions. His team went 15-0, winning the state title.
Fellow sophomore QB Kiehl Frazier was rated as 5-star quarterback prospect by Scout.com but has yet to live up to that rating simply due to a lack of playing time.
The battle for the starting position between these two will drag on well into fall practice, but I believe Moseley will get the nod.
He is more experienced and proved he could hang with the big boys, including Alabama and LSU, the gold standard for college defenses in 2011.
He completed at least 60 percent of his passes against both these teams, with 20 attempts against LSU and 18 against Alabama.
He threw no touchdowns and one interception against each opponent, but the Auburn offensive line was full of fresh, inexperienced faces.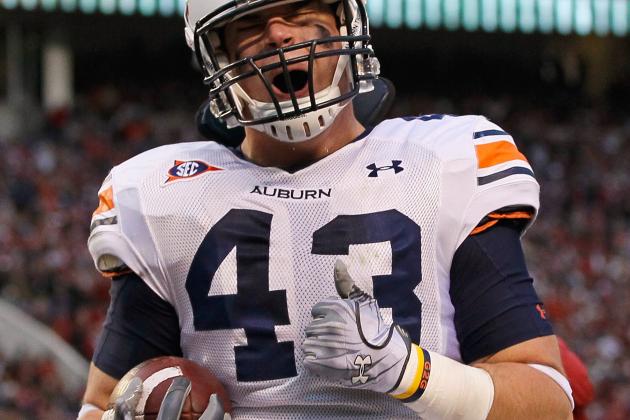 Kevin C. Cox/Getty Images

Tight End, 6'5", 250 lbs., Senior
Philip Lutzenkirchen has been a staple of the Auburn offense since the 2010 championship season, and he was one of the few shining stars on offense in 2011.
He was third on the team in receiving with 238 yards on 24 receptions, but led his squad with seven receiving touchdowns.
Lutzenkirchen can pass and block in equal measure, and the Tigers will rely heavily upon him to move the chains and keep the offense on the field.
He made Phil Steele's preseason All-SEC list on the first team, and the preseason All-America list on the third team, but I expect him to climb higher than that when the actual awards come out.
Lutzie is one of the best tight ends in the nation and he'll be heading to the NFL after he exhausts his eligibility this season.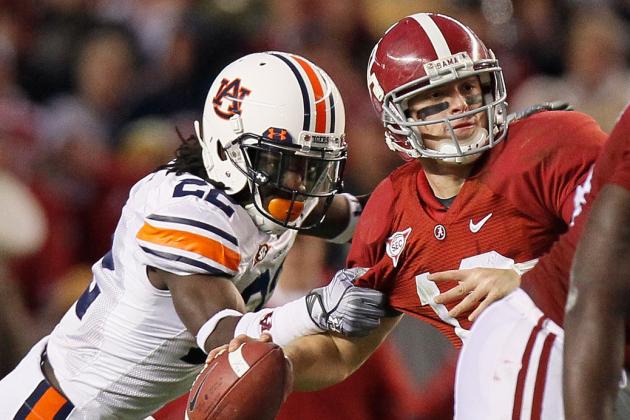 Kevin C. Cox/Getty Images

Cornerback, 6'0", 185 lbs., Senior
In my book, T'Sharvan Bell is one of the most underrated cornerbacks in the SEC right now.
He played at a high level and seems to have a knack for coming up in the clutch.
I'll always remember him for his beast-mode performance when he helped lead the amazing comeback against my beloved Crimson Tide in 2010.
He was all over the field and ran perfect coverage. His highlight was when he sacked Greg McElroy with a clean takedown that subsequently knocked the QB out of the game.
Bell also came up with a very hot interception in a close match against Florida in 2011, which the Tigers narrowly won 17-6.
Entering 2012, Bell will be the Tigers' most experienced and valuable cornerback, but Chris Davis isn't far behind.
Kevin C. Cox/Getty Images

Running Back, 5'11", 174 lbs., Senior
Some expect Auburn's Tre Mason to get the majority of carries in 2012, but I believe that Onterio McCalebb will be the Tigers' most valuable running back.
He was invaluable to the Tigers in 2010 and one of their few weapons in 2011. His best game was when he slashed Virginia for over 160 yards of total offense and two touchdowns.
He doesn't have great size, but he has the speed, and he would lose a lot of that if he bulked up to 200-plus lbs.
Now that Florida's duo of Jeff Demps and Chris Rainey have graduated, McCalebb is likely to be the SEC's fastest running back.
McCalebb is a serious threat on the ground and through the air and Auburn will use him both creatively and extensively. Just don't expect him to perform pass-protection duties.
In three years with extensive playing time, McCalebb has proven that he is a reliable touchdown threat, and I expect him to come through at key moments for the Tigers in 2012.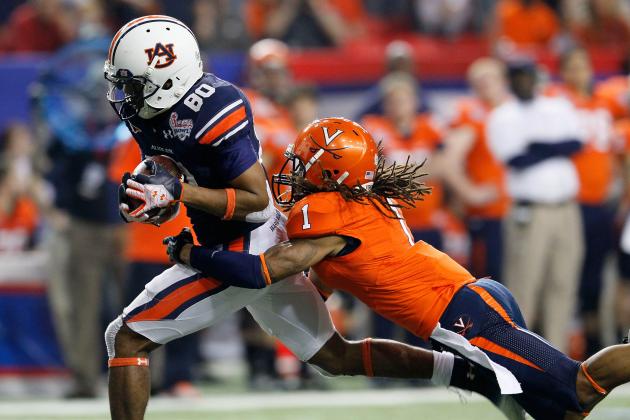 Kevin C. Cox/Getty Images

Wide Receiver, 6'2", 197 lbs., Senior
Emory Blake has been a solid contributor to the Tigers since 2009 and is their most experienced wideout.
In 2011 he was Auburn's only significant threat at wide receiver and led the team with 36 receptions for 613 yards. That is a whopping 17.03-yard average, good for third in the SEC.
He played great in the Chick-fil-A Bowl, but I believe his best game was in a tough contest with Mississippi State early in the season when many thought Auburn didn't stand a chance after the Utah State debacle.
Blake hauled in a season-high seven receptions for 108 yards (with a long of 46) and one touchdown.
In 2012 Blake will reprise his role as the Tigers' best receiver and continue to provide a serious downfield threat for whoever wins the quarterback slot.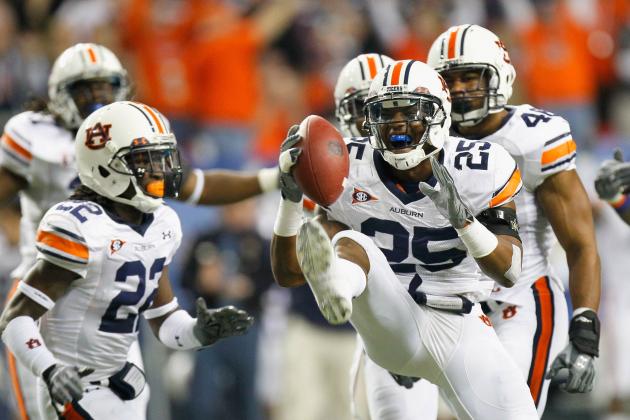 Kevin C. Cox/Getty Images

Linebacker, 5'11", 205 lbs., Senior
Daren Bates proved critics wrong when he took his small frame from safety to middle linebacker in 2010. Since then he has been a solid force in the box for the Tigers.
He played his role well in 2010, but he really broke out last season when he became one of the Tigers' best defenders.
Bates racked up 104 tackles (59 solo), 8.5 tackles for a loss, 2.5 sacks and nine quarterback hurries.
I believe Bates' career game came in 2011 in a lopsided 45-7 loss to Georgia. He came up with 12 tackles (eight solo) and a sack.
Bates will continue to be Auburn's stellar, undersized linebacker who will always play bigger than he actually is.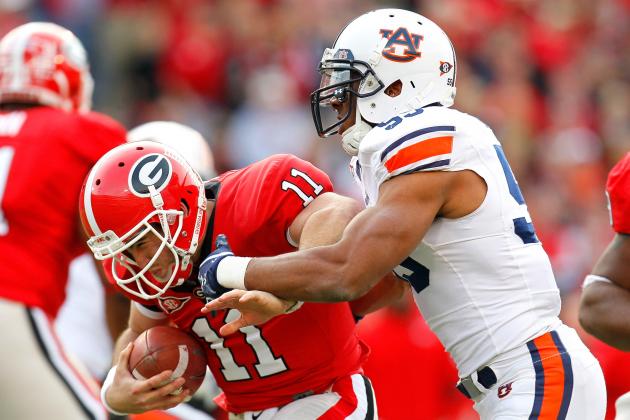 Kevin C. Cox/Getty Images

Defensive End, 6'4", 240 lbs., Junior
Corey Lemonier is one of the SEC's premier pass-rushers, but due to big names like South Carolina's Jadeveon Clowney and LSU's nightmarish duo Barkevious Mingo and Sam Mongomery, Lemonier didn't get the recognition he deserved.
As far as raw stats go, Lemonier was just as good as those three mentioned.
In 2011 he made 47 tackles (28 solo), 13.5 for a loss (for a whopping 79 total yards lost), 9.5 sacks and 15 quarterback hurries.
His biggest impact came when forcing turnovers. He stripped the ball an incredible five times in 2011, which tied him for second in the SEC with Clowney and Arkansas' Jake Bequette.
Like Bates, Lemonier's best game in 2011 came against Georgia when the rest of the defense didn't show up. He sacked the quarterback twice and forced two fumbles. In close contests, those are game-changing numbers.
Lemonier was the Tigers' 2011 overall MVP in my book, and should he continue to improve with an even better supporting cast, he will bring home some serious hardware when the awards come out.