College Basketball Recruiting: 5 Recruits Who Will Shape 2012-13 Season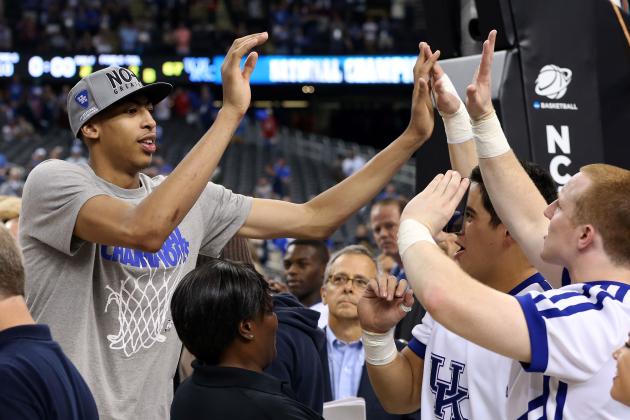 Jeff Gross/Getty Images

Freshmen run college basketball. Well, at least last season they did. The national champion Kentucky Wildcats had three freshmen in the starting lineup en route to winning it all.
This season, many schools recruited with the same intentions---to snatch up all of the top incoming freshmen hoping to have the same outcome. In today's one-and-done society of college hoops, programs are looking to win immediately.
Here is a look at the top recruits that will have a strong impact on their school's national championship aspirations.
Begin Slideshow

»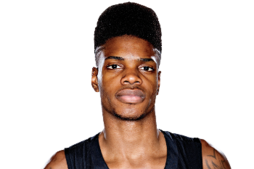 Picture from ESPN
Position: Center
Committed to: Kentucky
Height: 6'10"
Weight: 215 lbs
Nerlens Noel is the No.1 recruit in the country and John Calipari was able to nab him.
He brings to the table Anthony Davis-like factors. An incredible shot blocker and yet another athletic big man to become a Wildcat.
The Wildcats have arguably the top-ranked recruiting classes this season. Joining Noel as a Wildcat is small forward Alex Poythress and shooting guard Archie Goodwin. Out of the three freshmen, Noel should be the biggest reason in helping the Wildcats attempt to repeat as national champions.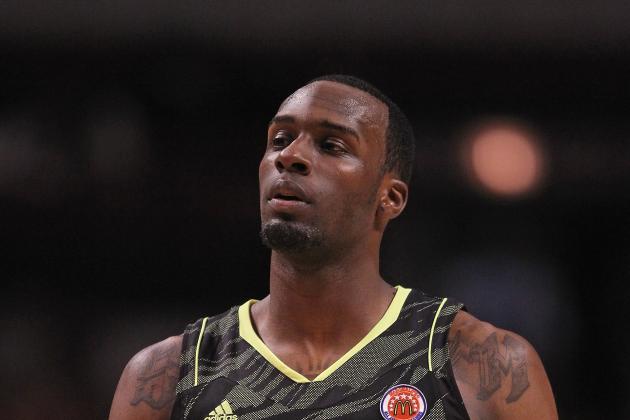 Jonathan Daniel/Getty Images

Position: Small Forward
Committed to: UCLA
Height: 6'6"
Weight: 215 lbs
Naismith Award winner Shabazz Muhammed will be taking his talents to UCLA this fall. He will bring his offensive production to a struggling Bruin team. Muhammed averaged 29.8 points and 9.9 rebounds this season and led his team to a state title.
The athletic forward has a dominant postgame and can muscle his way to the rim. The Bruins have missed the tournament two of last three years, but Muhammed will most definitely change that.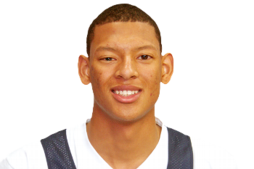 Picture from ESPN
Position: Center
Committed to: Baylor
Height: 7'0"
Weight: 210 lbs
Baylor has a dominant center that plays for their women's team and now they may have one on their men's team. The 7' Isiah Austin can have a huge impact on his team with just his size alone.
Not too many teams have that kind of presence inside and Austin can also expand his range. He is a good ball handler for his position and will give Baylor a fighting chance to make a run at the national championship.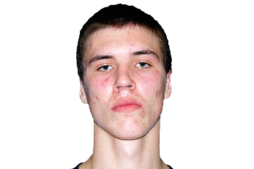 Picture from ESPN
Position: Center
Committed to: Arizona
Height: 7'0"
Weight: 240 lbs
Arizona has one of the best recruiting classes in the nation. Kaleb Tarczewski is one of the reasons for that.
He is another 7' with a solid inside game. Tarczewski lacks the athleticism that many of the centers in the nation have, but gives the feel of an "old school" big man. Him being paired alongside recruit PF Grant Jerrett means problems for the Pac-12 and the rest of the nation.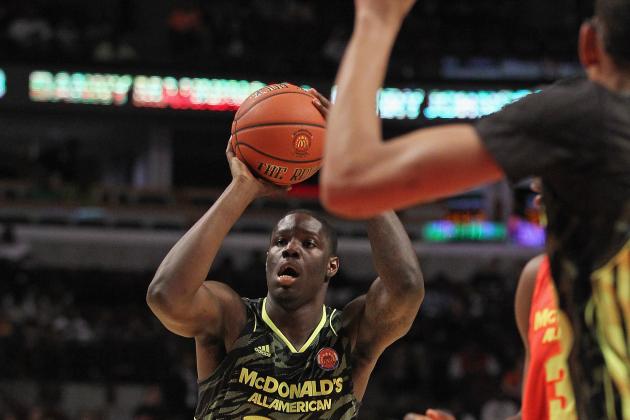 Jonathan Daniel/Getty Images

Position: Power Forward
Committed to: UNLV
Height: 6'8"
Weight: 230 lbs
Anthony Bennett is a power forward that has a special variety to his game. He can get his scoring done inside or he can step to the three-point line and show his range.
He uses his athleticism to make up for the lack of size. Bennett has a lot of raw talent to add to an already skilled UNLV program. The Rebels will have a chance to dominate the Mountain West with good production from Bennett.