2012 MLB Draft Prospects: Q & A with MLB.com's Jonathan Mayo
MLB.com's Jonathan Mayo // Photo Courtesy of MLB.com
On Saturday afternoon, MLB.com's prospect guru, Jonathan Mayo, took some time out of his incredibly busy schedule to speak with me with regarding some of the players and storylines surrounding this year's draft class.
We discussed everything from who are the biggest wild cards headed into Monday to the projectability of the top high school and college players who figure to go in the first round.
So, a big thank you goes out to Mayo for fielding my seemingly endless questions regarding this year's draft. I hope all of the Prospect Pipeline readers enjoy our conversation as much as I did.
Begin Slideshow

»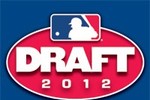 MLB NETWORK – 2012 MLB DRAFT:
Beginning with the draft preview show at 6:00 p.m. ET, MLB Network's live coverage will feature interviews with club front office personnel and representatives, footage from 22 club draft rooms, interviews with prospects and newly drafted players and news and analysis from MLB Network's Greg Amsinger, Peter Gammons, John Hart, Brian Kenny, Harold Reynolds, Sam Ryan, Lauren Shehadi and Matt Yallof, as well as Jonathan Mayo of MLB.com and Jim Callis of Baseball America.
The draft preview show and the first and compensation rounds of the draft will also be streamed live on MLB.com.
The five top prospects—Gavin Cecchini, a right-handed-hitting shortstop for Barbe High School in Lake Charles, Louisiana; Carlos Correa, a shortstop at the Puerto Rico Baseball Academy; Clint Coulter, a right-handed-hitting catcher at Union High School in Camas, Washington; Courtney Hawkins, a right-handed-hitting outfielder and pitcher at Carroll High School in Southlake, Texas; and Andrew Heaney, a left-handed pitcher at Oklahoma State University—will represent the largest group of amateur players to attend a single MLB First-Year Player Draft.
Club representatives this year include former Yankees manager and MLB exec Joe Torre, plus Hall of Famers Pat Gillick, Ferguson Jenkins, Tommy Lasorda and Frank Robinson.
MLB Network has produced features on other top prospects, including: top Puerto Rican prospect Carlos Correa; Stanford University pitcher and lifelong Houston Astros fan Mark Appel, who could be selected by the Astros with their No. 1 overall pick; star high school outfielder Byron Buxton of Baxley, Georgia; Albert Almora, a high school outfielder from Florida who lost both of his grandparents while playing in Colombia for USA Baseball; Lucas Giolito and Max Fried, teammates at Harvard-Westlake High School in southern California; and 1973 No. 1 overall draft pick David Clyde, who was a star pitcher for the Texas Rangers and Cleveland Indians before arm injuries forced him to retire at age 26.
The 2012 MLB First-Year Player Draft will be the fourth time the event has been held at MLB Network's Studio 42 in Secaucus, New Jersey.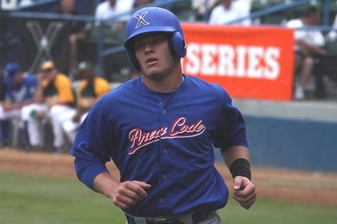 Stryker Trahan // Courtesy of ESPN.com
Rosenbaum: Of the three high school catchers who may be selected in the first round—Stryker Trahan, Wyatt Mathisen and Clint Coulter—who do you believe is the most projectable in terms of staying behind the plate and reaching the major leagues?
Mayo: Of those three, I'd probably pick Coulter. With Mathisen, there's a chance that it will take him longer because he hasn't caught that much, and many people don't see Trahan catching—he'll hit, but maybe at another position. Coulter has the best all-around skills to stay at that spot and make it.
Rosenbaum: And even despite his size?
Mayo: Yeah, that is a concern, but from what I've heard he has pretty decent skills in that regard. I think all three of them have some sort of question mark. I think if you're going to go based on who has the best body type, then it may be Mathisen, but he just hasn't caught that much so it's hard to know.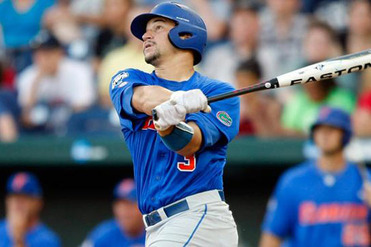 Mike Zunino // Courtesy of GatorZone.com
Rosenbaum: Beyond Mike Zunino, who's obviously the top catcher on the board, which college catchers do you like?
Mayo: They all have question marks, but I kind of like Purdue's Kevin Plawecki a little bit. I like Murphy and the guys who come from smaller schools and stuff like that, but I think there's some questions about what kind of catcher he could be. Even if Plawecki ends up being more of the backup type, I think he's probably the next-best guy after Zunino.
Rosenbaum: So where does Miami's Peter O'Brien fall in the mix for you?
Mayo: Pete's in the same grouping as those guys. I think his bat may be better than Plawecki's due to his power potential. I think he proved to people that he'll hit by going from the small-conference Bethune-Cookman to Miami this season, but he and Murphy are similar animals. In that regard, I think Murphy is where O'Brien was last year in terms of small program and not great competition.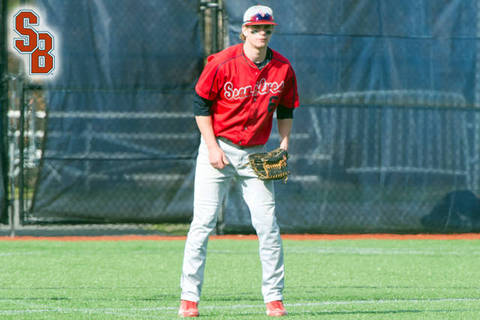 Travis Jankowski // Courtesy of collegebaseballinsider.com
Rosenbaum: Looking at the assemblage of second-tier collegiate outfielders in this year's draft class, who do you like the most out of Stony Brook's Travis Jankowski, Cal Poly's Mitch Haniger and Texas Tech's Barrett Barnes—guys who figure to be taken in the supplemental first round or early second round?
Mayo: I like Jankowski a lot actually. Of those guys I think his skills will transfer the easiest. His lack of power doesn't concern me because that's not what his game is. He's going to be a top-of-the-order type and fit that mold well.
Rosenbaum: Do you like guys such as Haniger and Barnes?
Mayo: I do. I think I might like Haniger a little bit more, though I don't really know why. I think he's going to hit and that's especially valuable in this weak class of college hitters.
Rosenbaum: Do you see James Ramsey grouped in that same class of outfielders?
Mayo: Yeah, I think he's in there. I think the new system may work to his advantage given he's a senior willing to sign.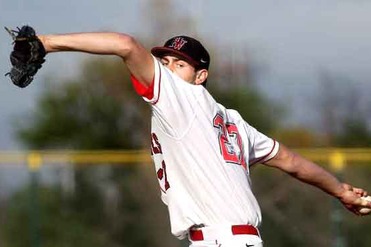 Lucas Giolito // Courtesy of latimes.com
Rosenbaum: In reference to the new Collective Bargaining Agreement, who are the biggest wild cards headed into the draft on Monday?
Mayo: The biggest wild card without question is Lucas Giolito. I think that's where the conversation starts and almost ends. There are other high schools guys who, if they're not drafted by a certain point, will likely vanish because a team won't be able to pay them over-slot later in the draft.
But with Giolito, no one really knows what's going to happen. Teams have his medical report now but he hasn't thrown off a mound, and he's throwing and looking good according to scouts, but what does that mean exactly?
I'm sure he has a certain price tag based upon his ability if healthy, so the question is whether he'll sign for less than that given the circumstances because otherwise what is a team supposed to do, you know? There are teams with multiple picks, which has people thinking about whether a team like the Toronto Blue Jays get creative and figure out a way to pay him. I don't know if there's enough wiggle room.
If this is a guy who figures to get paid like a top-five pick, so at least $4 million, that's a lot of money to commit to one guy. So is it worth blowing up the top of your draft for one guy? I don't know.
Let me put it this way: If there's anybody saying that "I know that a certain team is on him," then they're getting better information than I am. It's a huge risk.
Rosenbaum: Could you see a team in the top 10 or 12 like the Royals at No. 5 or the Cubs at No. 6 going for it and drafting him?
Mayo: Could I see it? Yes. Have I heard it in any way, shape or form? No. Here's the thing: If you draft him with the No. 5 pick and give him $4 million and he flames out, then you're done and looking for a new job. So I don't see how a team would do that. Then again, stranger things have certainly happened.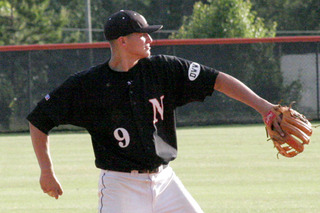 Corey Seager // Courtesy of ESPN.com
Rosenbaum: Are you expecting strange things to unfold come Monday?
Mayo: You know, I don't think anyone really knows. With this new system, no one is really sure how it's going to unfold. I think for the most part it's going to be what it usually is. Over the last few years for the most part, teams have taken players where they belong, which is completely impossible this year.
That's why this year, for example, if Corey Seager isn't taken towards the top with his price tag, you're not going to hear his name at all. A team won't be able to offer him the over-slot money that they would have been able to in previous years.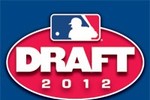 Rosenbaum: So are you an advocate of the new CBA? Do you encourage guys to go to college?
Mayo: Yeah, I think it depends on the kid. If he's a player who can benefit from a college program from a physical development and maturity standpoint, then definitely.
I talked to Kevin Gausman a week or two ago and he was saying that there was no way he was ready to jump into the minor leagues coming out of high school, and he wasn't just talking about his pitching skills not being ready. He just meant it more so regarding his maturity level, and he's a completely different guy after deciding to attend LSU.
A lot can happen between ages 18 and 21—you change a lot. So guys who may have been fringe prospects out of high school can become something over a few years in college.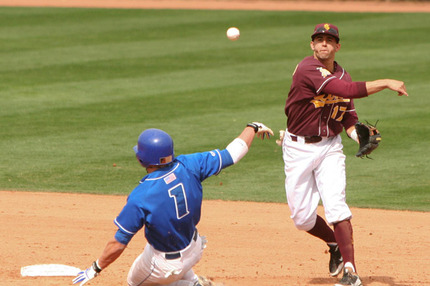 Deven Marrero // Courtesy of US Presswire
Rosenbaum: I've seen a lot of mock drafts, my own included, that have Deven Marrero going to the Pirates at No. 8 overall. However, you don't seem to be one of the people who believe that will happen. I know he's a sound defender with college experience and who will be able to help teams much earlier than basically every other shortstop on the board, but don't you think that's an overdraft on the Pirates' behalf?
Mayo: I've certainly heard that and it's not out of the realm of possibility. I'm not really a believer in Marrero, so I do think that it'd be an over-reach for the Pirates at that spot. But if you're a believer that what he's done this year is simply a down year, and what he did as a freshman and sophomore is more of who he is, then it's not as big of a stretch.
Would he be the best available player at No. 8? From those that I've talked to, I would say no.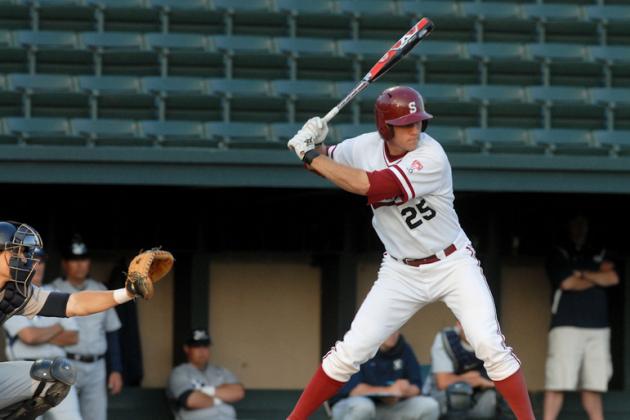 Stephen Piscotty // Courtesy of US Presswire
Rosenbaum: In the same vein, a guy who hasn't really "wowed" anyone this year but continues to draw first-round consideration is Stephen Piscotty from Stanford. Do you see him in a similar light as Marrero given his underachievement this season but overall projectability?
Mayo: He's a pretty good athlete and has performed considerably better than Marrero this season. Furthermore, he's basically done what's been asked of him this year playing a bunch of different positions, and I think the team that takes him believes he can play third base, because anywhere else he really doesn't profile as a first-rounder. I've talked to some teams who even like him more than, say, Richie Shaffer, and believe they're in the same area of where they could go.
Rosenbaum: Interesting.
Mayo: I think it's because there are teams who are more sold on his ability to hit than Shaffer.
Rosenbaum: Why are teams uncertain about Shaffer's ability to hit? Do you have any idea? Because when I look at them both, I'm a much bigger fan of Shaffer's swing and plate discipline, so I'm curious as to why teams would prefer Piscotty and what the knock may be again Shaffer.
Mayo: Keep in mind that I haven't studied video and I don't evaluate. Shaffer obviously has the power you want from a corner infield guy and has done it at a big-time college program in a good conference, but I guess there's some concern about him making consistent enough contact to tap into that power.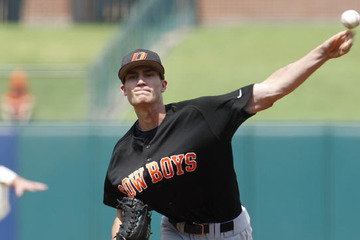 Andrew Heaney // Courtesy of US Presswire
Rosenbaum: Andrew Heaney, Chris Stratton and Michael Wacha kind of get lumped together in the mid-first round of most mock drafts. Is there any logical order to those three or is it just a matter of organizational preference?
Mayo: I think it's going to be a matter of preference. I think Heaney has pitched his way to the top of that group, and it certainly helps that he's left-handed. Not that Stratton has done anything bad, however. Wacha has sort of always been there; he doesn't "wow" anyone and no one raves about him, but he's continually gone out and gotten it done.
Rosenbaum: And there's definitely something to be said for that, right?
Mayo: Yeah, absolutely. Is he a No. 1 or top-of-the-rotation guy? Probably not, but he might be a No. 2. He's got stuff and it's not like he's throwing 89 mph, but his fastball can be flat at times and his breaking ball is undeveloped. Still, it's not like you're getting a guy who's terrible or anything like that.
Rosenbaum: So would you say that Heaney is the best among those three given how he's performed this year as the Big 12 Pitcher of the Year and given his overall pitchability?
Mayo: Yeah, and he's got some stuff, too. Down the stretch he's been good in some big matchups: He outdueled Wacha when they squared off and was tremendous in the SEC tournament. Those were the two final looks that scouts had of him and he was lights-out in both outings, so I think that boosted his stock.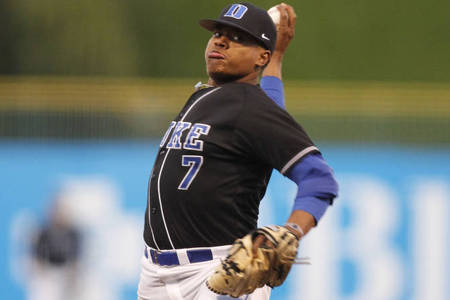 Marcus Stroman // Courtesy of GoDuke.com
Rosenbaum: Two more first-round arms that I believe are legitimate wild cards headed into Monday are Lance McCullers and Marcus Stroman. What's your specific take on each of those guys? You and I both have them pegged as sure-fire first-rounders, so how do you think it may unfold come Monday?
Mayo: McCullers, in addition to how people view him, has some signability issues—or so it seems. I think he may have changed some minds this year. Had you polled people headed into this season, I think 80 percent would have said he was a reliever, but he's definitely made some improvements in his delivery and command that have made people reconsider.
Rosenbaum: But McCullers has some endurance and has repeatedly shown an ability to carry his velocity deep into games.
Mayo: He absolutely does, and I think that's why you send him out there as a starter, because you can't teach that ability to throw that hard deep into games. A guy like that you give him a chance as a starter and see what happens, and assuming that he signs, I think that's what will happen.
As much as people are willing to think outside the box with Stroman, he's actually well outside the box given how small he is (5'9"). If he were 6'2", he'd be going at the top of the draft based on his stuff. If I'm a team that's competing, you could draft him and put him in your bullpen next week.
Rosenbaum: I read that in your latest mock draft and completely agree with that notion; almost draft him with Chris Sale-like intentions.
Mayo: I think that the Red Sox will be thrilled if he's there at No. 24. Based upon his stuff, he's still higher than that. So I think that if someone takes him, they're going to get a pretty good deal.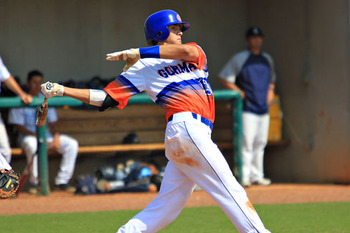 Joey Gallo // Courtesy of MaxPreps.com
Rosenbaum: When we were talking about wild-card players before, I can't believe I failed to mention Joey Gallo.
Mayo: It's really just based upon what teams make of him. If a team thinks he'll make enough contact, then he's a first-rounder because he has as much raw power as anybody, but he does swing and miss a lot and did it in front of a lot of people at this year's NHSI. So I think a lot of people soured on him right there when he's going to an area where the competition isn't great. I still think he probably sneaks into the end of the first round, though.
Rosenbaum: Is he signable?
Mayo: I don't know. I haven't heard a price tag on him yet, so it probably depends on who takes him.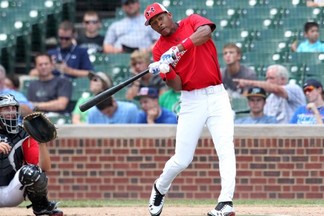 Byron Buxton // Courtesy of ESPN.com
Rosenbaum: Are you as sold on Byron Buxton's hit tool as much as so many other people are?
Mayo: Yeah. I think he'll hit. He has much more of a feel for the game than people give him credit for. They hear the terms "high school" and "toolsy" and they think he can run really fast but nothing else. He's much more than though; he can actually play baseball.