10 Best Attacking Shotblockers in the NBA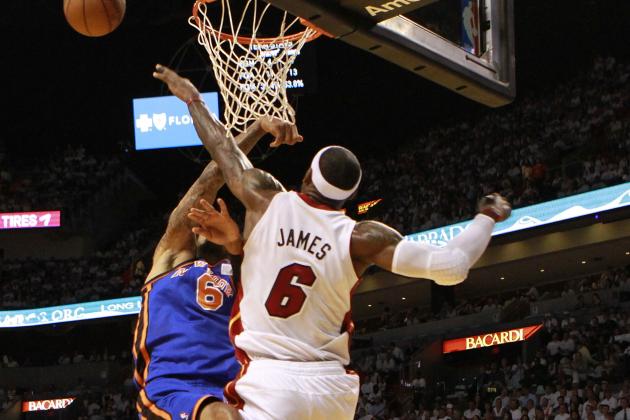 Marc Serota/Getty Images

Any player in the NBA has a chance to block a shot. Ray Allen stuffed Tyson Chandler. Kobe Bryant blocked Anthony Randolph as he was leaping for the dunk. Heck, even Nate Robinson blocked Yao Ming and managed to hurt him in the process.
But becoming a shot blocker in the NBA is more than just a one time block. It is about forcing your opponent to think twice when going into your lane. They have to consider the consequences that you just might be hovering nearby, ready to attack.
Over the past few seasons, the NBA has seen a return to the defensive shot blockers. In fact, it has been a few seasons since the last time we saw a three block per game average that Serge Ibaka rocked in 2012.
Here is a list that features the 10 best attacking shot blockers in the NBA. You know, the ones that you never saw coming.
Begin Slideshow

»
College: Kentucky
NBA Seasons: 0
Height: 6'10"
Weight: 220 lbs
Blocks at Kentucky: 186 (A NCAA D-1 Freshman record)
It is safe to assume Anthony Davis will be drafted at some point during the NBA draft. He most likely will be taken at the top spot be my New Orleans Hornets.
We all know that he can block shots, that is given. But he can also do it from outside the arch. Which makes him one of the most valuable assets a team can have for next season.
How many times last season did the opposition try and shot a long range jumper thinking he couldn't get to it and then he did?
Exactly.
Team: Toronto Raptors
Experience: 3 years
Height: 6'9"
Weight: 248 lbs
Career Blocks: 164
James Johnson is a man that needs no introductions. If you are in Toronto, that is. For the rest of the USA, I might need to let you in on their little secret.
He averaged 1.4 blocks per 25 minutes last season. If you do the math, that would be almost three blocks a game if he got more playing time.
But his numbers aren't the reason he is here. It is his stealth. He isn't the biggest guy on the court or the best, he just finds ways to mess up your night.
Team: Golden State Warriors
Experience: 4 years
Height: 6'6"
Weight: 225 lbs
Career Blocks: 195
If you had to take a guess as to which NBA guard finished the 2011-2012 season with the most blocks per game, who would you pick? Derrick Rose? Wade? Wall?
Nope. It was Brandon Rush. He averaged 0.89 blocks per game which is pedestrian compared to the big men but when you play the two spot, that is huge.
He is a young player but has already amounted countless highlights of blocks that I could only guess the other player never thought would happen.
Mr. Rush is the real deal folks.
Team: Orlando Magic
Experience: 7 years
Height: 6'11"
Weight: 265 lbs
Career Blocks: 1344
Dwight Howard comes in at seven because he is not a surprise. Everyone in the NBA knows where he is at all times and players do their best to avoid him.
That being said, he still blocks shots like you stole something from him. He has a ridiculous vertical, 39.5 inches, matched with his already intimidating seven foot frame. That makes for an unfair competitive advantage.
If he was quicker, he would be sitting at the top of the list.
As for the video, that would have to be one of the nastiest blocks ever.
Team: Atlanta Hawks
Experience: 7 years
Height: 6'9"
Weight: 225 lbs
Career Blocks: 1,304
Don't even begin to ask me why. Josh Smith is as good as it gets for players under 6'11". He is one of the most underrated shot blockers in the NBA in the past few years. No one thinks about it until it is too late.
He strikes quick and then moves on to the offensive side of the court to throw it down. He can stop you and pop you all within 30 seconds.
Team: Washington Wizards
Experience: 2 years
Height: 6'4"
Weight: 195 lbs
Career Blocks: 92
No one expects a 6'4" guard to come up and block your shot. Right?
Just ask all the big men in the NBA. They will all tell you that no guard can block their shot. I promise you. They will all concur.
But John Wall, he is different. He comes from nowhere and leaps about 43 feet in the air. Sure, it sounds crazy but watch the videos and get back to me.
He is the smallest shot blocking threat in the NBA outside of one other Miami guy.
Team: Miami Heat
Experience: 8 years
Height: 6'4"
Weight: 220 lbs
Career Blocks: 611
Dwayne Wade is one of the fiercest competitors in sports today. He goes hard every night and plays each game like it is the NBA finals. When he has a bad night, everyone knows about it.
But when it comes to shot blocking, I am not sure I have ever seen a smaller guard with as much intensity and abilities to block shots than Dwayne Wade. He comes out of nowhere and causes complete chaos on the court.
In the 2012 playoffs he is averaging 1.53 blocks per game. He sneaks behind players and sends them searching the stands for the ball. He does it on a weekly basis.
Team: Los Angeles Lakers
Experience: 15 years
Height: 6'6"
Weight: 205 lbs
Career Blocks: 594
Remember now. This is not just about the ability to block shots. It is about the ability to block shots that your opponent didn't expect you to and Kobe Bryant is one of the best.
Don't let his career numbers fool you, Kobe can frustrate an opponent with his speed and run down skills. Sure, he isn't as fast as his once was but that hasn't slowed him down. He is still one of the guys other teams forget about on defense.
The dude can do anything. He can jump over moving cars or even a pool of snakes.
(Duh, it ain't real)
Team: Oklahoma City Thunder
Experience: 2 years
Height: 6'10"
Weight: 235 lbs
Career Blocks: 536
You know he is there but you still end up going for the shot thinking you can toss it over his long reach.
No sir!
Serge Ibaka can block a shot from the opposite end of the court with one step. He doesn't provide his team with the offensive fire power that KD, Kevin Durant, does but he surely can guard the lane like a lion with his cubs.
The basket is his family and you are not getting any part of them tonight.
Team: Miami Heat
Experience: 8 years
Height: 6'8"
Weight: 250 lbs
Career Blocks: 582
You might hate him. You might love him. But there is no arguing who the best player in the NBA is today.
It's Lebron James. And he is also the best attacking shot blocker in the NBA.
His speed and quickness allows him the chance to close on an opponent before they even know what hit them. Take a look at this shot he blocks against Rajon Rondo. That is just a taste of the surprise shot blocking ability he possess.
He doesn't set records for blocks but he has the skills to come up behind a guy and send him packing.