Chicago Cubs MLB Draft Results: Scouting Profiles for 2012 Picks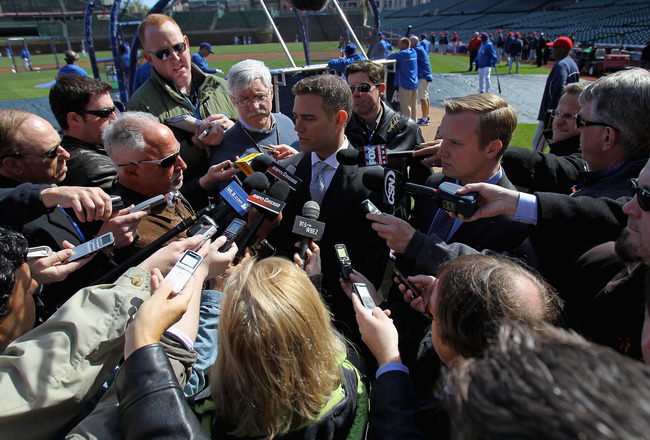 Jonathan Daniel/Getty Images
It's time to get to work for the Chicago Cubs.
New general manager Theo Epstein will be conducting his first draft with the Cubs, and he—like all Cubs' fans—know there is a lot of work to do within the system.
That all starts today with the No. 6 pick.
The Cubs selected shortstop Javier Baez with last year's first-round selection, and with Starlin Castro already in that starting position, the Cubs seem like they don't need to go after a shortstop.
In an article I posted over the weekend, I had the Twins selecting high school outfielder Byron Buxton, the Mariners selecting Florida catcher Mike Zunino with the third pick, Baltimore selecting LSU right-hander Kevin Gausman and Kansas City selecting San Francisco right-hander Kyle Zimmer.
Then, with the sixth pick, I had the Cubs going with Puerto Rico Baseball Academy's Carlos Correa.
Well, the Astros nixed that with the first pick, but at least I got the next four picks right.
Pitching is a need in the Cubs' organization, and you know Epstein is going to ensure the Cubs get a lot of them throughout the draft.
One new thing with this year's draft is the bonus pool in which teams have a set amount of money they can give players in the first 10 rounds of the draft.
Here's a look at the Cubs' bonus pool, according to mlb.com, which also gives an explanation at how the bonus pool works:
| | | |
| --- | --- | --- |
| Pick | Number | Bonus |
| 1 | 6 | $3,250,000 |
| 2 | 43 | $1,196,000 |
| 3 | 56 | $911,700 |
| 4 | 67 | $769,600 |
| 5 | 101 | $471,900 |
| 6 | 134 | $343,200 |
| 7 | 164 | $257,000 |
| 8 | 194 | $192,500 |
| 9 | 224 | $148,600 |
| 10 | 254 | $138,000 |
| 11 | 284 | $129,600 |
| 12 | 314 | $125,000 |
So, without further ado, here is a look at each of the Cubs' draft picks, which will be updated throughout the three days.
First Round, No. 6: Albert Almora, OF, Mater Academy (FL)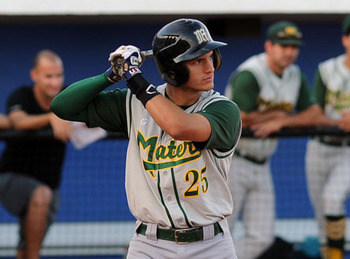 http://images.maxpreps.com/site_images/editorial/article/3/c/2/3c23321e-1259-45f5-a6c9-9e5dde2400bb/843f2f80-0a8b-e111-8395-002655e6c45a_original.jpg
With the sixth pick in the draft, the Cubs selected Florida high school outfielder Albert Almora.
Almora has a very polished approach to the plate, but still has a little muscle to add to be a good big-league hitter.
The right-hander has the ability to hit to all fields and will continue to develop power as he adds muscle.
He has the potential to be a Gold-Glove defender with his ability to get on his horse and go get a ball in the gap.
In my opinion, I feel this was a bit of a reach for the Cubs, especially with guys like Mark Appel and Max Fried still on the board in an area they needed help in.
But, Theo knows what he's doing and just like the Astros reached (in some people's opinion) for Carlos Correa because they had a lot of belief in him, the Cubs did the same thing with Almora.
With some polishing still needed, and assuming he signs with the Cubs, Almora probably won't see the big leagues until 2016 at the earliest.
Compensation Round, No. 43: Pierce Johnson, RHP, Missouri State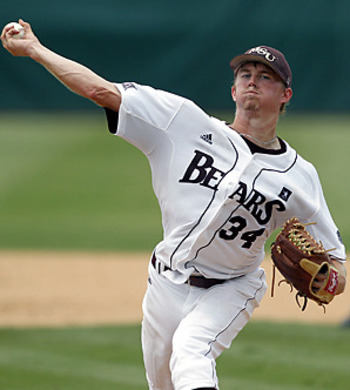 http://i2.cdn.turner.com/si/2012/more/06/02/ncaa.baseball.saturday.ap/pierce.johnson.298.jpg
This pick stumped me a little bit.
A guy who has a record below .500 in his career in a non-power conference.
Seems a little like another Chicago athlete, who never had a winning season in college, although the Bears didn't draft their current quarterback, Jay Cutler.
Last year, Pierce Johnson was 4-6 with a 2.53 ERA and 119 strikeouts, which shows he has the power stuff.
But, will it translate to the big-league level as a starter?
He has two plus-pitches and he'll likely end up at the back end of the bullpen.
Compensation Round, No. 56: Paul Blackburn, RHP, Heritage HS (CA)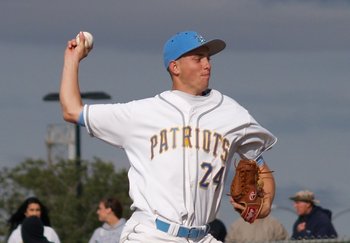 http://matchbin-assets.s3.amazonaws.com/public/sites/529/assets/44X7_SP_HH_DLS_NCS_base.jpg
With their third pick of the draft, the Cubs went to pitching again, going with right-hander Paul Blackburn.
During this season, he was 8-3 with a 1.01 ERA and 87 strikeouts.
He has three plus-pitches and will have the ability to develop a fourth in the Cubs' organization.
Blackburn is committed to Arizona State, so that may affect his signability, but then again, you never know.
The Cubs are showing they want to develop players, understanding that they're not going to be competing for a World Series title in the next two or three years.
After that, however, all bets are off.
Second Round, No. 67: Duane Underwood, RHP, Pope HS (GA)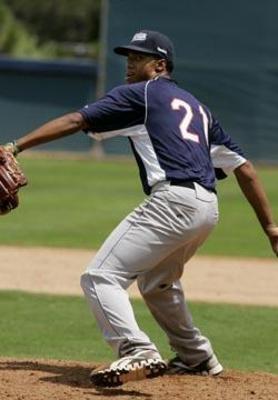 http://www.perfectgame.org/images/profilepics/337380.jpg
Duane Underwood was a very strong pitcher in Georgia's highest classification.
He'll sit in the low 90s with his fastball, but has the ability to reach back and hit 95 or 96. His curveball has a good 12-to-6 late break and his changeup is very deceptive.
Still, there's a lot of development needed here for the Georgia-commit.
At times he looked like one of the better high school pitchers in the country, and was in the conversation to be a first-round pick.
However, there were times when he couldn't hit the strike zone and struggled with his command.
He does have some upside and with some development, could be a good No. 3 pitcher in the big leagues.
Keep in mind, he's committed to UGA, so there could be some signability issues here.
Third Round, No. 101: Ryan McNeil, RHP, Nipomo HS (CA)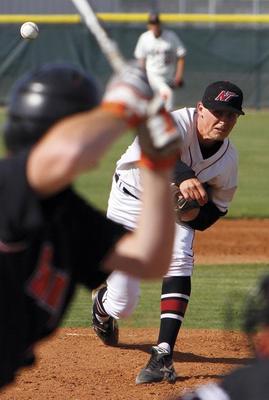 http://images.townnews.com/theadobepress.com/content/articles/2012/05/16/sports/sport24.jpg
The third round saw the Cubs continue with the pitching theme as they selected high school right-hander Ryan McNeil.
He's hit 93 with his fastball, but also has a good change-up and a tight slider.
In 51 innings pitched, he had a 1.11 ERA, 94 strikeouts and his opponents had a .175 batting average against him.
Signed to play at Long Beach State, McNeil could face signability issues as well, but I'm sure he's one the Cubs will ensure is signed before the deadline.
Fourth Round, No. 134: Josh Conway, RHP, Coastal Carolina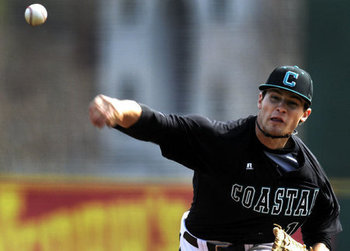 http://media.myrtlebeachonline.com/smedia/2012/04/30/17/10/11Tm5R.St.78.jpg
Just like I predicted prior to the draft, the Cubs are focusing on pitching with this draft.
Josh Conway out of Coastal Carolina has a good three-pitch mix with a fastball, slider and change-up.
Although his stuff is not overpowering, he can mix his pitches well and locate.
If he can continue to progress in those areas, he'll be a good starter in the big leagues.
The one problem facing Conway is he's coming off Tommy John surgery, which is a big reason why he dropped this far in the draft.
The Cubs will have a wait-and-see approach with him, so hopefully the injury will fully heal and he can get to work for the Cubs.
Fifth Round
No. 164: Anthony Prieto, LHP, Americas HS (TX)
According to an article in the El Paso Times, Prieto has an effortless motion and is touching about 88-89 with his fastball.
He has a good change-up and an overhand curve that can keep hitters off-balance.
He's signed with Howard Junior College, but I see no reason why Prieto won't sign with the Cubs and get his big-league career started.
Keep Reading

Chicago Cubs: Like this team?