Georgia Football 2012 Preview: Why Isaiah Crowell Is the Lead Dawg at Tailback
June 4, 2012

Kevin C. Cox/Getty Images
Aside from the commitment from 5-star linebacker/defensive back Josh Harvey-Clemons, the most relieving news for Georgia Bulldog fans during the offseason was the addition of arguably the top tailback recruit in the country in Keith Marshall.
Marshall, who heads the list of Georgia's 2012 recruiting class, according to ESPN, is the second straight top-ranked running back to sign with the Bulldogs. While most would likely assume any prized signee of this caliber will eventually become a 250-carry, key cog, Isaiah Crowell still stands in the way—and he might be the better back.
Fans might have trouble accepting that stance considering the issues Crowell had in his freshman campaign in Athens.
Crowell arrived last summer with what the media saw as a cocky attitude. Crowell's impressive performance against the South Carolina Gamecocks was a breakout moment, and it appeared the former top-recruit was the real deal.
However, Crowell ran into trouble with nagging injuries and disciplinary issues that dragged through the entire season and culminated with an underwhelming performance in the SEC title game that prompted boos from the Georgia faithful.
That low moment definitely put a cloud over Crowell and the fan's perception of his future in Athens. Some even whispered about Crowell not finishing his career in Athens, which is an easy scenario to believe in considering Washaun Ealey and Caleb King couldn't stay in the red and black.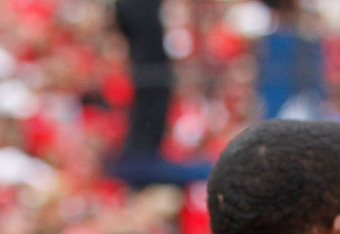 Kevin C. Cox/Getty Images
Marshall, on the other hand, comes to Athens as an early enrollee with all As on his report card and the talent to match.
Local media loved following the story of Marshall's infamous footrace, where he beat out super star receiver and cornerback Malcolm Mitchell in a 40-yard dash.
Taking all of these details into account, it would seem as if Marshall would be the guy to tote the rock most in 2012. Georgia has an All-American caliber quarterback in Aaron Murray, one of the deepest receiving corps in the nation and arguably the most talented defense since the 2004 season. Fielding a dangerous running attack could make or break the success of this football team in a year where a national championship is beginning to look like a reality.
Crowell might just have what it takes to be a feature tailback in this offense despite the bad reputation he developed in his past.
Coaches have claimed that Crowell has drastically changed his attitude and work ethic for the better, according to the Athens Banner-Herald. He's reportedly put on extra weight in muscle and didn't struggle with injuries in camp.
Looking back at his on-field performances, when healthy Crowell was definitely impressive. His highlights showcase great quickness and a desire to draw contact.
Fans that have called Crowell a wimp definitely need to take a look at what Crowell did when healthy last season. He still managed to earn SEC Freshman of the Year honors and rushed for 850 yards on 185 carries.
If he can stay healthy through the fall, he will bring the most complete tailback to the backfield for Georgia since Knowshon Moreno.
A few kinks in Crowell's freshman report definitely turned fans against him, but fans need to realize that giving Crowell a chance could easily mean the development of an All-SEC tailback.
Tailback Depth Should be Strength in the Fall 
Georgia had issues with running back depth last year. Carlton Thomas, who has decided to transfer out of the program, saw multiple suspensions, as did Crowell. Richard Samuel, who converted back to tailback to help with depth after the dismissal of Washaun Ealey and the departure of Caleb King, looked to be molding well with the offense until he was injured on the last play of an outstanding performance against Florida.
This season, health will provide one of the deepest backfields Georgia has had in years, which should be a huge relief for Mark Richt after all of the chaos that has plagued the position since the departure of Moreno.
Crowell and Marshall should head the position. Crowell brings very good speed and physicality when he's at 100 percent. 
Marshall comes across as more of a speedster and scat back. He's slim and won't be a between the tackles runner, but his tape indicates he could be flat out scary on the edge. Marshall is a straight-line runner that can turn a slim crease into a 40-yard gain and six points.
Expect him to be the home run option for the Dawgs.
Behind the dynamic young duo could be Samuel, but there is considerable speculation of him moving to fullback. The fullback position was manned last year by former tight end Bruce Figgins. This year, the projected starter is Zander Ogletree, who stands at 5'10" and is built more like a tailback.
Samuel, despite playing tailback on offense in the past, definitely has the fullback body at 6'2" and 243 pounds.
His linebacker experience definitely assures of his ability to hit, and he could be the best option at the position.
Ken "Boo" Malcome, who was the star of the G-Day game in the spring, is a nice between the tackles guy to have on the roster and could emerge into a bigger role this year. 
Finally, Georgia will also bring in Todd Gurley, a true freshman who was friends with Marshall in high school. To be typical and compare a newcomer to a former player from the same program, many have seen Gurley's frame and running style and compared him to the likes of Musa Smith.
There might be controversy at the tailback situation this fall, but it will be good controversy. Someone is sure to emerge as a feature back, but at worst, the competition and depth should still give Georgia the ability to run the ball much better this season (pending the gelling of the offensive line).