Paul Konerko and More AL Players Who Need to Have a Big Week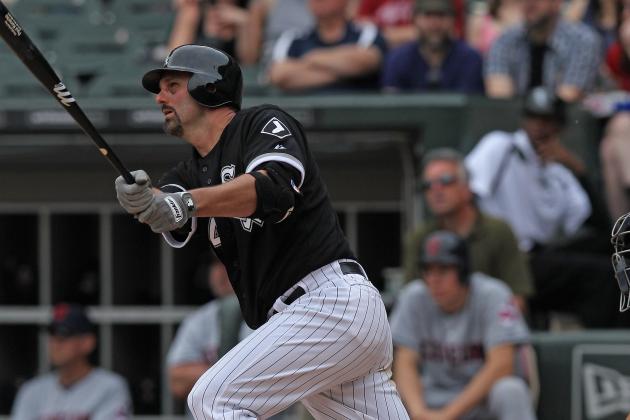 Jonathan Daniel/Getty Images
Paul Konerko has followed up an incredible hot streak with a cold streak.
The 2012 Major League Baseball season is moving right along. This week, we'll get to see the first full week of June baseball.
Yay and stuff.
A handful of players around the American League will be looking to get on track this week. One of them, surprisingly, is Paul Konerko of the Chicago White Sox. He was unstoppable for a better part of the month of May, but he's slipped into something of a funk in recent days. He'll be looking to snap out of it.
He's obviously not the only one looking to have a big week. Here's a look at some notable AL players who are looking to make the most out of the next seven days.
Begin Slideshow

»
Otto Greule Jr/Getty Images

Ready for an understatement?
Okay then, here goes: Brennan Boesch is not having a good season.
Boesch, who hit .283 with 16 homers and 54 RBI in limited action last season, enters this week batting .229/.264/.346 with five home runs and 19 RBI. He managed to heat up a bit in the middle of May, but he has since fallen into a deep slump.
Over his last eight games, Boesch has just two hits in 31 at-bats—a .065 batting average. His average has tumbled all the way down from .259 to .229.
Now would be a good time for Boesch to snap out of it.
He and the Tigers will be going up against two tough opponents in the Cleveland Indians and Cincinnati Reds this week, and it's possible that Boesch may not have a starting job much longer if he continues to struggle. Austin Jackson is going to be back off the DL very soon, and Jim Leyland could decide to give Quintin Berry some time in right field in order to keep him in the lineup.
The time is now for Boesch to show he belongs, and goodness knows the Tigers could use the extra help.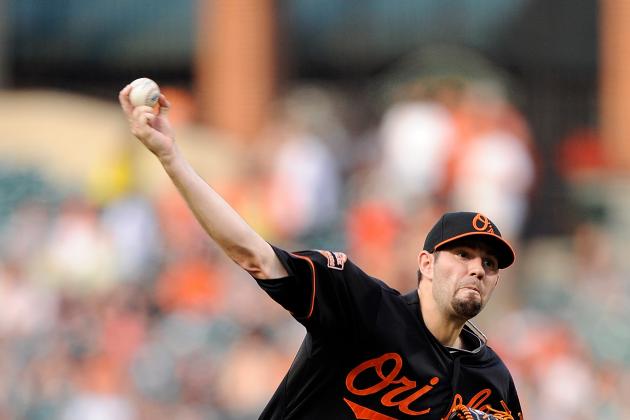 Greg Fiume/Getty Images

It took a while for it to happen, but the Baltimore Orioles have hit the skids. They've lost 10 of their last 13 games.
Bad pitching is largely to blame for Baltimore's recent woes, as they haven't been able to get reliable work out of their starters, who have given up too many early runs. What the O's need right now is a stopper.
They don't have many options in that regard, but Jason Hammel is easily the best of the bunch. Though he's had his ups and downs lately, he enters the week with a 6-2 record and a solid 3.06 ERA.
Hammel will make two starts for the Orioles this week. The first will come Tuesday night against the Boston Red Sox at Fenway Park, and the next will come at home on Sunday against the Philadelphia Phillies.
The opponents are tough, and the matchups for Hammel are even tougher. He'll be going up against Jon Lester on Tuesday and against Cliff Lee on Sunday.
If Hammel is overmatched against one or both of them, this could be a long week for the O's.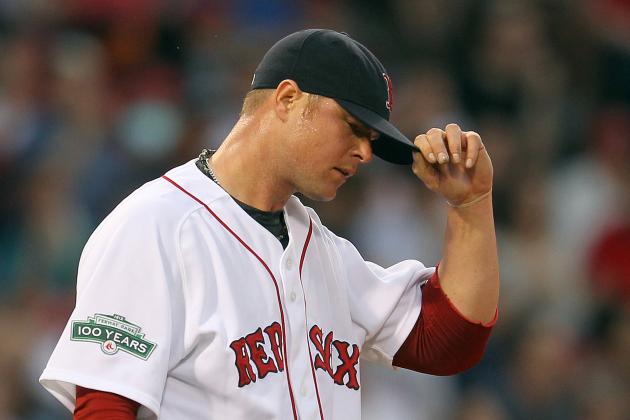 Jim Rogash/Getty Images

Speaking of Jon Lester, there's also plenty of pressure on him to perform this week.
Lester has yet to establish a rhythm this season, and his last three starts have hardly been inspiring. He's 1-1 in those starts with an 8.10 ERA and a .343 opponents' batting average in 16.2 innings of work.
Lester will make two starts in the Red Sox's six-game homestand this week: one against Hammel and the Orioles and another against the Washington Nationals.
The good news for Lester is that both clubs are beatable. Baltimore's offense has fallen on hard times, and the Nats haven't had much offense all season. Now is as good a time as any for Lester to get in a groove.
The bad news is that Lester hasn't enjoyed home cooking this season. In five starts at Fenway Park, Lester owns a 7.16 ERA and a .325 opponents' batting average. Worse, hitters have tended to hit him pretty hard at home.
If the Red Sox want to do anything of note this year, these struggles can't continue.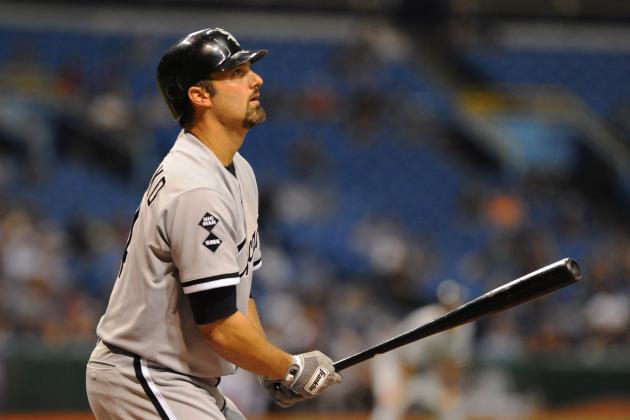 Al Messerschmidt/Getty Images

In six games between May 22 and May 27, Paul Konerko hit .583 with three home runs and 10 RBI. He was a one-man wrecking crew.
In five games since, he's two for his last 20 with no extra-base hits and no RBI. He's gone from being the league's hottest hitter to being one of the league's coldest hitters.
Thanks in large part to great pitching, the White Sox have kept playing good baseball anyway. The team as a whole is as hot as can be, and it certainly looks like the class of the AL Central at the moment.
Hot streaks like these don't last forever, and the week ahead is not as easy as it probably looks. The White Sox will play all six of their games at home, yes, but they'll be welcoming two pretty tough teams in the Toronto Blue Jays and Houston Astros.
If Konerko's bat stays quiet, the White Sox may get a reality check. If his bat heats up again, well, the White Sox should have little trouble continuing to win ballgames.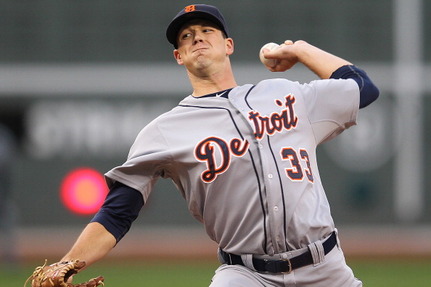 Jim Rogash/Getty Images

Remember when Drew Smyly was awesome?
It's been a while. Detroit's 22-year-old lefty was very good in his first six starts, but the wheels have fallen off a little in his last four starts.
In those starts, Smyly has a 1-1 record and a 6.53 ERA, and he's given up two home runs in three of the four starts. His ERA has ballooned from 1.59 to 3.46.
The Tigers, by the way, have lost four of Smyly's last five starts. Part of that is on their offense, but most of it's on him. He hasn't been able to match his early-season effectiveness, and he's giving the Tigers even fewer innings than he was before.
This is a big week for Smyly, as he's slated to make two starts over the next seven days. The first will be against Ubaldo Jimenez and the Indians on Tuesday, and the next will be on Sunday against Homer Bailey and the Reds.
This week will give the Tigers a chance to do two things. First, they can make up some ground in the AL Central. Second, they can show that they can hold their own against one of baseball's hottest teams.
Smyly has a chance to help the team's cause in a big way.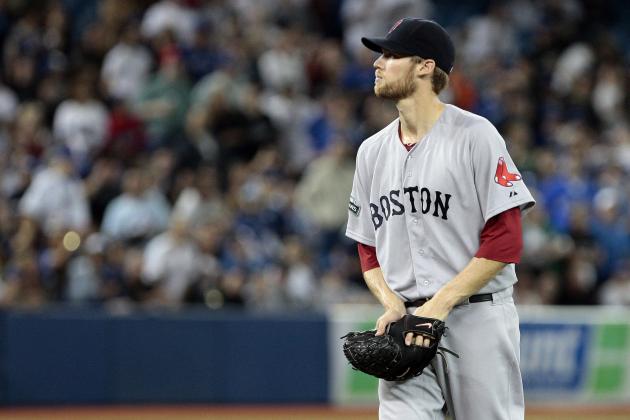 Abelimages/Getty Images
Jon Lester isn't the only Red Sox hurler who needs to have a big week. Daniel Bard needs to show the team he belongs in the rotation.
Daniel Bard, SP, Boston Red Sox
He's slowly but surely forcing the Red Sox to remove him from the rotation. He needs a bounce-back performance against the Nationals after his awful outing against the Blue Jays on Sunday.
Derek Holland, SP, Texas Rangers
He'll make two starts this week: one against the Oakland A's and another against the San Francisco Giants. These are two weak-hitting clubs, but Holland didn't fare so well the last time he faced a weak-hitting club.
Philip Humber, SP, Chicago White Sox
He's been wildly inconsistent since his perfect game. The White Sox will hope that he can make the most of his starts against Toronto and Houston.
Ubaldo Jimenez, SP, Cleveland Indians
He has two starts lined up this week against Detroit and St. Louis. The Indians need him to stop being awful every time he takes the mound.
Cliff Pennington, SS, Oakland Athletics
He hasn't had a hit since May 22. In nine games since, he's 0-for-28.
Nick Swisher, RF, New York Yankees
He's in a modest slump, with four hits in his last 20 at-bats—none of which went for extra-bases.
B.J. Upton, CF, Tampa Bay Rays
He's three for his last 22 with one extra-base hit and two RBI.
If you want to talk baseball and/or the Season 2 finale of Game of Thrones, hit me up on Twitter.