Washington Wizards Retain Head Coach Randy Wittman
June 4, 2012

Rob Carr/Getty Images
The Washington Wizards may appear as a new-look team next season after they add their No. 3 overall pick to the fray, but the same coach will be calling the shots. ESPN reports that first-year head coach Randy Wittman will return to the Wizards for the 2012-13 season.
Washington finished with an 20-46 record during the regular season, but it was hard to find another team that finished the season better. It won its last six games—averaging more than 99 points in those contests—and eight of its last 10. 
In a statement released by the team, Wizards president Ernie Grunfeld had this to say about his team's decision to retain its head coach:
"We were very pleased with the development of our young players and the commitment to winning he instilled despite taking over the team under difficult circumstances."
And boy, were they difficult circumstances. The Wizards found themselves in a hole early on in the 2011-12 season when then-coach Flip Saunders was fired after a 2-15 start.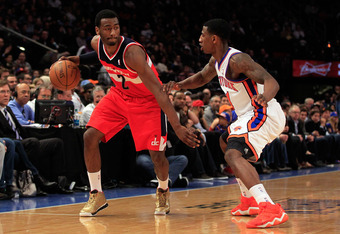 Chris Trotman/Getty Images
But after Wittman's arrival to his new head-coaching gig, the team finished with an 18-31 record that looked much brighter upon the team's late-season surge. Saunders, who'd had Wittman as his head assistant, thought retaining Wittman was a no-brainer.
It's hard to disagree with Saunders and the Wizards organization in this case. The Wizards absolutely showed signs of dysfunction at times throughout the season, but those signs deteriorated as the season wore on and this team began to show signs of real grit and teamwork. 
Wizards superstar and obvious franchise player John Wall also was adamant in his support for Wittman to return as head coach next season. We've seen how much star players' opinions of their head coach weigh on front office decision-making (see: Dwight Howard, Stan Van Gundy), so it's safe to say that Wall's words made this decision easier for Washington.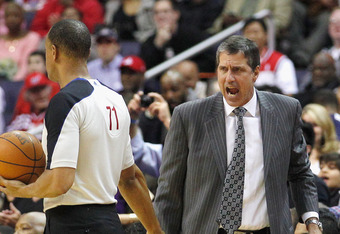 Rob Carr/Getty Images
This is a very different team than the one Saunders took over in 2009, and it was obvious that the younger and less-traditional Wittman was able to relate better to a team that became dangerously young very fast. 
Building momentum is one of the most underrated aspects of the NBA, and Wittman can prove to this young team that their six-game winning streak can translate to success next season.
With Washington's future looking up as it anticipates adding another hopeful leader to join Wall with their third-overall pick in the 2012 NBA draft, it turns to Wittman as the man it needs to return the Wizards to relevance in the NBA.