NBA Draft 2012: Comparing Top First-Rounders to a Conference Finalist
June 4, 2012

Andy Lyons/Getty Images
Each player that will be drafted in the 2012 NBA Draft would love to be playing in the conference finals one day, only a few wins away from winning an NBA championship.
Yet not every prospect will get that opportunity, but with only four teams remaining, this allows a great opportunity to draw a comparison between these highly touted prospects to a player still playing right now.
By comparison, I'm looking at what type of player each individual is, not necessarily matching the type of production to a current NBA star.
With that being said, let's take a quick look at what conference finalist each potential top first round pick will compare to.
Anthony Davis, Kentucky; Best Comparison: Serge Ibaka
Davis' pedigree is that of a potential game-changer on the defensive end with his shot-blocking abilities. The easiest comparison is to that of Ibaka, who is averaging 3.46 blocks per game during the postseason.
Similar to Ibaka, Davis is long and athletic and is a very good rebounder and finisher at the rim. I do think Davis has a lot more to his offensive package than Ibaka, but coming into the league it's a pretty fair comparison.
Michael Kidd-Gilchrist, Kentucky; Best Comparison: Shane Battier
Kidd-Gilchrist is a leader and an outstanding defensive player who can guard multiple positions.
Looking at who's remaining in the playoffs, that's similar to Battier, who has made a living off playing defense.
MKG is a better athlete and a better finisher, but similar to Battier, his best asset is being able to shut an opponent down.
Harrison Barnes, North Carolina; Best Comparison: James Harden
Barnes is a scorer (17.7 PPG) and I didn't want to draw the Kevin Durant comparison right off the bat, but I feel the comparison to Harden is fair, although Barnes could be more of a 3 in the NBA.
Similar to Harden, Barnes has a very good mid-range game, will excel in pick-and-roll situations and could make a living getting to the free-throw line.
Damian Lillard, Weber State; Best Comparison: Russell Westbrook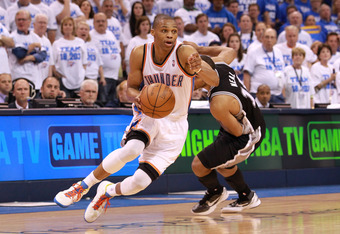 Ronald Martinez/Getty Images
Lillard is the top point guard on the board and is a perfect match to Westbrook.
Both guys are volume scorers, as Lillard averaged 24.5 points per game during the season, but both guys are probably playing out of position at the point.
Both are capable of being facilitators at the lead guard spot, but both are better suited to playing off the ball.
Andre Drummond, Connecticut; Best Comparison: Kendrick Perkins
Drummond is an enigma as he has all the potential in the world, but I don't feel he's quite NBA-ready at the moment.
What Perkins is though is a very tough low-post defender and a physical presence. He can rebound and block shots and I think initially that will be Drummond's strengths in the NBA, as he blocked 2.7 shots per game and pulled down 7.9 boards per contest.
Drummond has a much better post-game than Perkins but it may take some time to develop it.
Thomas Robinson, Kansas; Best Comparison: Chris Bosh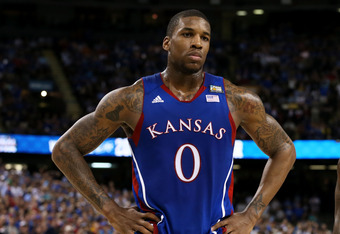 Jeff Gross/Getty Images
Robinson has the chance to be a double-double machine, recording 27 of them on the season while at Kansas.
At 6'9", Robinson isn't as big as the 6'11" Bosh, but he's an explosive rebounder and scorer who can finish facing up or with his back to the basket.
Bosh can shoot, drive and finish and gets to the free-throw line with regularity. I see a lot of that in Robinson's game.
Bradley Beal, Florida; Best Comparison: Manu Ginobili
Beal is a do-it-all type of 2-guard and the comparison to a young Ginobili works here.
Beal can score (14.8 PPG), rebound (6.7 RPG) and makes plays all over the court. He's athletic enough to finish at the rim, but also has range on his jumper.
That's all similar to Ginobili, who can score from anywhere, and is an underrated rebounder and defender.
Perry Jones III, Baylor; Best Comparison: Kevin Garnett
Jones is tough to draw a comparison for because you never know what you are going to get from him one game to another.
Based on his skill set, I'm going to compare him to a young Garnett. Similar to KG, Jones is a freak of an athlete who can score on the block, but has range on his jumper to extend defenses.
Jones may not forge the career that Garnett has, but he can play multiple positions and if he lives up to his potential could become a dominant scorer and rebounder for years.
Jeremy Lamb, Connecticut; Best Comparison: Dwyane Wade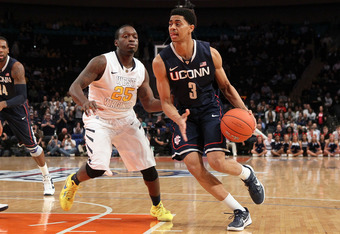 Jim McIsaac/Getty Images
Lamb is good athlete with nice fluidity and quickness and solid explosiveness and leaping skills. He runs the floor very well and plays with great composure. He also proved to be extremely clutch in UConn's run through the NCAA Tournament, prior to winning the 2011 National Championship.  
He also has a very good game off the dribble, and is able to stick pull-up jumpers.
That sounds like a young Wade to me.
The difference between the two is that Lamb is probably a better overall shooter, while Wade makes a living by getting to the charity-stripe.
Jared Sullinger, Ohio State; Best Comparison: Tim Duncan
Sullinger is an old-school low-post player who bases his game on positioning and fundamentals. The only real fundamentally sound big man remaining in the playoffs is Duncan.
He has a wide array of post moves on the low block and can finish over either shoulder with either hand. Sullinger's footwork and understanding of angles are very good and he has extremely soft hands.
It doesn't hurt that he put up Duncan-like numbers in college either, averaging 17.3 points and 9.7 rebounds per game throughout his career at Ohio State.