Why Packers Must Grant Aaron Rodgers Wishes, Make Him Packer for Life
June 4, 2012

Jonathan Daniel/Getty Images
Green Bay Packers quarterback Aaron Rodgers has claimed that he wants to be a Packer for life, and the franchise would be smart to make that happen as soon as possible.
Rodgers is coming off an MVP season where he broke records and arguably elevated himself to being the best quarterback in the NFL. There is no better time for the Packers to lock him up to a long-term deal. 
The 28-year-old signal-caller is currently signed through 2014, and is owed $27.75 million over the next three seasons. There is no reason why the two sides can't come to an agreement on a longer deal. 
In 2011 Rodgers completed 68.3 percent of his passes for 4,643 yards, with 45 touchdowns and six interceptions. His passer rating of 122.5 set the single-season NFL record. He was clearly the best quarterback in the NFL during a regular season in which he led Green Bay to a 15-1 record. And that was after leading the Packers to a Super Bowl title the previous season.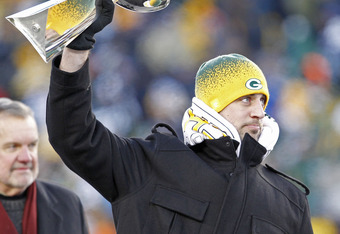 Matt Ludtke/Getty Images
Rodgers is the best quarterback in the NFL right now and he is coming off one of the best seasons for anyone at any position in league history. Usually those factors would lead to a hefty contract extension, but the Packers don't seem to be in any hurry to extend their quarterback. 
After the fiasco that was the end of Brett Favre's time in Green Bay, Rodgers has handled himself with class. He has been an outstanding representative for the organization on and off the field. It is rare that someone can step in, replace a legend and be successful. Rodgers has certainly defied those odds.
Rodgers has already won one Super Bowl and has the roster around him to win more. When his career is done his name will rank up there with Bart Starr and Favre in Packers' lore. 
At some point, Rodgers and the Packers will need to sit down and work out a new contract. The Cal product will be entering his eighth professional season in 2012, and appears to be hitting his prime. He deserves to be paid like one of the league's best players and is clearly willing to be locked in to a long-term deal. The Packers should make it a priority to give him the kind of deal that will make him a Packer for life.