Buffalo Bills: How GM Buddy Nix Has Turned Bills into Contenders
June 4, 2012

Even with the Buffalo Bills' improved roster, the team's most important player is still GM Buddy Nix.
Nix came to the Bills for his second stint with the organization in 2009. He started as a national scout and was later promoted to general manager in December that same year. Since then, he's kept a slow and steady pace to help make the once dominant franchise competitive again.
After being named GM, Nix's first order of business was finding a new head coach to lead the Bills. The organization desperately needed a change of direction. Having been unsuccessful for so long (the Bills haven't made the playoffs since 1999), fans knew yet another rebuilding stage was on the horizon; and this time, the team had to get it right from the start.
Or else.
At first, Nix's decision to hire Chan Gailey as the Bills' 15th head coach in franchise history didn't sit well with Bills Nation. The team had reached out to Bill Cowher, Jon Gruden and even Mike Shanahan. These high-profile names temporarily gave Bills fans false hope and set the bar very high for a drastic change. When the Bills didn't land any of the big-name coaches, the media somewhat brainwashed fans into thinking, hey, it's the same old Bills. Without even signing a new head coach yet, it appeared the Bills had already failed.
So it seemed.
Compared to Cowher, Gruden and Shanahan, the announcement of Chan Gailey as the new head coach was boring and disappointing. However, as if to help relieve the situation, Cowher openly vouched for Gailey and offered his stamp of approval for the Bills' organization. Bills lead journalist Chris Brown reported the following back in January 2010:
"I think Chan number one has a wealth of experience in the National Football League," said Cowher. "I don't think there's a situation that he's walked into that he hasn't been a part of turning it around. He's a great teacher and a great communicator. The more you're around him the more you'll like him and appreciate him."
Nix firmly believed in Gailey, too, but he knew there was nothing he could say to prove why he was the right man for the job; he knew they'd have to go out there and prove it. Together.
Now entering his third season as head coach, Gailey has won many fans over. He sparked a stagnant offense, helped develop quarterback Ryan Fitzpatrick into a productive passer and, perhaps most importantly, established a tangible identity out in Buffalo. One that emphasizes hard work, discipline, camaraderie and an attention to detail.
The team may have ended with disappointing records the past two seasons, but there's been obvious growth in many areas, and the expectations for 2012 are as high as they've been in a decade.
Nix's impact on turning the organization around goes beyond hiring Gailey, though. He came to the Bills preaching his philosophy of building through the draft, and he's stuck to his word.
In somewhat of a surprise move, running back C.J. Spiller highlighted the 2010 draft. But what, again, seemed like a questionable decision at first ultimately proved to be a great one. The Bills flipped Marshawn Lynch (of the old regime) for future picks and have developed Spiller into a dynamic complement to Fred Jackson.
Other notable names from that draft include Torell Troup, Alex Carrington, Marcus Easley, Arthur Moats and Danny Batten. Unfortunately, many of these promising players have struggled through injuries. But there's still a lot of potential here.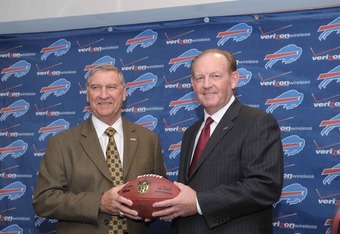 Nix continued his effective draft strategy in 2011. It helped that the Bills had a Top-Five pick to begin with. Nevertheless, adding players like Marcell Dareus, Aaron Williams, Kelvin Sheppard, Da'Norris Searcy, Chris Hairston and Justin Rogers in one draft is noteworthy. All of these guys are already contributing heavily, and the first three will be starters in just their second year heading into next season.
Knowing that successful drafts start from an organization's foundation, Nix even made moves at the top that would help the team continue to make smarter decisions moving forward.
After relieving Tom Modrak, former Vice President of College Scouting, of his duties, he lured in Doug Whaley from the Pittsburgh Steelers, who is now Assistant General Manager and Director of Player Personnel for the Bills.
And who can overlook the 2012 offseason? Nix somehow managed to bring in free agents Mario Williams and Mark Anderson to help the pass rush, which was his No. 1 priority. He then had arguably one of the best drafts in the NFL, grabbing players like Stephon Gilmore, Cordy Glenn, T.J. Graham, Ron Brooks, Nigel Bradham and Tank Carder to help fortify positions of need.
The list goes on and on for Nix. He re-signed the core offensive trio of Ryan Fitzpatrick, Steve Johnson and Fred Jackson. He brought in new quarterbacks coach David Lee who has been working with Fitz on his mechanics. He added Vince Young, a former Pro Bowler, in free agency this year to help upgrade the backup quarterback spot. He even drafted a kicker (John Potter) and signed an undrafted rookie free agent punter (Shawn Powell) to help push veterans Rian Lindell and Brian Moorman, respectively.
Under Nix—and Gailey—fans and players actually believe that no player's job is safe. There is finally an impressive amount of talented depth on the roster, and anything less than a playoff berth will be a disappointment in 2012.
Too much pressure? Not at all. Nix had enough pressure on his shoulders just getting the Bills to this position. He's done his job, and now the guys he's brought in are expected to do theirs.
The expectations are high, and Nix wouldn't have it any other way.