Detroit Lions: Looking for the Upside in a Tumultuous Offseason
June 4, 2012

Gregory Shamus/Getty Images
I have to admit, we've talked a lot about the Detroit Lions the past few weeks—for all the wrong reasons a bunch of the time.
For all the chaos that has occurred off the field, there are many positives we can take away from everything as well.
Focus on discipline
Not to beat a dead horse, but the off-the-field issues are there. We—and the team—can't ignore it when it's in the papers weekly and will be until suspensions are handed down.
That said, this was all a good thing for that very reason. Last season saw the Lions with the third-most penalty flags both per game and in total. While it's not surprising things were bad on the road, they were actually worse at home. The two teams ranked worse than them overall were better than them in this area (though they were way worse in penalties overall).
Head coach Jim Schwartz has publicly admitted the players have frustrated him, and while nothing has happened to Nick Fairley or Mikel Leshoure, that's in part because the courts are still involved.
Maybe this is wishful thinking, but I believe that whatever they do about the off-field incidents, the team will take an overall look at the discipline of the players, most notably on the field—the one place it really has control of these guys and the place where the over-aggression and bad decisions cost the most.
Teams with a lot of penalties often don't make the playoffs. The Lions and 49ers were notably exceptions. The Niners survived due to exemplary defense while the Lions overcame their issues with explosive offense.
Being more disciplined on the field can do nothing but help make the team's journey to the playoffs easier.
If nothing else, the headlines will hopefully force Schwartz and his staff to find a way to convince their players to rein it in.
Wide receiver depth
Lost in all the aforementioned bad headlines is the fact that the team has some pretty talented wide receivers behind Calvin Johnson.
We knew Nate Burleson was pretty good, but now that he's in camp, Titus Young has done well and the progress of rookie Ryan Broyles has turned heads.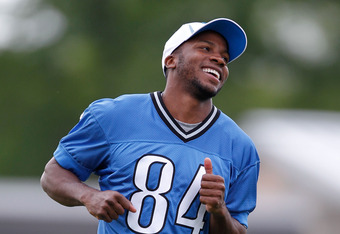 Gregory Shamus/Getty Images
Broyles is rehabbing an injured ACL and spent the rookie mini-camp standing on the sidelines but joined in for recent OTAs. There's even talk (and that's all it is right now, talk) that he could be a full participant at training camp.
Recently, Broyles' former receivers coach and offensive coordinator, Jay Norvell, made a pretty high comparison. Norvell has been a receivers coach with the Colts in the past and said Broyles reminds him of Colts great Marvin Harrison in both football acumen and instinct.
For you young cubs, that's pretty darn good.
I still scratch my head a bit over the selection of Broyles, but let's be honest: In this division you have to throw and you need guys to catch. Right now the Lions have Johnson, an aging Burleson and a temperamental Young.
Broyles could have a huge impact across from Johnson.
Regardless of when he takes that big step, he completes a very good trio behind Johnson, albeit one with some question marks.
Burleson is a solid player who has reliable hands and Matt Stafford knows he can go to in a pinch. For all Young's apparent temper, he is fast and a tremendous athlete who can make some exciting catches. If Broyles lives up to his coach's billing, this could be a very good group behind Johnson.
A very dangerous one as well.
Healthy backfield
It's a quarterback's world, sure, but a solid run game could go a long way towards helping this offense. Not only will it keep the defense honest, but it can help wear that same defense down.
Mikel Leshoure seems to be back on his way to a full recovery and Jahvid Best says he is symptom free and does not think there will be any further concussion issues.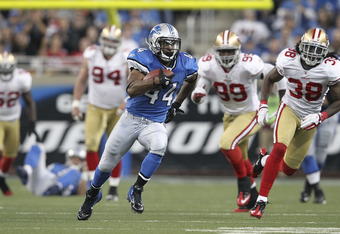 Leon Halip/Getty Images
Optimistically, let's say they both hit camp and can participate with no issues.
This is potentially a really nice combination in the backfield. Leshoure can work between the tackles as well as catch the ball and run outside. He's a guy who can beat on a defensive line and wear it out.
Best has explosive playmaking ability and once Leshoure has tired the defense out will break off some very long runs.
I happen to be of the mind that Leshoure gets the lead back duties, but really, the key will be having both guys carrying the ball and it looks like they may have that.
Healthy Stafford
It's all well and good that the running backs aren't hurt and the wide receivers are getting sorted out—but it don't mean a thing if you ain't got that fling.
If Stafford isn't healthy, this team won't go anywhere. Yes, Shaun Hill can play well, but he won't take this team to the Super Bowl.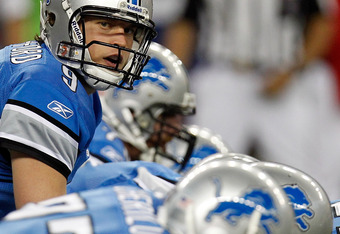 Gregory Shamus/Getty Images
Stafford is healthy, has been conditioning well and overall looks good.
He's looking like he will be able to make it two full seasons in a row, something I was beginning to really doubt about this time last year.
Offensive line looking up
There are still some question marks on the offensive line, but the team has started putting together its look for the 2012 season. So far, rookie Riley Reiff has practiced on the second team at left tackle, which indicates he may be a swing tackle his first season, moving when needed.
On the other hand, I expect him to push Gosder Cherilus for right tackle duties in camp and he could step up to a greater role depending on how he does and how Jeff Backus fares this season.
The line did all right last season—better than in the past few years. Stafford's health depends on that continuing. 
As does, one might argue, the whole Lions' season.
So while things have been a bit dark in terms of headlines, there is plenty to be happy about this offseason.
This is a team that looks to be moving in the right direction, despite some bad steps along the way.