Heat vs. Celtics: NBA's Worst Referee Steals Show Again
June 4, 2012

Ronald Martinez/Getty Images
In Game 4 of the Eastern Conference Finals, it all came down to a final three-point attempt in overtime. Dwyane Wade had a clean look at the basket after getting his defender in the air, and just missed short. By the look on Wade's face after the shot, he knew he just missed it too. 
It was a close game all the way through, and now the series is tied at two games a piece. 
The worst aspect of this game, however, was the NBA's worst referee Joey Crawford. He handed LeBron James his sixth foul, disqualifying him from play with just under two minutes remaining in overtime. Why is this a big deal, you may ask? Because Crawford has a long history of making questionable game-changing calls, and this was one of his worst. 
LeBron was trying to establish post position in transition. His defender, Marquis Daniels, lost his footing and started tumbling backwards, taking James with him. Crawford did his usual antics in this situation. He watched the contact, assessed whom was involved and their foul situations, and took his opportunity to disqualify the Heat's best player at a critical point in overtime.
Maybe it could be called a foul. A defensive foul on Daniels for the take down, but an offensive foul in that situation is ridiculous. In the conference finals, that has to be a no call. 
Unfortunately for NBA fans everywhere except Boston, we saw exactly why Crawford should be exiled from the league. When you watch the replay of the call, pay attention to Crawford as he makes his call. You can see him checking out whom was involved, then making the incredibly enthusiastic offensive foul call.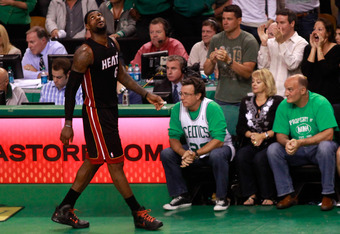 Jared Wickerham/Getty Images
One statistic that should be very telling here is how often James fouls out of games. He must foul out, right? Every player does occasionally. Not James.
In his entire career, he has fouled out of a playoff game exactly zero times. What does this tell us? James is smart enough to adjust his play when he is in foul trouble so he doesn't foul out. In fact, James has never fouled out of a game as a member of the Heat. Until last night.
I am not saying that if James hadn't fouled out the Heat would have won the game, but it would have helped their cause. I want to see star players deciding these playoff games, not watching from the bench with fouls. 
Crawford has been making himself the focal point of NBA games for over a decade. While he began as a good ref, he has declined terribly. His latest debacle should serve as evidence of his bias, especially considering the track record of LeBron James.