NBA Free Agents 2012: Breaking Down the True Value of Steve Nash
June 4, 2012

Christian Petersen/Getty Images
After suffering through years of mediocrity while in Phoenix, Steve Nash will have a tough decision to make this offseason.
The 38-year-old Nash must decide where he wants to likely end his career.
There are numerous potential suitors for the veteran point guard, who enjoyed another successful 2011 campaign. He posted 12.5 points per game with 10.7 assists while playing alongside a serious dearth of talent in Phoenix.
According to Marc Stein of ESPN.com, there are suitors for Nash, a group which includes Portland, Toronto, Brooklyn and, of course, Phoenix. Chicago, New York and Miami have also been linked with Nash, although those teams have less cap flexibility, but a better probability of winning games.
Nash even welcomed the idea of playing for the Heat, saying on the Dan Patrick Show he would "listen" if they were to make an offer.
The two-time NBA MVP has options, but there is some speculation regarding what exactly the teams would be getting out of Nash.
First of all, any team who signed him would be getting a phenomenal team-first guy who seems to make everyone around him better. After rejuvenating Amar'e Stoudemire's career while in Phoenix, Stoudemire has watched his numbers tail off since leaving Nash's side.
Stoudemire posted career-highs in both points and rebounds while playing alongside Nash. This is no coincidence either, seeing as Nash is a great pick-and-roll decision-maker.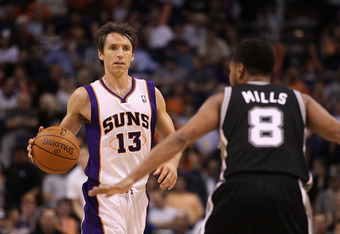 Christian Petersen/Getty Images
Nash is a maestro in the open court and is still one of the best passers in the league. With the right players around him, Nash could still produce at a very high level next season.
Nash puts his teammates in a great position to score from numerous places on the floor. His numbers emphasize this point as he has averaged more than 11 assists per game in four of his last six seasons.
Another aspect of Nash's game is his impact off the floor.
Nash would be a valuable veteran influence for a team such as Brooklyn, who may be more inclined to sign him, if they lose Deron Williams in free agency (Yahoo!). He has been praised for being great with young players and could be a great mentor for a team with young talent (NBA.com).
With that being said, Nash could thrive in an offense with a young point guard in place already. He plays a relatively low amount of minutes per game (31.4 for his career), which means he could last for a few more seasons.
According to Marc Stein of ESPN.com, Nash is currently seeking a three-year deal, and by placing him with a young point guard, Nash could be the kind of mentor that young players should dream of. 
Nash is by no means a franchise guy at this point of his career, but he can still help a contender.
If he was to be placed in the right situation, Nash could rack up assists and still be counted on to nail three-pointers. With the right pieces surrounding him, he could be primed for another high-caliber season.
If he was to maintain his assists numbers, he could finish third all time, behind only John Stockton and Jason Kidd. However, Nash is 38 years old and after his alleged back injury during last season, the thought of signing him to a three-year deal may scare some teams.
That should not scare teams in the slightest though, as Nash has proved to be a true warrior during his NBA career. He has played in 56 or more games in 14 of his 15 years in the NBA.
Teams should not expect a resurgent MVP campaign from Nash.
But they can count on a guy with a great attitude and a thirst for winning games.