WWE: A.J. and the 5 Nuttiest WWE Diva Characters Ever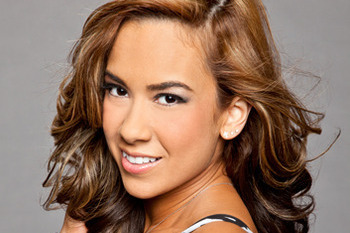 photo from wwe.com
WWE Champion CM Punk doesn't know what to make of A.J., WWE's beautiful but lovesick Diva.
He's not alone—no one else knows what to think about her, either.
Indeed, the last few months have seen the previously nice, grounded girl spiral into increasingly erratic and self-destructive behaviour.
She's been shown to be completely obsessed with ex-boyfriend Daniel Bryan, to the point she's been scarily stalking the man at various WWE events, despite him making it clear he wants nothing to do with her.
A.J.'s heartbreak even led her to lash out and lay down some incredibly brutal beatings on Kaitlyn and Natalya in separate matches on SmackDown last month.
More recently, her love for her former lover has turned to cruel, cruel hate, and she's now actively cheering on his foe Punk. There have been more than a few hints she's now romantically attached to him.
Oh, and she's also prone to wild, perplexing mood swings backstage, weeping profusely one minute, smiling and being cheery the next.
Where will this character arc go? Will she team up with Punk? Will she turn on Punk and get back together with Bryan? Will she shock everyone and end up with Kane (who's recently been inserted in the Bryan/Punk angle)? Who knows?
Hopefully the writing team has a good idea, because this is most promising and compelling Diva storyline in quite some time.
So, with A.J.'s outrageous behaviour in mind, here is a list of the five nuttiest Diva characters to ever grace WWE television. A.J. may want to take some tips from these girls.
Mickie James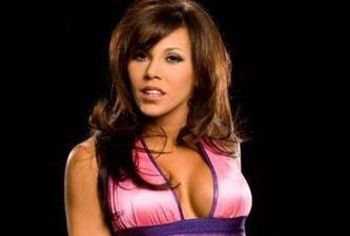 photo from wwe.com
Well, this one is obvious.
Upon her debut for WWE in 2005, OVW wrestler Mickie James was immediately placed in a storyline with Trish Stratus—at that point the WWE Women's Champion.
Per the angle, Mickie was completely infatuated with the Canadian Diva, with her behaviour becoming more and more deranged as the months passed.
Trish clearly saw James as nothing more than a friend, but the new Diva simply wouldn't take "No" for an answer.
Heck, she even kidnapped Diva Search winner Ashley Massaro at one point and held her hostage in the middle of the ring in a crazed, desperate attempt to grab Stratus' attention.
Trish fought back against her unwanted admirer, and issues between the two eventually culminated in a terrific match at WrestleMania 22 the following year, with Mickie managing to win her first WWE Divas Championship.
Beth Phoenix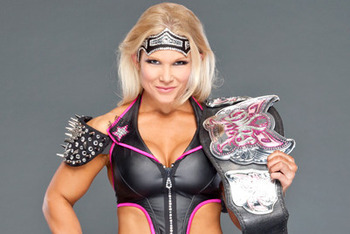 photo from wwe.com
While she may not be as erratic and deranged as A.J. or Mickie, former WWE Divas Champion Phoenix is still not a woman you want to mess with.
An incredibly dominant wrestler, she's certainly not shy of lashing out violently if she thinks she's been cheated or robbed.
Heck, she's even been carrying an insane grudge against Extra host Maria Menounos for several years now.
As for her craziest moment? It may have been viciously attacking then-Divas Champion Kelly Kelly last summer.
After the former model innocently came into the ring to congratulate "The Glamazon" on winning a No. 1 contender's battle royal, Phoenix shockingly turned heel, inflicting on her one of the most brutal and relentless beatings ever seen in the women's division.
Yikes.
Stephanie McMahon-Helmsley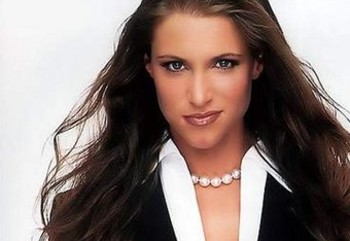 photo from onlineworldofwrestling.com
In 2000 and 2001, Stephanie McMahon-Helmsley was easily one of the craziest female characters WWE has ever had.
Spoiled, egotistical and absolutely power-mad, she also wasn't afraid to turn on her own parents, as she did during the 2001 invasion angle, if it meant garnering herself more money and success.
Few on the roster, even her own husband Triple H, ever wanted to cross her, and we don't blame them. Boy, could that woman throw a tantrum.
Victoria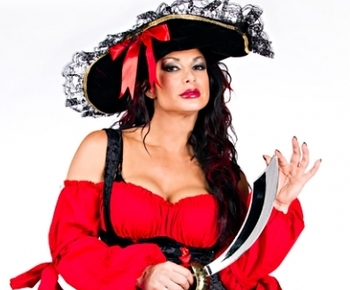 photo from divadirt.tumblr.com
One thing is for sure: Victoria (currently Tara in Impact Wrestling) was more than a little crazy, even by WWE standards.
During her 2002-2009 stint, she frequently demonstrated that she was out of her mind, whether it was bullying other Divas, relentlessly—and violently—going after Trish Stratus in 2003 over some minor argument that had occurred when the two were working as fitness models, or following around the (equally demented and crazy) Stevie Richards like a lovesick puppy.
Her overall craziest moment was probably attacking Christy Hemme backstage with a glass bottle in a 2005 episode of Raw. Ouch.
As one of her later WWE theme songs noted, Tara was not the lady to mess with.
Maxine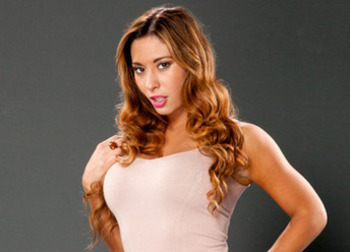 photo from wwe.com
While she may have only made brief appearances on the main shows, FCW Diva Maxine rules over Internet-only NXT with her forceful personality and bossy behaviour.
What happens if you cross her? Well, it's not pretty.
Just ask Derrick Bateman or Kaitlyn, both of whom have been on the receiving end of her explosive temper in the past.
Heck, Bateman was even madly in love with Maxine at one point, until the babyfaces on the show forced him to realize what a crazy woman she was and how she was ruining his life with her constant demands and need for attention.
As of late, she's been teaming with the equally unhinged Johnny Curtis, and both are now determined to get off NXT and move on to Raw or SmackDown—presumably so they can terrorize the rest of the roster, too.
Keep Reading