San Francisco 49ers: 7 Cult Heroes in Team History
June 4, 2012

George Rose/Getty Images
The San Francisco 49ers are a proud franchise with a storied history.
It was the team of the 1980s, taking home the Vince Lombardi trophy in Super Bowls XVI, XIX, XXIII, and XXIV ('81, '84, '88, '89). It solidified its dynastic presence with a fifth title in 1994.
One can readily identify the legendary players, coaches and front office personnel that helped the 49ers win at least 10 games for 16 consecutive seasons (1983-1998) after 13 in 1981. Joe Montana, Jerry Rice, Ronnie Lott, Roger Craig, Charles Haley, Steve Young, Bill Walsh, George Seifert, Carmen Policy, Eddie DeBartolo Jr.—and I've just scratched the surface.
But how about the cult heroes in 49ers history, the somewhat lesser known but perhaps equally impactful in the eyes of the fans?
As with cult movie classics like The Big Lebowski or The Lost Boys, the popularity of cult player heroes lies among more of a niche crowd and away from the mainstream. They are generally known by all but revered by the particular few.
Players achieve this status more through unconventional means, unique qualities and idiosyncratic behavior rather than through quantifiable statistical production (but not always).
From the perspective of a fan that was alive to witness just the last three 49er Super Bowl titles and recent resurgence after eight seasons of mediocrity, I will attempt to highlight one player per decade of this franchise's existence in the NFL (1950-Present).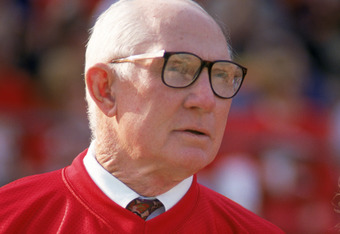 George Rose/Getty Images
1950s
Y.A. Tittle
This quarterback legend played and mostly started for the 49ers from 1951-1960.
On the surface, winning 45 games while throwing for over 16,000 yards and 100 touchdowns for the Niners—not to mention earning a spot in the Hall of Fame—would deem Tittle as an all-time great and not necessarily a cult hero.
However, this 17-year vet attained his cult status through a reputation of playing bruised, bloodied and battered. He was a man's-man, a fierce testament to the old school style of play when players rocked leather helmets and operated with reckless abandon.
And again, he displayed this toughness from the quarterback position.
1960s
Kermit Alexander
Besides having a name worthy of cult devotion, Kermit Alexander (1963-69) was an absolute punisher on the football field for the 49ers.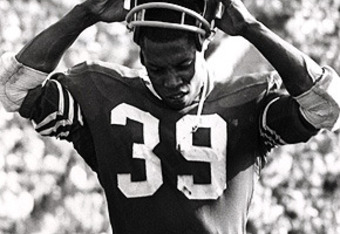 He played cornerback and would later come to be known as a shut-down corner, a term used so often today for exceptional players at the position. He also was a successful kick and punt returner.
The collective mainstream associates Alexander with his nearly career-ending hit on Bears' running back Gale Sayers in 1968. Fans, and especially teammates in San Francisco, respected him as a man that never backed down and thought of himself as second to none.
Teammates also highly admired Alexander for his brashness with team management away from the football field, notably with contract demands. They embodied a similar approach and used it very much to their advantage in their contract negotiations. As Tom Friend noted in his Outside the Lines piece, players "to this day…thank him for their nest eggs."
Alexander is a classic example of a cult player known by many, but only really known by a select few.
1970s
Freddie Solomon
To be sure, Solomon might rightly belong in the discussion of 1980's cult 49er heroes. Since he began his career with the team in 1978, though, I'll include him in this decade.
Solomon was a player often overshadowed by more famous stars on the 49ers. Yet, the former wideout was one who helped facilitate those players' rise to stardom.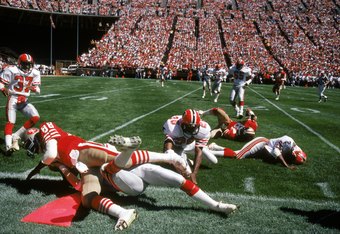 George Rose/Getty Images
As such, he developed a cult following among teammates, members of the organization and fans who were intimate with goings-on of the team. Rice, Montana and Eddie D in particular all credit Solomon for the positive development of themselves and of the organization.
"Freddie was very influential to me and my career, and taught me about work ethic and professionalism," Rice said.
Added DeBartolo Jr.: "We wouldn't have reached the top without Freddie." The top included multiple 49ers' Super Bowl titles in the '80s.
Solomon regrettably passed away earlier this year in February and will be remembered fondly by all those who truly knew the amazing football player and humanitarian.
Perhaps this ESPN follower qualified Solomon's cult status best in this comment: "RIP Freddie. When I was a kid, you were my hero. Thanks for the memories."
It also didn't hurt that my first dog Kezr (pronounced "kEEzer") wagged his tail and barked every time Solomon hauled in a pass when my family watched the 49ers play.
Cult hero among humans and canines alike.
1980s
Tom Rathman
As both a player and now as a coach, Rathman definitely enjoys a cult following.
Never one to pile up the stat sheet, Rathman mostly paved the way for running backs as a blocking fullback and goal-line smasher. He blocked for the Niner great, Roger Craig, in Super Bowls XXIII and XXIV.
His rough and tough mentality as a player has translated quite effectively into a mightily successful career as a position coach for RBs. From 1997 to 2001, he was fundamental to the 1,000-plus yard, Pro-Bowl production of both Garrison Hearst and Charlie Garner.
In his second coaching stint with the 49ers, he continued to develop individual players and an overall top-10 rushing attack. One need not look any further than Frank Gore's 2011 production and conversion of former defensive end Bruce Miller into one of the league's top fullbacks.
But as appropriate to the well-established identity of fullbacks, Rathman was and currently is a tenacious, no-nonsense player/coach who is underrated by the masses, while being held in the highest regard by those closest to him. That's why he earns the nomination of cult hero.
1990s
Merton Hanks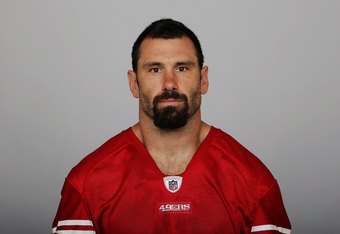 NFL Photos/Getty Images
Hanks recorded 31 interceptions, three touchdowns, four Pro Bowls and an All-Pro honor in eight years in San Francisco. So how does that make the free safety a cult hero?
Well, because of his infamous "chicken dance"—duh. Merely check out this video and you'll understand.
Without question one of my all-time favorite players.
2000s
Jeff Ulbrich
The bearded former linebacker represented this decade most accurately by playing between 2000-2009.
A third-round selection out of the University of Hawaii, the San Jose local was undervalued by the majority from the very beginning of his professional career. The same did not apply to Bill Walsh (who selected him), teammates and his fu-manchu followers in the stands.
Ulbrich consistently got it done with a blue-collar and team-first mindset. He was the type of hard-working overachiever that would mesh with any team in any era.
While a fellow linebacker like Julian Peterson made Pro Bowls over Ulbrich with a flashier style and statistical superiority, the Ulbrich faithful will always recall his courageous goal-line stands while fighting through injuries and recent hospitalizations.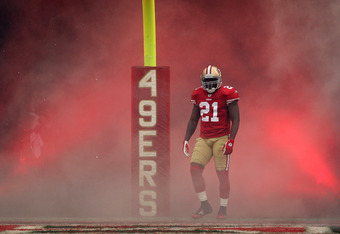 Ezra Shaw/Getty Images
Present
I could go in a number of different directions for the current cult hero on the 49ers roster or perhaps even one from the past two seasons.
If still on the team, Blake Costanzo would have definitely qualified for this list. Fans absolutely adored the no-nonsense special teams ace that gutted it out in unassuming fashion every Sunday.
Presently, Joe Staley, with his oddball behavior, funny radio ads, interesting Twitter following and other idiosyncrasies would also rightly qualify as a cult hero.
One could include Colin Kaepernick's name in the discussion of current 49er cult heroes as well. He's the backup quarterback with a certain "Camp Kaep" following of people in favor of his ascendency into the starting role over Alex Smith.
However, while this might strike some as a bit odd for this list, I'll nominate Frank Gore as the cult hero of the 49ers at present.
Yes, he is beloved and respected by his San Francisco fanbase and important football people throughout the country. I mean, he is the franchise's all-time leading rusher.
With that said, I still get the impression that he is a lesser known star—but star nonetheless—that is only fully appreciated in the "cult hero" sense of the word by the Niner diehards. He is the quintessential unpretentious player that escapes the affection of the masses because of that low profile and in spite of his remarkable numbers.
Let me know what you guys (and girls) feel on the subject in the comments section below.
Who would you have as the 49er cult heroes, both past and present?